Top Defence honour for Golden Jubilee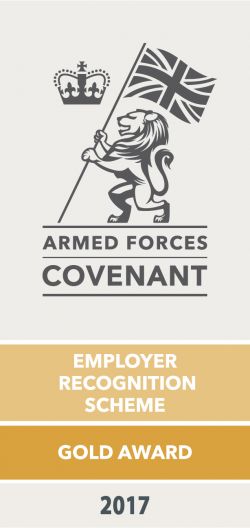 The Golden Jubilee will receive the Ministry of Defence's highest badge of honour for organisations which support the Armed Forces.
The Golden Jubilee is the only Scottish NHS Board among the 33 winners of the Employer Recognition Scheme (ERS) Gold Awards announced today (Tuesday 8 August 2017).
Recognised by the Ministry of Defence as a Supportive Employer of the Armed Forces' Reserves in 2013 and signed the Armed Forces Covenant with them in 2016.
Jill Young, Chief Executive of the Golden Jubilee, commented: "We are delighted to receive the prestigious Gold Award from the Employer Recognition Scheme.
"The Golden Jubilee has been a proud supporter of our full time and reserve forces for the past 15 years, and is committed to continuing to expand our strategic partnership with the Armed Forces.
"In line with our vision of leading quality, research, and innovation within the healthcare sector, we will continue to share learning and new ways of working which will hopefully result in transferable innovative training and leading edge solutions to improve services for Scotland's patients."
The prestigious Gold Award is only presented to organisations which have signed the Armed Forces Covenant and demonstrated outstanding support for those who serve and have served.
Today's announcement sees a group of 33 organisations recognised for actively supporting the Armed Forces community in their workplace and encouraging others to follow their lead.
Defence Secretary Sir Michael Fallon said: "These companies have shown the gold standard of commitment to supporting members of the Armed Forces, veterans, and their families.
"They have taken meaningful steps to ensure the Defence community are not disadvantaged by the sacrifice they make in helping keep this country safe.
"The actions of these employers make it crystal clear that regardless of size, location, or sector, employing people with military skills is good for business."