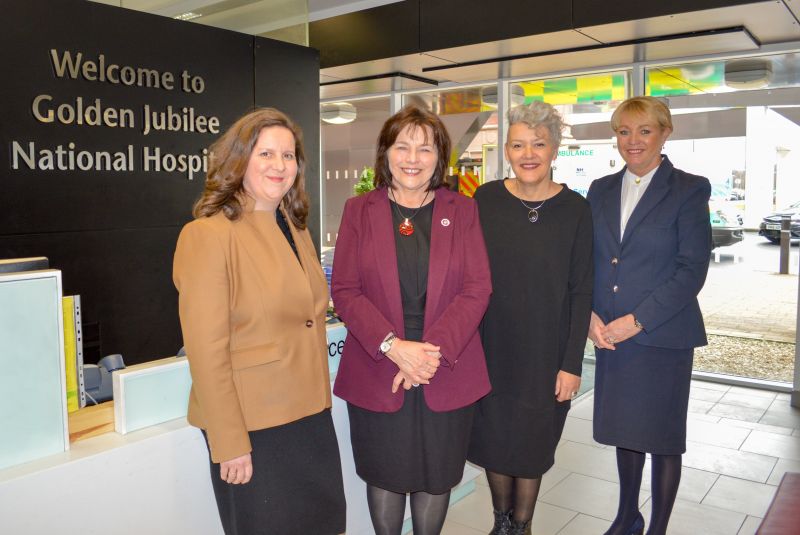 Although the shortest month of the year, February has been a busy one in the life of the Golden Jubilee.
We were delighted to take delivery of a new state of the art Computer Tomography (CT) scanner and made sure that it was up and running ahead of schedule, helping more patients receive diagnosis faster than ever before.
Between now and the end of March this year, more than 1,300 examinations will have been completed on the scanner for people needing diagnosis of orthopaedic, cardiothoracic, stroke and neurological conditions, as well people with cancer. In the new financial year, we will double the amount of CTs carried out, with an extra 10,500 procedures planned.
The most important aspect of this announcement is the significant difference this makes to people from across Scotland. This is great news for the people who will be seen quicker, allowing them to receive faster diagnosis and treatment. This in turn helps improve the health of thousands every year throughout the country. This is also such an important step forward in the ongoing challenge of reducing those anxious waiting times for people and their families.
The investment in our new scanner came from the Scottish Government's Waiting Times Improvement Plan. Further funding from the same source will also allow our specialists to carry out an extra 200 more joint replacements, 600 eye procedures, 1,200 scopes (endoscopy/ colonoscopy) and 200 general surgery operations in 2019/2020.
When it comes to waiting times, we often talk about numbers. But behind the numbers are people - patients who are anxiously waiting for a diagnosis, sometimes in pain or discomfort.
Speaking to our patients, to our wonderful staff, paid and unpaid, to people is one of the highlights of being a Chair of an NHS Board. It is a stark reminder about the difference our services make to individuals. Treatment can be life changing for a person and that is why we are always looking for ways we can improve – in terms of treatment itself, access to treatment and better ways of working. All carried out here at the Golden Jubilee with the added value of compassion.
At the Golden Jubilee, we aim to treat everyone as an individual – it's part of our values culture. Every inpatient room has a "What matters to me" Board for people to complete so we can make their experience the best it can possibly be.
Everyone worries about different things so, through our realistic medicine programme, we want patients and their families to ask the right questions to make them feel comfortable and understand what is happening..
So our patients are not just a number on our spreadsheet waiting on treatment, whether they come from Ayrshire or the Western Isles and beyond. They have partners, family members, friends and often pets too. Some need additional assistance to walk, see or remember, some just like to chat while others like to reflect. Our patients are unique individuals with one thing in common – they are being treated here at the Golden Jubilee. Their wellbeing, their emotional, spiritual and physical care is very important and will always be at the heart of everything we do. People make places and for me this sums up everything we offer here at the Golden Jubilee.
You can see this year has started off with a bang and I am sure I will be here telling you more exciting news about our progress throughout the rest of 2019.

Warmest wishes to you all

Susan