You can make medicine more Realistic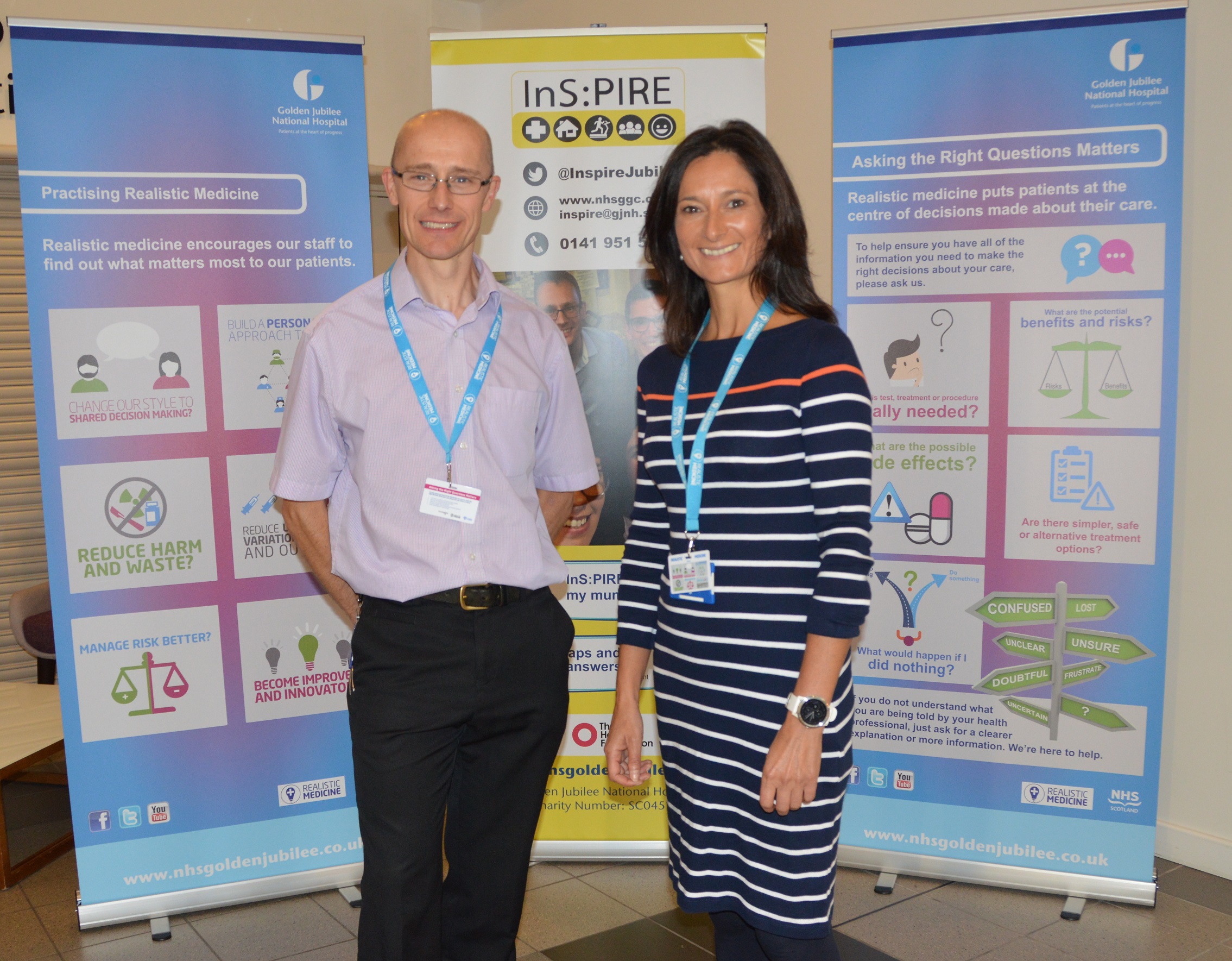 NHS Golden Jubilee Realistic Medicine Leads Jason Roberts and Rhona Siegmeth at a recent learning event
When we go into hospital we will inevitably have questions about what's going to happen to us and why, its human nature to want to know. However, some of us don't always feel confident enough to ask.
Often we are not encouraged to ask either. This is all changing because we in the NHS now understand this simple truth. Your health, physical, mental, emotional, body, mind, spirit is yours and not ours.
When people go to see a doctor, surgeon or ophthalmologist, some of us will automatically accept what we are being told by them because these professions are trusted. They need to be trusted as they have the skills to help us in our healing journey. However, in order to help us with this journey they need to empower us and support us to make positive treatment choices.
It is your right to challenge us if you feel something's not quite right.
Realistic Medicine puts you, the person receiving health and social care, at the centre of decisions made about your care. This is not a new concept for the NHS but it's something you're going to hear more and more about - especially from us - over the forthcoming weeks, months and years.
Realistic Medicine encourages shared decision making and is about moving away from the age-old "doctor knows best" culture.
To help make sure you have all the information you need to make the right decision about your care we suggest you ask loads of questions such as:
· Is this test, treatment or procedure really needed?
· What are the benefits and what are the downsides?
· What are the possible side-effects?
· Are there simpler or safer options?
· What would happen if I did nothing?
By having informed conversations our staff are more likely to find out what matters most to you. This then helps make sure your care fits your needs and situation. We all know the one size fits all approach to health and social care is not the most effective path for the you or us, so let's get talking and make your health journey better.
At the Golden Jubilee for us this includes better conversations with nurses, pharmacists, counsellors, physios and doctors.
My message is about partnership, help us, help you! For me, one of the most important aspects of your healing journey is communication and making sure you feel you are making the best choices for you.
For more information on Realistic Medicine at NHS Golden Jubilee, visit: https://www.youtube.com/watch?v=ZhoimKhOG7M and https://www.youtube.com/watch?v=pWWVryCsknI or follow the hashtag #RealisticMedicine
NHS Inform: https://www.nhsinform.scot/care-support-and-rights/nhs-services/using-the-nhs/realistic-medicine