A virtual thank you to our volunteers
June 03, 2020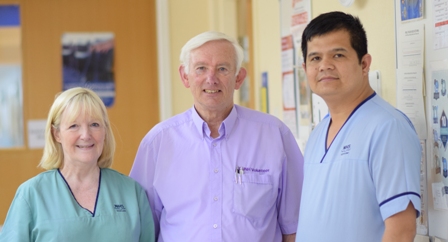 Hello readers, I hope you are all safe and well. I am and have adapted to working from home only speaking and seeing with colleagues from here in sunny Prestwick. I am very lucky as I live on the beach front so I have lovely views, sunsets and people to watch as they cycle, walk and play with their dogs. However, I miss being with people and look forward to those times again.
There's no denying that the last few months have been very strange and a big challenge for many. My heart goes out to people who have lost loved ones to this terrible virus. Also to those of you who are struggling alone especially if you have a long term condition and are awaiting treatment.
At NHS Golden Jubilee we've had to scale down all our non-urgent elective care. We continue to provide 'critical to life' heart, lung and cancer services to the people of Scotland while supporting colleagues from other health boards to free up vital services in the fight against covid-19.
Today I am thinking of the wonderful volunteers who support the NHS and care sector across Scotland. In the space of a few weeks of lockdown coming to effect, there were tens-of-thousands of people offering to help as volunteers within hours of being asked.
Volunteering has changed and at NHS Golden Jubilee we've had to ask our incredible team of volunteers not to come in to the hospital during this time to protect themselves, our staff and our patients.
Instead, many of our volunteers are now talking with patients over the phone or using virtual communication tools to find out how they're doing.
At NHS Golden Jubilee we understand the importance of volunteers. We know that without them we wouldn't be able to offer the person centred after-care that we do.
Volunteering, at its heart, is all about people and relationships. Volunteers who normally give up their time to talk to our patients face to face on our wards are now giving up their time virtually through video and telephone catch ups, helping those who may be experiencing isolation and loneliness.
It's well known that loneliness and social isolation have a terrible impact on mental health and that, in turn, poor mental health increases loneliness and social isolation; a self-perpetuating cycle that can impact people's health.
When volunteers offer their compassion, commitment and skills they are helping to improve a patient's stay with us, support their recovery and ensure they can return home safely.
Traditionally, the benefits of volunteering such as increased wellbeing and feeling more connected, are associated with the patient or client but volunteers can also experience these benefits!
I have often heard volunteers say things like 'I feel happier after my visit' 'I love it and I get so much out of it too'. And feeling good is something we should be celebrating!
So this Volunteers Week, which runs from 1-7 June, we are celebrating you, our team of volunteers, for all the time you have given, whether it is a matter of weeks, months or years; it all makes a tremendous difference to us and our patients.
All of you are so important in helping us provide outstanding care and the Golden Jubilee just simply wouldn't be the same without you.
Though we can't celebrate with you all as we normally would, I wanted to take the time to say a big thank you for everything you do.
Writing this during lockdown brought home how much I miss the interactions with all of you. I very much look forward to welcoming you all back to NHS Golden Jubilee when the time is right; it just isn't the same without you.
Thank you all from the bottom of my heart and accept my love from where I am and a virtual hug. Until we meet again.
Susan Douglas-Scott
Board Chair NHS Golden Jubilee