New strategy puts spiritual care at the centre of NHS Golden Jubilee services
January 24, 2023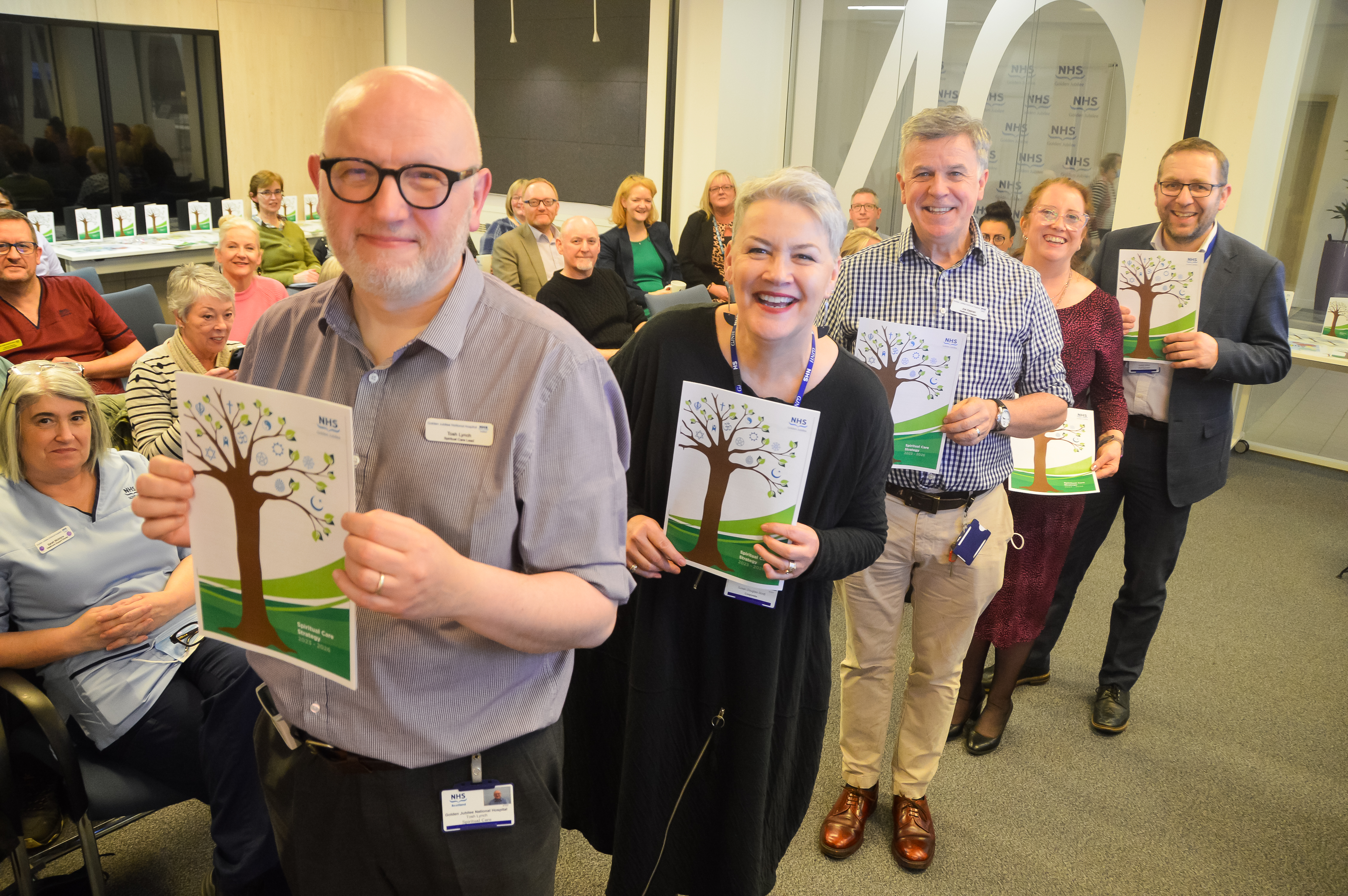 NHS Golden Jubilee has launched a new strategy empowering staff to put spiritual care at the heart of care planning and service delivery.
Spiritual care is the practice of loving kindness, empathy and tolerance in daily life. In a healthcare setting, it is about listening to what is important to the person.
Integrating spiritual care is a key element of the national NHS Board's 'whole person' approach to delivering caring and compassionate high quality person centred care for the people of Scotland.
The 3-year Strategy sets out 4 key priorities to recognise the different spiritual, religious and philosophical beliefs of staff, patients and visitors.
Leading the way in providing inclusive care for all patients, families, volunteers and staff.
Ensuring care planning reflects the holistic nature of healthcare.
Supporting patients, carers, families and staff experiencing loss, grief and bereavement.
Embedding spiritual care and wellbeing training for all healthcare staff and volunteers
NHS Golden Jubilee Board Chair Susan Douglas-Scott CBE commented:
"I believe spirituality is something we all experience on some level.
"Within a values based organisation like NHS Golden Jubilee, our Spiritual Care Strategy is of key importance.
"We value an inclusive approach which means that we can offer pastoral support which ensures that everyone's core beliefs, whatever makes them feel whole, are cared for alongside all their health and other wellbeing needs.
"My wish is that all touchpoints with our organisation are caring, supportive, loving and compassionate.
"I look forward to working with everyone to embed spiritual care, indeed love, respect, kindness and equality, into further action and thank everyone who has worked to get us to this place."
Raising the visibility of spiritual care ensures that people are aware of and have access to Spiritual Care services.
Patients can expect:
Holistic assessment and care planning that recognises and responds to their spiritual needs.
Access to a faith and belief leader from their own community when requested.
Readily available and up-to-date information on Spiritual Care and Chaplaincy services.
Staff and volunteers can expect:
Training to provide assessment and care planning in relation to the spiritual, religious and philosophical beliefs of patients.
Encouragement to get involved in the work of Spiritual Care and Wellbeing to provide the highest quality of care and support to patients, carers, colleagues and volunteers.
Spiritual Care Lead Tosh Lynch commented: "Spiritual Care has changed from the sole domain of chaplains; all health and social care staff now play a part appropriate to their role in supporting people with their spiritual care needs.
"As well as providing strength and comfort during times of uncertainty and illness, embedding spiritual care in our practices contributes to better patient experience and outcomes, helping them get home and recover quicker."
The strategy was developed in collaboration with Golden Jubilee University National Hospital staff and Spiritual Care volunteers.
Spiritual Care Volunteer Antonia Hammond commented:
"As a Pastoral Care Volunteer, I see first-hand the difference that the Spiritual Care and Wellbeing Centre is making in supporting patients and staff.
"The Spiritual Care Strategy reflects how Chaplaincy and Spiritual Care have evolved within the modern day health service to be inclusive of all faiths and none.
"It is an exciting time to see this Strategy gain focus, giving us a platform to change the way we interact with patients, their families and each other."
NHS Golden Jubilee's 3-year Spiritual Care Strategy is available on the Board website.