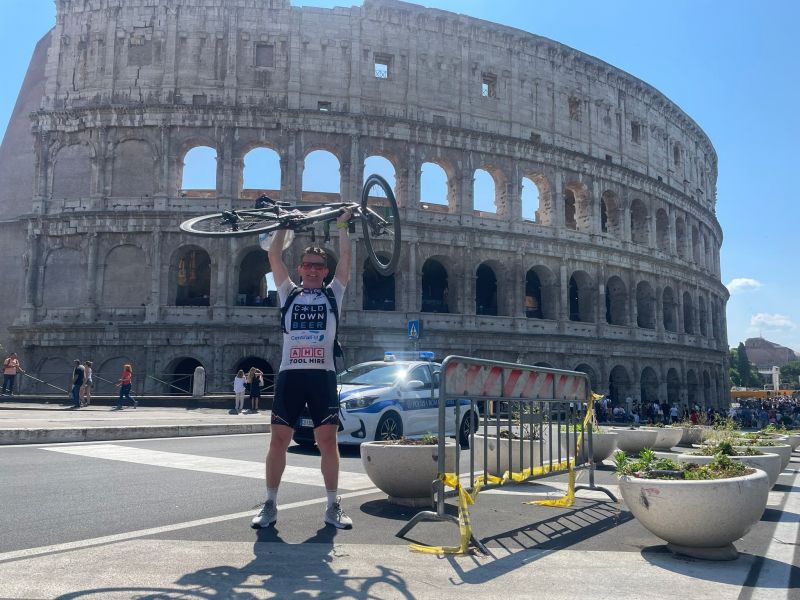 A cardiology patient has thanked the team at NHS Golden Jubilee after raising over £60,000 for charity following his surgery doing formidable bike rides.
In January 2019, Johnny Dreczkowski from Bridge of Allan, Stirling, underwent catheter ablation surgery here, performed by Professor Derek Connelly, to address the atrial fibrillation he had been suffering for more than a year previously.
And since his surgery, former Police Detective Inspector Johnny, 55, has reported no further issues with his heart health and has used his 'new life' to the full by embarking on grueling, long distance cycle rides to raise money for one of his local charities.
He has cycled the West Highland Way (96 miles), Land's End to John O'Groats (874 miles), completed the National Three Peaks 24-Hour Challenge (3,064 metres ascent, 26 miles distance) and in May this year rode solo/unaided from Stirling Castle to The Colosseum in Rome (1,400 miles) among other grueling cycle rides.
'The Rock to Rome' journey involved Johnny cycling from Scotland to England, across Central Europe through The Netherlands, Germany, Austria, south through The Austrian Alps, over The Brenner Pass into the Dolomite Mountains of northeast Italy, down onto the Adriatic Coast and Venice, before crossing southwest, up and over the formidable Apennine Mountain range to his destination, The Colosseum, in Rome.
It took in 6 countries, over three-and-a-half weeks, more than 1,400 miles of cycling and 74,000 feet of climbing through Europe's highest mountain ranges, all solo and unsupported.
Johnny, who was the former Head of Counter Terrorism and Covert Specialist Training at Police Scotland, said: "Since my surgery I have raised over £60,000 for our local charity, the Eilidh Brown Respite Home in Thornhill, which is very close to my family's hearts.
"I just wanted to also express my eternal gratitude to Mr Connolly and the Cardiology team at the Golden Jubilee for giving me my life back."
Johnny has also previously completed the London Marathon, the Highland Warrior Half Ironman, the North Coast 500 and The Cateran 57-Mile Yomp.
The Eilidh Brown Respite Home was built in honour of the Stirling teenager who sadly passed away from a rare cancer shortly before her 16th birthday.
Johnny's wife, Ally Croll, was the architect who designed the respite home.
Consultant Cardiologist and Electrophysiologist, Professor Derek Connelly, said: "Johnny's achievements are simply outstanding and highlight how effective and timely treatment for life-threatening conditions can help people get back to doing what they love to do in their lives.
"It's fantastic to hear that patients of ours are thriving and Johnny's efforts will certainly make a big difference to other people's lives too."
Click this link for more information or donate to Johnny's Rock to Rome