Doctor couple gear up for Cycling World Championships
August 03, 2023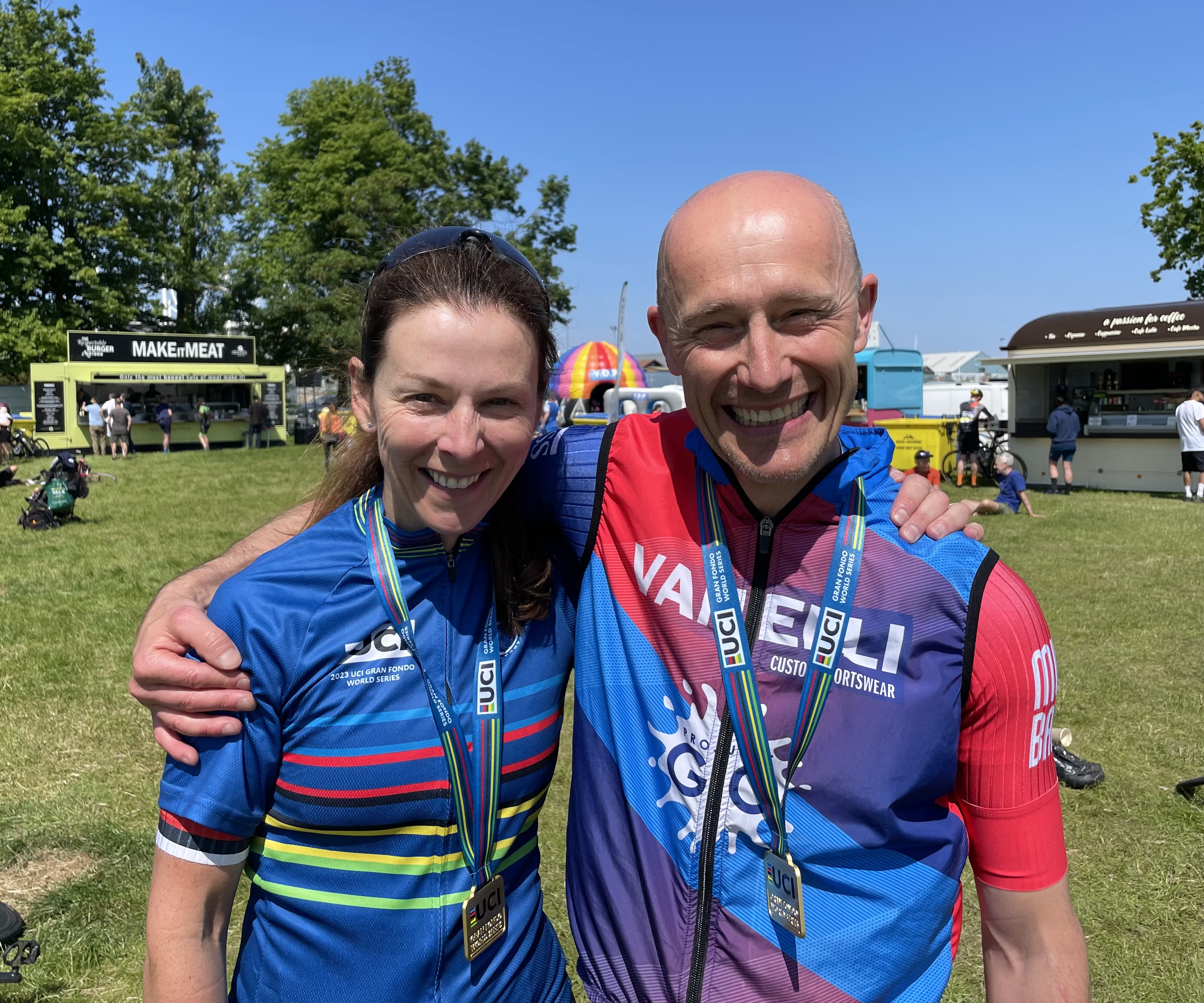 Husband and wife Donna Clayton and Jason Roberts are competing in 'The biggest cycling event ever'
Husband and wife doctors from NHS Golden Jubilee are gearing up to compete for Team GB in the UCI Cycling World Championships being held in Scotland over the next 10 days.
Top cyclists Donna Clayton, a Specialist Doctor in Anaesthetics, and Orthopaedic Consultant, Jason Roberts, are both competing in races for their 50-55 years age categories over the prestigious championships, which kicked off on Thursday.
Champion Donna qualified for the championships after finishing first at the Tour of Cambridgeshire Road Race event in June to claim the Great British crown.
Jason also clocked a great time in his heat in the same age category at the Peterborough event finishing 6th, which ensured his qualification for the Road Race championship.
He will then compete in the Men's Time Trial championship on Monday in Dundee.
Jason, who replaces hips and knees as an orthopaedic surgeon for his day job at the Golden Jubilee University National Hospital in Clydebank, is hoping his own joints are in tip-top shape for his first road race today (Friday) in Perth.
He said: "It's really special to be involved in this event, especially as it's the first of its kind, we'll be representing our country wearing the GB kit, and that we are both competing in the sport that we love.
"I think she has a better chance than I have of finishing with a medal being the British champion and we'll both be trying very hard to compete well in our races."
The couple, who have been married for 25 years, met at university in Leicester in the late 1980s to early 1990s when they were both studying there.
Jason said: "I went to study at Leicester because they had such a great cycling programme as I was already competing at quite a high level back then, and I was lucky enough to meet Donna there too when she was training as an Anaesthetist."
These championships will be the first time the UCI has run all the different cycling specialities in the one event and it is being billed as 'The biggest cycling event ever', with Scotland as the first host.
"This is a once-in-a-lifetime event here in Scotland as you'll have all the Tour de France riders, World and Olympic champions coming here to compete for the elite events.
"Scotland will be able to see the world's best performing on their doorstep so I'd definitely encourage people to get out there and experience it."
NHS Golden Jubilee Chief Executive, Gordon James, said: "It's absolutely fantastic to see Donna and Jason competing in these world championships.
"It just highlights how talented they are, not just in our theatres and clinics treating and caring for our patients, but through their cycling, which I know they are so passionate about.
"Everyone here at Team Jubilee will be rooting for them and we wish them, and all the competitors, well in what promises to be a thrilling event for the whole of Scotland."