Catering worker fulfils dream of being a nurse
November 17, 2023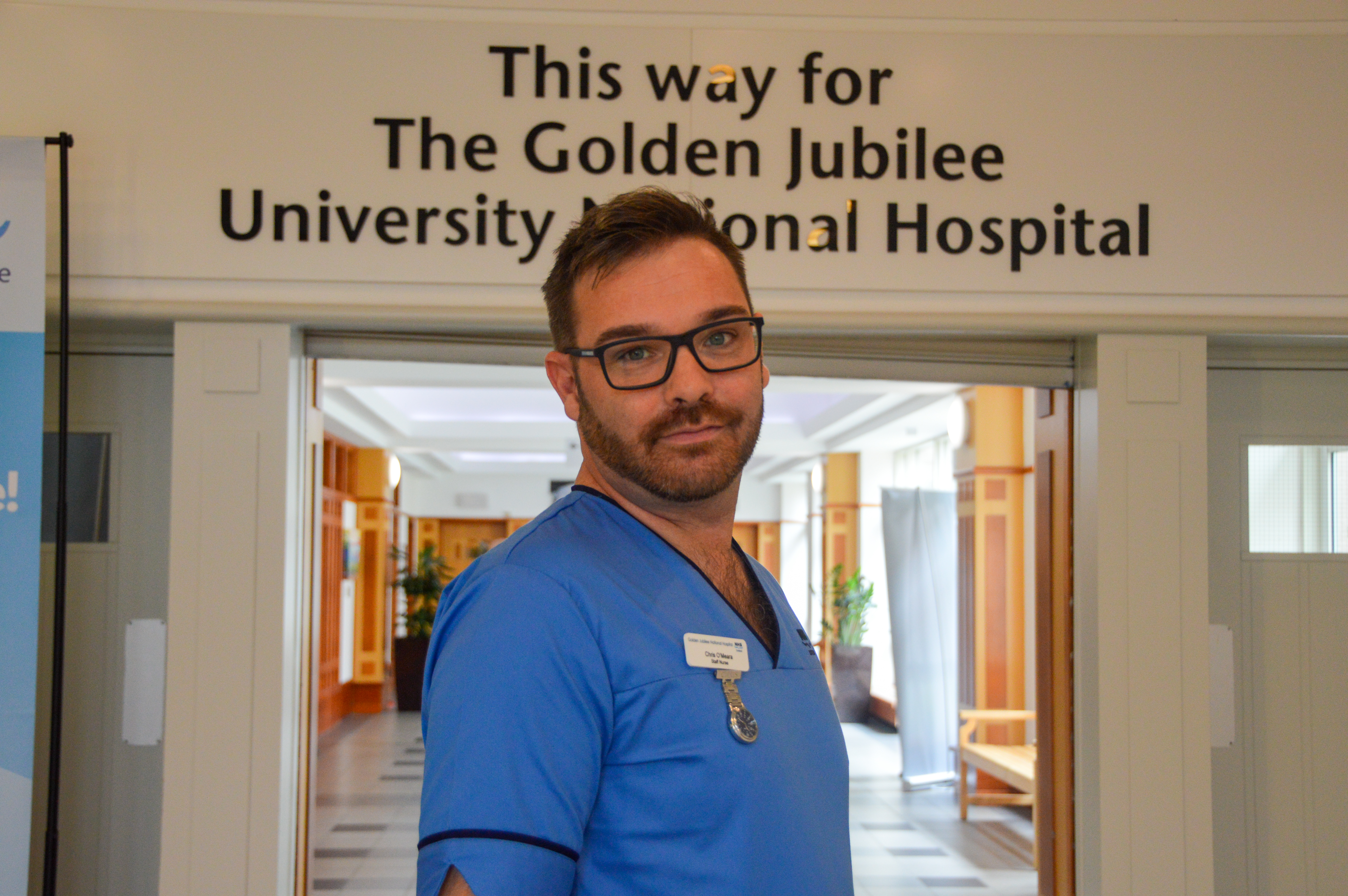 This Scottish Careers Week, a High Dependency Nurse at NHS Golden Jubilee has shared his story of being supported to progress from working in catering to caring for critically ill patients.
Chris O'Meara, 38, from Dumbarton, started working at the Golden Jubilee University Hospital in Clydebank as a Catering Team Leader before setting off to fulfil his dream role of being a nurse.
The Golden Jubilee has been a Scottish Qualifications Authority (SQA) Approved Centre since 2017, delivering Scottish Vocational Qualifications (SVQs) to clinical Healthcare Support Workers, supporting a range of staff to develop through flexible career pathways in the NHS.
Through the Open University (OU) First Steps to Nursing course, students can stay in their jobs and 'earn as they learn' while they gain new skills.
Chris's catering role meant he had a lot of face-to-face interactions with patients on the wards.
It wasn't long before his chirpy, outgoing nature and rapport with patients was noticed by a ward manager who encouraged him to apply to become a Healthcare Support Worker.
From there he was supported through a Senior Nursing Assistant role before beginning the First Steps to Nursing night course for 6 months.
Chris said: "My manager was incredibly supportive, and helped me understand the options available and how I could continue to progress towards my ambition.
"After I had completed the First Steps to Nursing course, my manager continued to encourage me and pointed me towards the SVQ Level 3 course.
"With help from the Clinical Educators, I worked through that for about 18 months before moving on to the Open University course in 2019."
During the course, Chris worked as a Healthcare Support Worker, and was able to schedule his shifts around his studies, meaning he could study and undertake his placements on days off just like any other student.
Despite his initial concerns about being able to complete the course due to having dyslexia, Chris was supported all the way by colleagues and the Clinical Education Team, and this year achieved his dream of becoming a Registered Nurse.
Not only is Chris a valued member of Team Jubilee, he was also a finalist in the Care and Compassion category in this year's Golden Jubilee 'Our People Awards'. The category recognises staff or teams who have demonstrated a positive, compassionate attitude to patients, carers, customers in everything they do.
Chris, who works in the High Dependency Unit (HDU), added: "Nursing was always something I wanted to do, but I was dyslexic and every time I looked into it there was always something I felt I couldn't do because you needed qualifications to get into the courses.
"The OU course is really good for people with dyslexia as all the lectures are recorded so you're not worried about writing notes or missing what's being said. You can go back to things as many times as you need to.
"I really enjoy working in HDU, it's a great team and they have been amazing to me.
"I also need to thank the Clinical Educators, particularly Margaret Hart and Lynn Wilson, who took a lot of time to explain things to me, the protocols, policies and more specific details about service needs that weren't part of the Open University course. It was a very helpful balance and really did make a big difference to me."
Staff at all NHS Boards in Scotland can participate in the Open University Future Nurse programme. This is a funded programme which includes routes for those already working in Healthcare Support Worker roles to become Registered Nurses.
Clinical Educator for Vocational Learning, Lynn Wilson, said: "There are many paths into nursing and Chris, like others who have come through this pathway, have shown fantastic determination and resilience to achieve their goals.
"We can support Healthcare Support Workers to gain a nationally recognised qualification that is Scottish Credit and Qualifications Framework (SCQF) rated. This is transferrable and assessors are in-house so there is no need for travel elsewhere to do it."
"We have several staff members who have used this programme to develop their careers, from nurses to operating department practitioners (ODPs).
"Chris is just one inspirational example of staff who have enhanced their careers through opportunities and support here at NHS Golden Jubilee."
If you are looking for a career that means you can make a difference every day, take a look at our latest vacancies here at NHS Golden Jubilee by visiting: NHSGoldenJubilee.co.uk/Jobs.