NHS Golden Jubilee's vision is delivering care with collaboration.
We provide a quality service delivering person-centred, safe, effective care for every patient, taking consideration of the nine protected characteristics under the Equality Act. We take pride in caring for our patients and service users, taking into account their specific needs and wishes.
In particular, we are keen to offer inclusive services for patients regardless of their age, sex, race or ethnic origin, faith or religion, sexual orientation, gender identity or disability.
We value every patient and member of staff. Working with a a range of staff, patient representatives and managers we have developed our values statement, which reflects the core behaviours we believe in: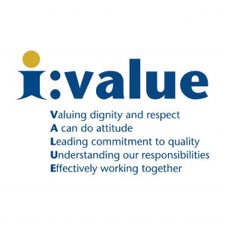 For further information about our Vision and Values, please contact our Communications and Corporate Affairs team on 0141 951 5195/5175 or email Comms@gjnh.scot.nhs.uk