Another robotic landmark for NHS Golden Jubilee
April 28, 2023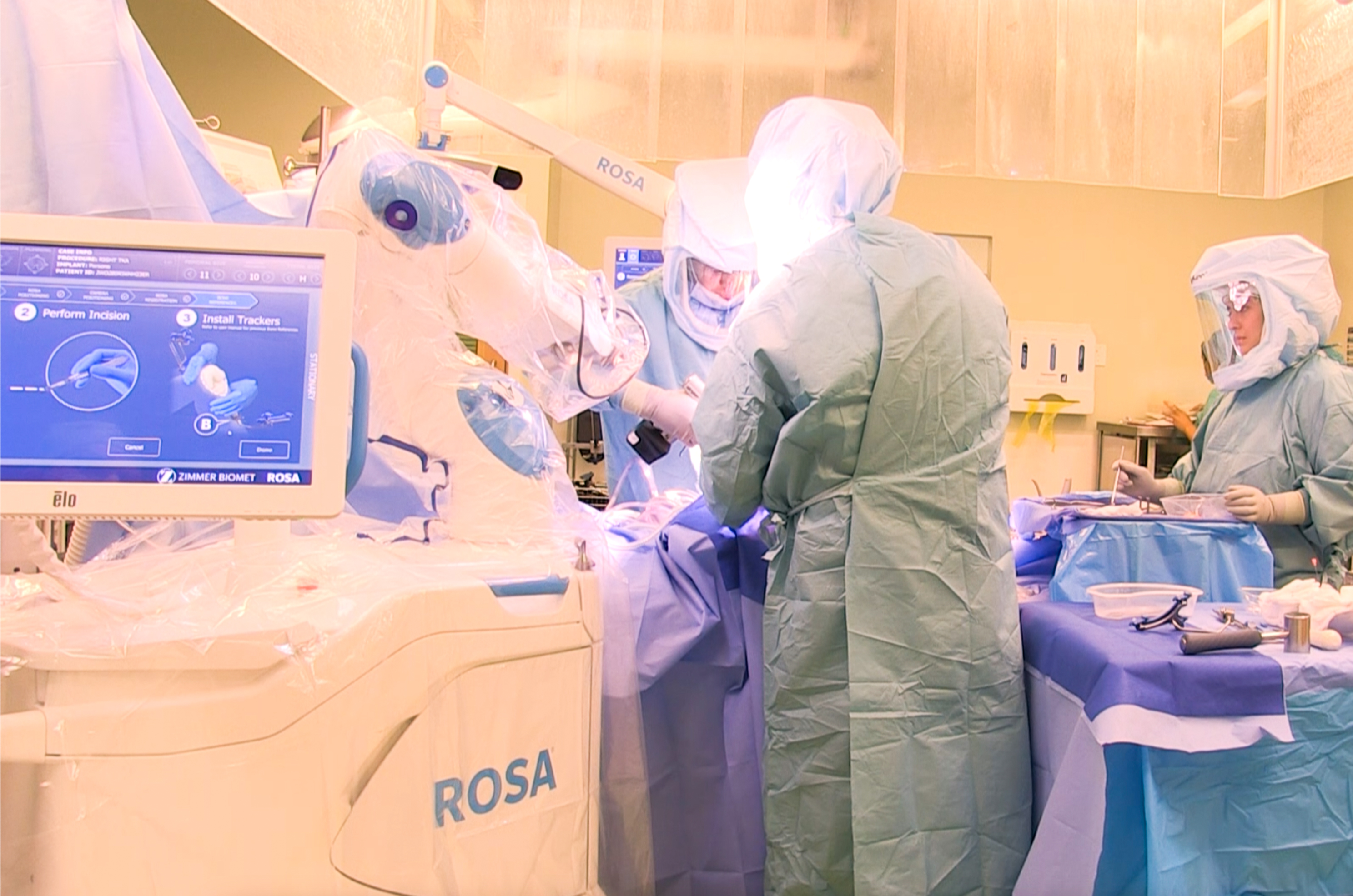 NHS Golden Jubilee has become the first NHS Scotland health board to carry out more than 100 orthopaedic joint replacements with the pioneering ROSA robot, as they continue their ambitious robotic strategy for patients across Scotland.
This means the Golden Jubilee now has the second highest number of ROSA procedures carried out in the UK, with potentially significant long-term benefits for patients.
This latest milestone comes just a few short months after the Hospital celebrated their 1,000th robotic orthopaedic joint replacement overall, as they continue to expand their use of the technology for patients, providing more precise operations, potentially shorter hospital stays and quicker recoveries.
After carrying out the procedure, consultant orthopaedic surgeon, Nick Holloway, said: "We started using the Rosa robot back in July 2021 as an extension of the Orthopaedic Department's robotic strategy to bring technology and computer-assisted orthopaedic surgery to more of the implants we use for patients across the country.
"This technology drives precision, accuracy, reduces variation and helps improve the predictability of outcomes for patients.
"It also gives us the ability to plan the operation before you even get into the operating theatre. This means we can pre-plan and essentially see the outcome on screen before the patient is even under anaesthetic. This allows for more consistent outcomes, reduces human error and gives more confidence in the precision of your surgery."
The Golden Jubilee's robotic programme began in November 2019, when the orthopaedic team marked a Scottish first by using a robot for routine total and partial knee replacement surgery, and have continued at a rapid pace to provide the highest possible standard of care for Scottish patients, which is now helping with the recovery of NHS services following the pandemic.
Compared to non-robotic surgery, NHS Golden Jubilee patients are benefitting from greater implant accuracy, reduced soft tissue damage and less blood loss.
Robotic surgery also has the potential to have significant long-term benefits to patients and the NHS as a whole, by reducing the likelihood of patients requiring repeat joint replacements in later life, with the aim of saving millions for NHS Scotland in future years.
The Golden Jubilee University National Hospital, which treats patients from health boards all over Scotland, is playing a big part in helping NHS Scotland's waiting times recovery. Based in Clydebank, the Golden Jubilee is one of Europe's largest elective orthopaedic centres, and in 2021-22 carried out over 30% of all elective hip and knee replacements in NHS Scotland.
NHS Golden Jubilee Medical Director, Dr Mark MacGregor, said: "It is testament to the hard work and dedication of all the teams involved that we have reached another milestone with cutting edge robotic technology.
"We now have 5 surgical robots as part of our robotics programme here at NHS Golden Jubilee for orthopaedics, lung cancer, colorectal and other procedures.
"By collaborating with health boards from all across the NHS Scotland, this not only has huge benefits for patients all around the country, but is providing vital support to help tackle waiting lists both now and in the future."