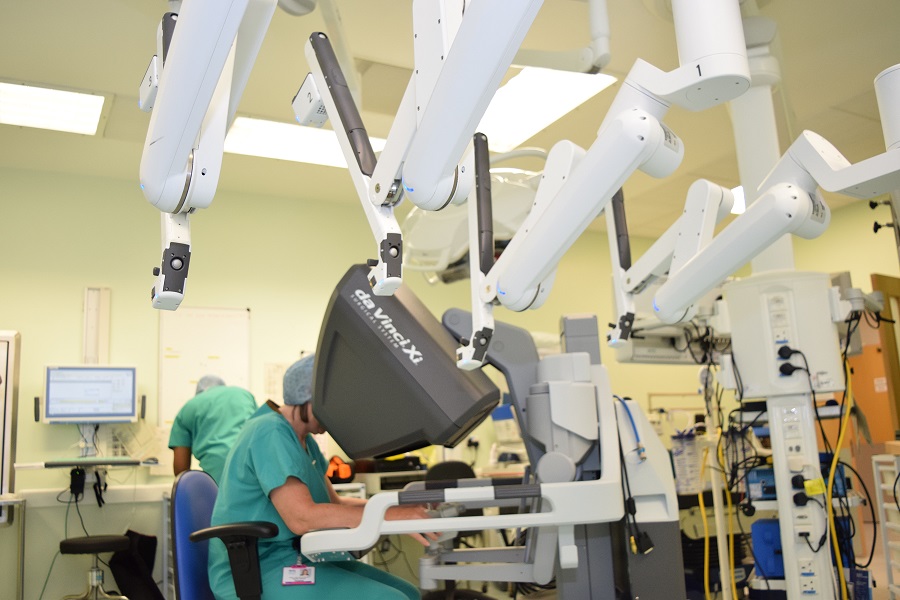 Back in the 1980s when they were making scary movies about robotic technology taking over the world, my more impressionable younger self was fascinated.
Some were suggesting world domination by these imagined machines, but I did have a soft spot for R2D2 from the Star Wars Trilogy! As a disabled person and an Occupational Therapist in the 1980s I was also interested in emerging assistive technology and excited by its potential to radically increase independent living options.
Millennials - my young adult children for example know all about robots these days – they've practically been brought up with them. They are still convinced I'm a dinosaur when it comes to new technology given my occasional challenges with the TV remote control! I'm happy to say my fascination for new technology and robotics has not waned despite a strange inability to remember how to work my TV.
These days I'm actually quite close with a couple or robots now I'm Chair of the Board here at NHS Golden Jubilee. My passion for and belief that robots would one day help many more than Luke Skywalker has paid off.
As one of Europe's largest elective orthopaedic centres currently doing 25 per cent of all Scotland's hip and knee replacements, we are at the forefront of using technology and innovation and have invested in robotics for the benefit of our patients.
We are the only centre in the UK with a robot exclusively for lung surgery and have now done more than 150 operations using our Da Vinci for lung procedures, including cancer treatments. It's a spectacular piece of equipment and, most importantly, our patients tell us they heal up quicker with less pain.
And as we embark on this new frontier in medical treatment, our skilled orthopaedic surgeons and their team have also just carried out their first procedure using the Mako robot – the first robot in NHS Scotland for routine knee surgery.
I am so excited by this as we anticipate this robot will also greatly enhance our patients' post-op experience.
This is because using robots for both lung and arthroplasty surgery reduces tissue damage and blood loss, it gives surgeons greater accuracy and, rather importantly, less pain for the patient meaning shorter hospital stays.
This also means quicker recoveries for people who want to get back to their daily lives and less in patient costs, so it's a win-win all round. Better for people, better for the NHS in Scotland.
Robotic arm surgery is a natural progression from Computer Assisted Orthopaedic Surgery which we currently do here at NHS Golden Jubilee, and we will always seek to use innovation and scientific developments to help us deliver first class care to everyone we treat.
I'm sure "I'll be back" talking about robotics in the future, as we continue our innovation journey to improve patient care and experience at NHS Golden Jubilee. In the meantime click on the link below to see one of robots in action and the comments from the patient who benefitted from a shorter stay in hospital and less pain from the surgery.
Video: https://www.youtube.com/watch?v=txqqVNkko54
Scottish first for robotic lung surgery at Golden Jubilee: https://www.nhsgoldenjubilee.co.uk/news/press-releases/press-releases-2018/scottish-first-robotic-lung-surgery-golden-jubilee