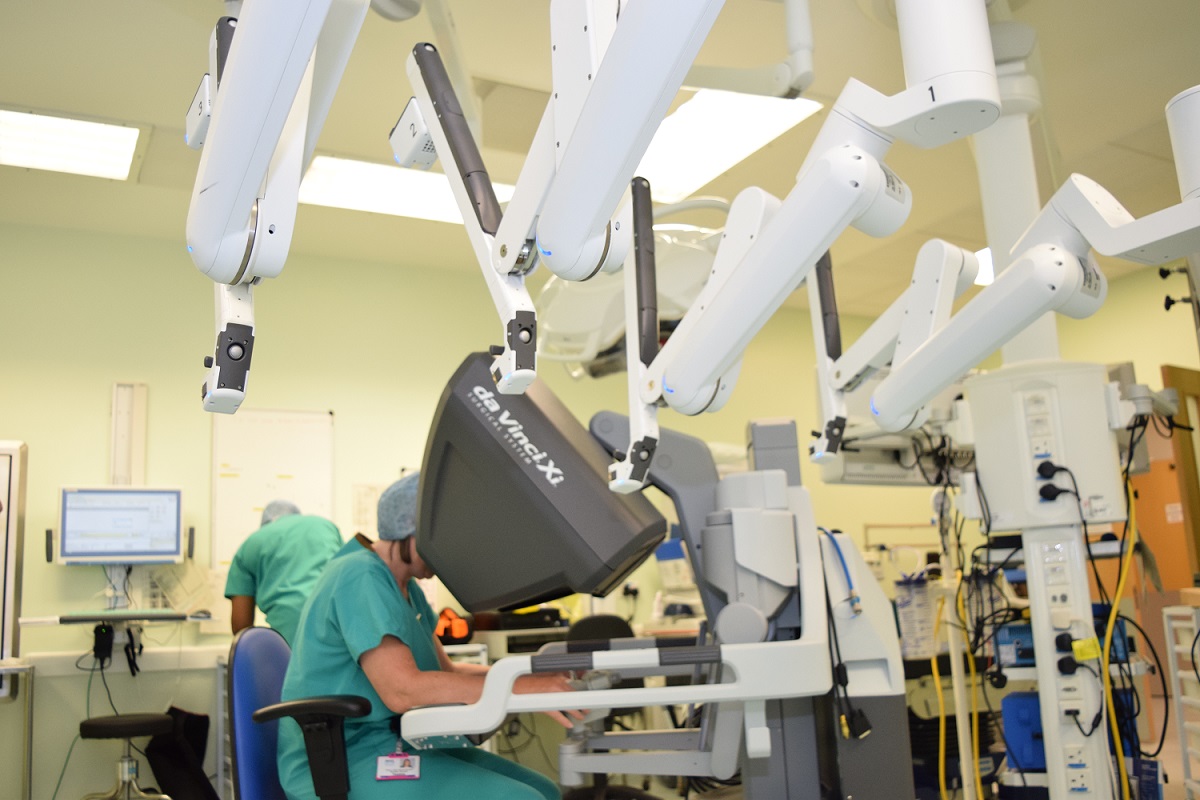 Surgeons at the Golden Jubilee National Hospital have carried out another Scottish first by using a robot to carry out lung surgery on patients.
Lung specialists at the innovative Clydebank facility have successfully used a Da Vinci robotic machine in theatres for the past few months, with patients enjoying less painful recoveries.
The robot is being hailed as the 'next frontier' in minimally invasive surgery. Its beneficial effects also include a shorter recovery time and less nerve damage during surgery for patients.
The Da Vinci works by inserting rods into the body which are operated by a surgeon on a separate control pod, moving the procedure on from conventional keyhole and traditionally invasive surgery.
The robot's wristed instruments can bend and rotate better than a human's, and with more accuracy, allowing the surgeon to operate with a steady natural motion, as colleagues watch on highly magnified 3D HD screens.
The machine also has health benefits for surgeons, allowing them to carry out operations sitting down rather than bent over an operating table, which can prevent injuries such as back problems, potentially prolonging their own working lives.
Golden Jubilee Cardiothoracic Consultant Alan Kirk, who has used the Da Vinci on patients with lung conditions, said: "It is probably the standard of care for most urology or prostate cancer work, but recently over the past five years in the UK, people have diversified and started using it for lung surgery.
"We are the first unit in the whole of the UK to have a robot specifically dedicated to lung surgery.
"Although it looks very complicated, it's really an extension of what we already do on a keyhole and minimally invasive platform, but this takes things one stage further forward.
"Over the past five years we've gone from big open operations for lung cancer to 80 per cent of our lung cancer procedures now being done by conventional keyhole surgery. This development is a natural extension of that, which we hope and anticipate will result in improved patient outcomes."
Optometrist Geraldine MacAulay, 55, from Hyndland in Glasgow, had her operation done by the Golden Jubilee clinical team using the Da Vinci four weeks ago after being diagnosed with adenocarcinoma in April.
She is overwhelmed at the lack of pain she has experienced post-operation and believes her recovery time has been quicker than it would have been through a conventional, invasive procedure.
She said: "It's a daunting prospect having any kind of major surgery and obviously the diagnosis of cancer was a shock.
"I was offered the robotic surgery where the benefits were less chance of nerve damage, less long-term pain and a speedier recovery so I was very happy and confident to accept that as I knew I was in the hands of a skilled surgeon.
"The fact I haven't had a lot of pain has, I am sure, enhanced this recovery so I'm feeling quite well. When I read different things on blogs about the pain and the length of time some people suffer pain, I definitely feel I've had a better experience than people who haven't had the robotic procedure.
"I would definitely recommend this surgery to anyone to go ahead with it if they are offered it."
Golden Jubilee Chief Executive Jill Young said: "We have always been a pioneer of innovative surgery here at the Golden Jubilee.
"In this, our tenth year of providing heart and lung services for Scotland and also the 70th year of the NHS, using technology such as the robot helps our progression as we advance into the future.
"This innovation shows our commitment to enhancing patient health and care and will provide better outcomes for everyone involved."