NHS Golden Jubilee physiotherapy team win UK award
November 04, 2020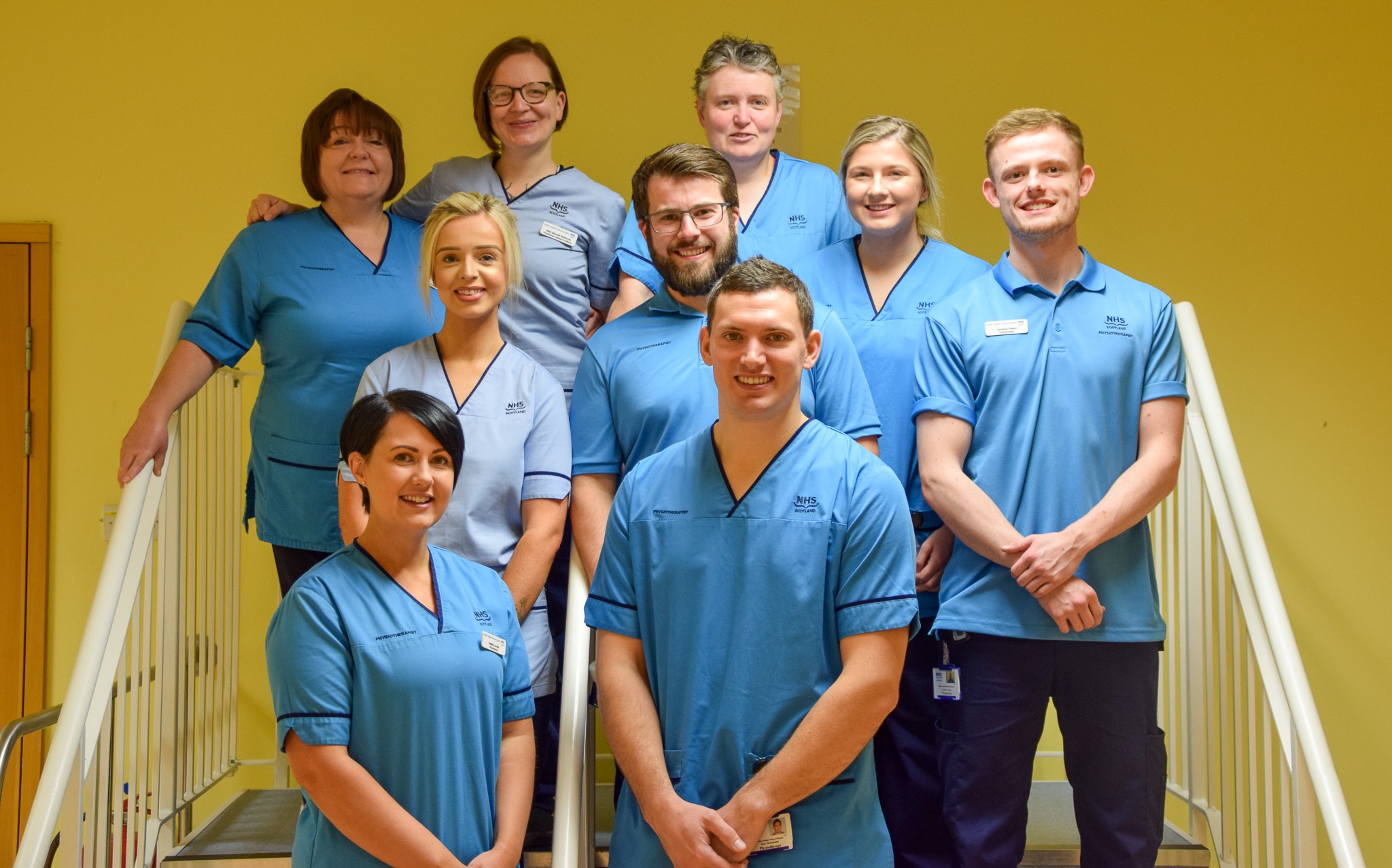 The Cardiothoracic Physiotherapy team at NHS Golden Jubilee is celebrating after winning a top UK award for its innovative care to heart transplant patients.
The team, which specialises in cardiothoracic surgery care as well as advanced heart failure, was led by senior physiotherapists Fiona Nolan, Ross Marscheider and Natalie Lambie, and received the Scottish Government's award for 'Improving quality: measuring and demonstrating impact' in the UK Advancing Healthcare Awards.
The pioneering team was the first in the UK to mobilise a patient on an intra-aortic balloon pump (IABP) awaiting transplant back in 2018, in collaboration with a Multi-Disciplinary Team (MDT) on the National Services Division ward.
The pre-habilitation technique is now standard practice for this group of patients at NHS Golden Jubilee. It allows them to have exercise up to twice a day, maintaining muscle tone and ensuring better physical shape to receive a transplant, in addition to better chances of a good recovery.
The team impressed with their passion for their profession and the genuine care they show to patients, and judges hailed the technique as "an important and innovative development".
Fiona Nolan, Team Lead Cardiothoracic Physiotherapist, said: "The team feels very honoured for our work to be recognised in this way. Although this was a physiotherapy-led service development, we had great support from the wide range of colleagues.
"We also appreciated the trust and enthusiasm from our first few patients because without this, walking on a balloon pump would not have become standard practice for NHS Golden Jubilee patients.
"The impact of this is that patients feel physically and psychologically more prepared for their heart transplant. As physiotherapists we are pre-habilitating these patients and getting them as physically well prepared for surgery as possible.
"The development has also resulted in a shorter length of hospital stay for the majority of these patients who have been safely discharged home earlier than previous patients who had a more prolonged bed rest."
Christina MacLean, Head of Rehabilitation, NHS Golden Jubilee, added: "This award recognises the team's commitment to improving the quality of service offered to our most vulnerable patients and the positive impact this had on the patient experience and overall wellbeing.
"The team is incredibly devoted to delivering first class care to their patients who are benefitting from their dedication and innovation to live longer and healthier lives."
Award judges said: "Here is a big vision, impeccably delivered through careful governance...It is highly transferable – an important and innovative development."
Nurse Director Anne Marie Cavanagh said: "I am absolutely delighted at the result of the Advancing Healthcare Awards and would like to congratulate our talented and committed members of staff for this incredible achievement.
"This initiative has been of immense benefit to patients pre-operatively, and has also led to improved post-operative outcomes.
"This award highlights the team's commitment to their patients, they deserve this accolade so much and we are all extremely proud that their efforts have been recognised at a national level."
Details:
Link to full awards round-up: https://www.csp.org.uk/news/2020-10-22-physiotherapy-staff-triumph-advancing-healthcare-awards
People who require heart transplants are often too ill to do any form of exercise, or even normal day-to-day activities, and some require additional support such as a balloon pump to keep them stable.
The balloon pump is a bulky device which needs to be wheeled around in a cabinet and connected to the patient through an artery, making it extremely difficult for them to be mobile.
However, the technique used by the Golden Jubilee National Hospital's rehabilitation physiotherapists, which is used in other countries, allows patients in wards to get up and about twice a day to keep their muscle strength up and in better shape for a future transplant.
The new protocol involves physiotherapists and nurses moving the patient onto a tilt table, which allows the patient to be moved into a standing position without bending at the hip joint.
This enables the patient to walk, with the aid of a walking frame, while still being on the balloon pump and avoiding bending the hip further than 30 degrees.
Without the new protocol, the mobility of heart failure patients on bed rest is restricted for the duration of the time they are on a balloon pump, which could be months.
This restriction can lead to muscle atrophy, reduced exercise tolerance, weight loss, restriction in respiratory muscle function, longer post-operative recovery or even the increased risk of intra-operative mortality.
Patients on bed rest are also more at risk of hospital infection and complications such as pressure ulcers.