UK first for heart transplant inpatients at Golden Jubilee
December 04, 2018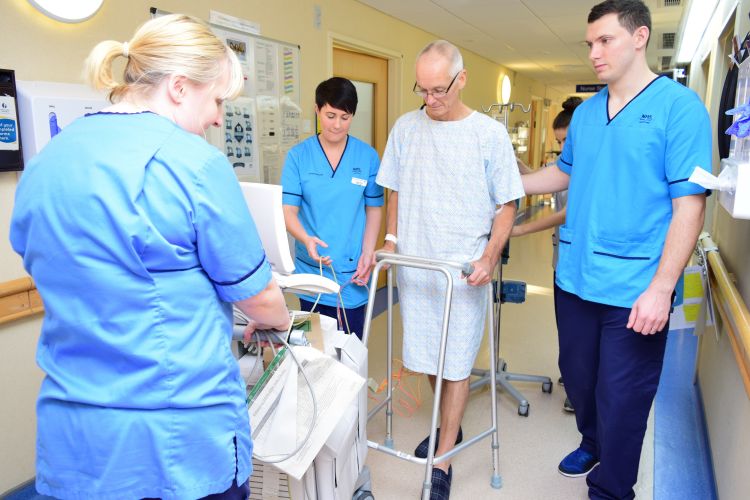 Physiotherapists at the Golden Jubilee have implemented a technique to help critically ill inpatients on the heart transplant list get vital exercise.
Senior physiotherapists Ross Marscheider and Natalie Lambie, who specialise in cardiothoracic surgery patients, are leading the team which did the first mobilisation of a patient on a femoral intra-aortic balloon pump (IABP) in the UK last week.
People who require heart transplants are often too ill to do any form of exercise, or even normal day-to-day activities, and some require additional support such as a balloon pump to keep them stable.
The balloon pump is a bulky device which needs to be wheeled around in a cabinet and connected to the patient through an artery, making it extremely difficult for them to be mobile.
However, the technique used by the Golden Jubilee National Hospital's rehabilitation physiotherapists, which is used in other countries, allows patients in wards to get up and about twice a day to keep their muscle strength up and in better shape for a future transplant.
The new protocol involves physiotherapists and nurses moving the patient onto a tilt table, which allows the patient to be moved into a standing position without bending at the hip joint.
This enables the patient to walk, with the aid of a walking frame, while still being on the balloon pump and avoiding bending the hip further than 30 degrees.
Without the new protocol, the mobility of heart failure patients on bed rest is restricted for the duration of the time they are on a balloon pump, which could be months.
This restriction can lead to muscle atrophy, reduced exercise tolerance, weight loss, restriction in respiratory muscle function, longer post-operative recovery or even the increased risk of intra-operative mortality.
Patients on bed rest are also more at risk of hospital infection and complications such as pressure ulcers.
Physiotherapist Ross Marscheider said: "This week we've mobilised a heart patient on a femoral balloon pump for the first time, we believe, in the UK.
"We know that patients de-condition with being in bed for long periods of time so this should help improve patients' muscle strength in order for them to be in a better position for transplantation."
Physiotherapist Natalie Lambie added: "Our patient George did fantastic and his blood pressure remained stable throughout.
"We got his family involved and they were really happy to see him up and about after quite a long time in bed and looking a bit more like himself and he really enjoyed it."
Patient George Liddell (61), from Paisley, said his health has improved "immensely" since being put on the balloon pump, and the exercise is also helping to keep him fitter and in good spirits.
He said: "The exercise really helps, I'm up twice a day and I've got exercises to do on my bed just to help my muscles, so if I'm lucky enough to have a transplant then it helps you to recover quicker.
"Just getting up a couple of times a day also helps you both physically and mentally, it boosts you as well because if you're just lying in bed all day it gives you something to look forward to, getting up for that 15-20 minutes."
"I'd like to thank all the staff here for the amazing work they do, I wouldn't be here without them."