Heart service is a 'resounding success' in prolonging lives
April 01, 2022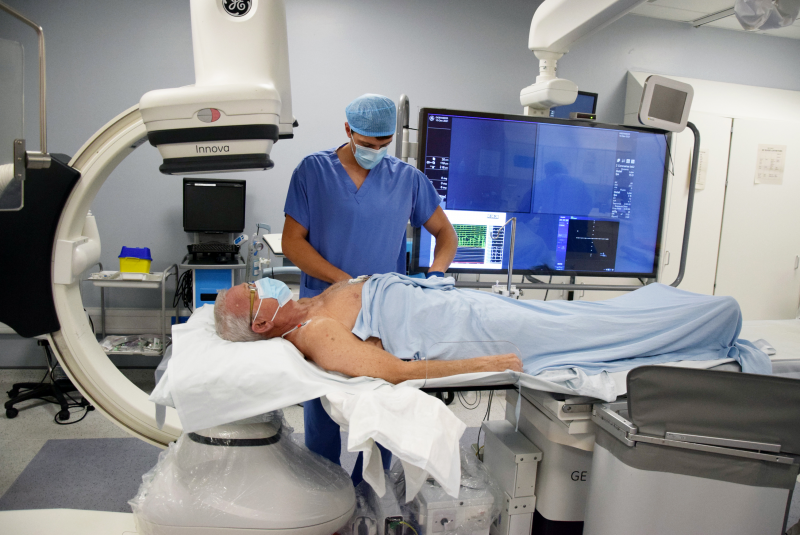 A life-saving service for older people and those at high risk of open heart surgery at NHS Golden Jubilee has been a "resounding success" for Scottish patients as it passes a landmark 500 procedures.
The transcatheter aortic valve implantation (TAVI) service was introduced at NHS Golden Jubilee 4 years ago for patients who required heart valve replacements for aortic stenosis.
The innovative service is for patients at high risk for conventional open heart surgery normally due to advanced age or other health conditions.
TAVI is a less invasive alternative to surgery for aortic valve replacement and is routinely performed through blood vessels in the groin.
The procedure helps reduce symptoms including shortness of breath, chest pain, dizziness and fainting, as well as significantly reducing the risk of heart failure and death.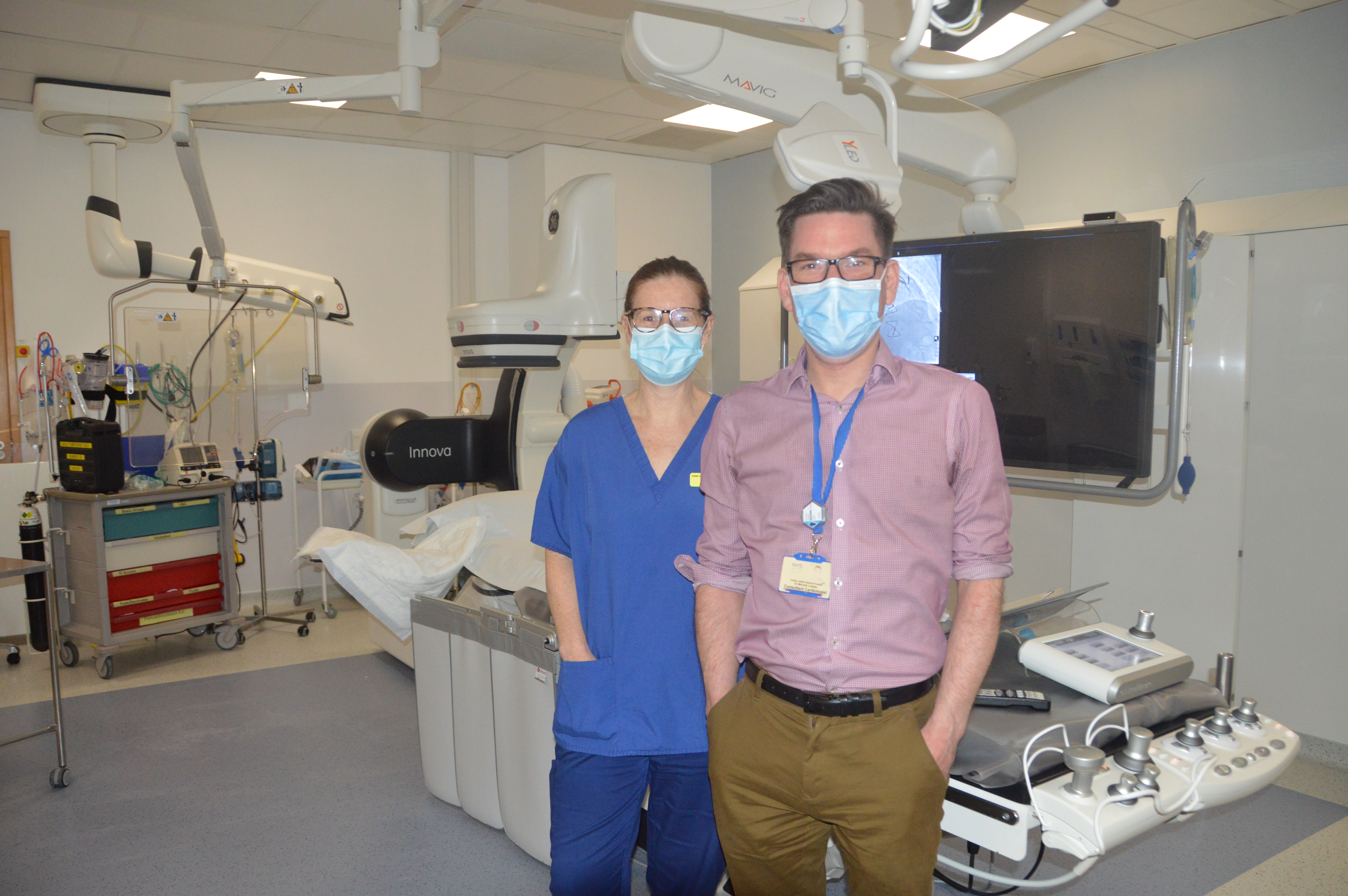 Cardiac Nurse Specialist Katy Joss and Mitchell Lindsay, who carry out TAVI procedures
NHS Golden Jubilee Consultant Cardiologist and Clinical Director Mitchell Lindsay said: "So far the service has been very successful and we are delighted with the positive outcomes for our patients. We provide this service for the patients of the West of Scotland, which is a population of around 2.2 million people.
"We run dedicated multi-disciplinary meetings and clinics to ensure we select the correct patients for this technology. We perform around 4 procedures each week. Despite the average age of our patients being 82-years-old, the non-invasive nature of this procedure means the length of stay is only 2-3 days."
NHS Golden Jubilee, as home of Scotland's largest heart and lung unit, accepts referrals from NHS Lanarkshire, Dumfries and Galloway, Ayrshire and Arran, Argyll and the west coast and Greater Glasgow and Clyde for TAVI treatment.
Nancy Dick, a retired secretary from Cambuslang, received TAVI treatment in 2019 following a heart problem, which was leading to heart failure.
The 85-year-old great gran said: "My son told me I was starting to become breathless so I went to see about it and was told I had a heart murmur.
"I was then told the next step was heart failure so I got the call to go in on the Monday, I got the operation on the Tuesday and I was home on Thursday.
"The treatment I received was absolutely phenomenal. I know people are scared about having this type of thing done, I certainly was, but I decided it was worth doing and I was in good hands.
"I'm doing great now, I've had my 4th booster, I have my family around me, I have 4 grandchildren and my first great grandchild, Rose, was born on Robert Burn's Day, so it has all been worth it."
The TAVI team is also recruiting patients to multicentre research studies.
Mitchell added: "The service is growing very rapidly as clinical practice across the world changes in this field. Very high quality clinical trials demonstrate that TAVI is a very good alternative to conventional open heart surgery in many patients.
"Outcomes for our patients have been a resounding success thus far, so it is promising and we are extremely happy with how the service is progressing."
Professor Hany Eteiba, NHS Golden Jubilee Associate Medical Director, said: "As ever, NHS Golden Jubilee is working in collaboration with other health boards to deliver a life-saving service for these patients.
"We are always investing in innovative ways to treat patients effectively, in a person-centred way, and TAVI has proven to be a valuable addition to our range of treatments for heart disease.
"Every life is precious and TAVI is helping keep families and loved ones together through improved or better quality of life, prolonging lives and helping people when surgery is unfortunately not an option."