Golden Jubilee in harmony with Scottish Ensemble
February 19, 2020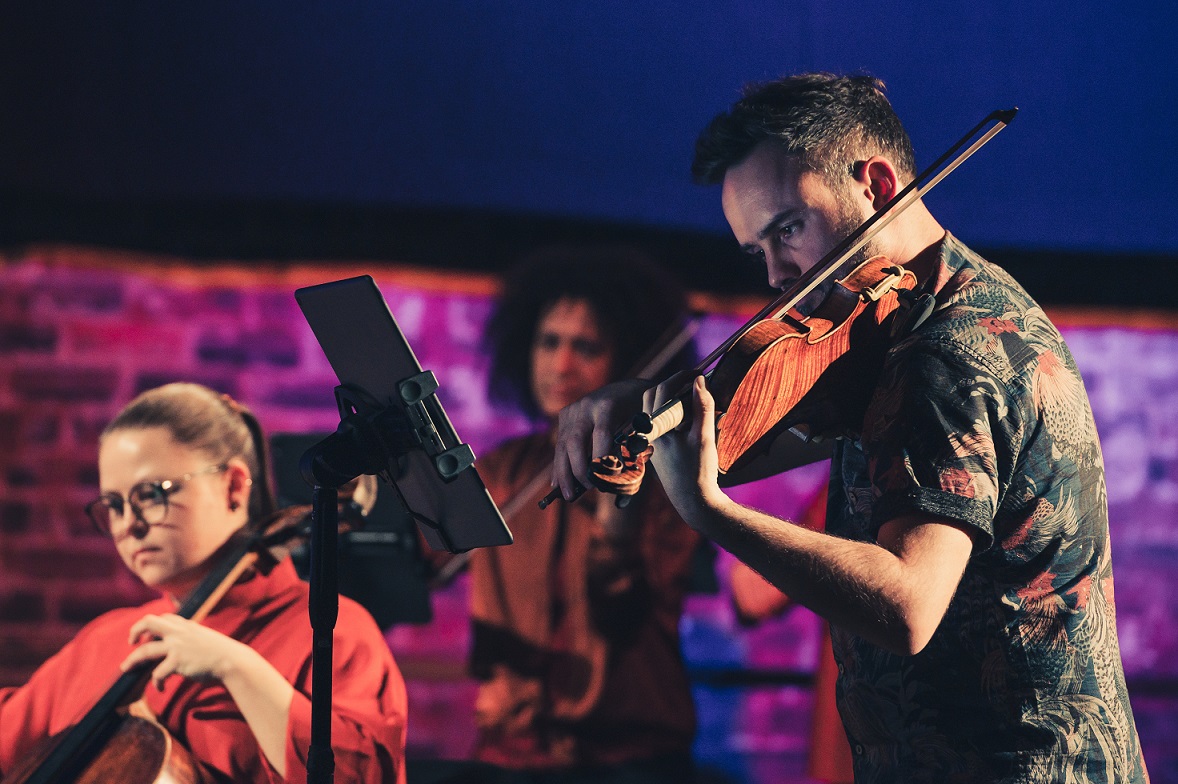 NHS Golden Jubilee has been working in harmony with Scottish Ensemble to help bring their new show about heart transplantation to life.
The theatrical show, We Are In Time, raises awareness of the process of transplantation at Scotland's heart and lung centre as it follows the journey of a transplanted heart through the stories of the donor and recipient.
Staff from the Scottish National Advanced Heart Failure Service – from transplant surgeons, theatre and ward staff, members of the organ retrieval and after-care teams and patients – collaborated with the arts group to give a unique insight into the different stages of the complicated and emotional journey of heart transplantation.
Director of Heart, Lung and Diagnostic Services, Lynne Ayton, said staff are looking forward to seeing how transplantation will be interpreted in the show.
She said: "Although very different in nature, gravity and outcome, there are similarities in how orchestras and our talented, multi-disciplined teams work together to produce a quality end product.
"Each member of the team has to have impeccable timing and work in perfect harmony with their colleagues to achieve the best results. It has been a real pleasure working with Scottish Ensemble to show what is involved in this process, which requires immense skills, collaboration and above all else, compassion.
"Our entire team is really looking forward to seeing how Scottish Ensemble will bring all these components of transplantation together into this theatrical and musical production."
Lorraine Jerrett, an Advanced Heart Failure Nurse Specialist and Transplant Coordinator, added: "It is a privilege to be part of a patient's journey through heart transplantation, it is such a rewarding thing seeing someone get their quality of life back.
"It is a very emotional journey and we get to know the families really well as after-care lasts for a lifetime following their procedure, so if that emotion comes through in the show I think it will be quite remarkable."
Writer Pamela Carter spent time researching the piece at the Golden Jubilee, observing open heart surgery in theatres and speaking to patients awaiting a new heart in the ward.
She said: "Seeing the Golden Jubilee staff in action and having talks with heart failure patients helped me reflect on human fragility and remarkable human resilience, which inspired my work for the project.
"Working on this project has been a truly unique and eye-opening experience after spending time at the Golden Jubilee National Hospital and I was lucky enough to witness open heart surgery.
"I was struck by the parallels between the medical staff and musicians of this project - their individual brilliance and teamwork, their mastery of technologies and their exquisite timing."
The We Are In Time show, featuring a new score from ground-breaking Icelandic composer Valgeir Sigurðsson, is part of Scottish Ensemble's 50th Anniversary Season. The show runs from 25 February to 6 March at venues in Perth, Glasgow, Edinburgh and Inverness.
See www.scottishensemble.co.uk for more information.