NHS Golden Jubilee embraces technology to continue volunteering services
June 04, 2020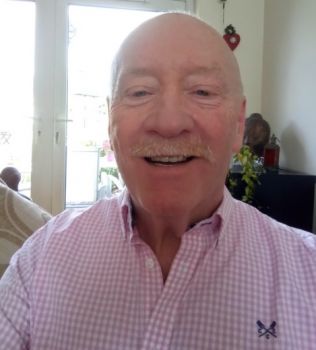 NHS Golden Jubilee's pastoral care service is using Volunteers Week 2020 to highlight the benefits of virtual volunteering and the positive impact it is having on current and previous patients.
The Golden Jubilee traditionally offers a volunteer pastoral care service at the person's bedside, but due to the coronavirus pandemic, visiting has been restricted.
Our volunteers, who would normally spend time in the wards visiting patients and liaising with staff, now use video and telephone calls to maintain contact with their healthcare colleagues and patients in hospital and at home once discharged where continuing support is needed.
NHS Golden Jubilee has free Wi-Fi so patients can keep in contact with family and friends digitally. Our volunteers have been trained on various platforms to check on the well-being of patients who are currently within the Golden Jubilee National Hospital as well as those who have recently been discharged home or have ongoing needs.
Volunteer Services Manager at NHS Golden Jubilee, Elizabeth Rogers, said:
"Pastoral care volunteers support patients at their most vulnerable time. Being in hospital can be difficult for people and not having the comfort of regular visitors can be very isolating.
"Where possible, we've tried to keep in touch with patients and, thanks to the technology available, we have been able to continue to have compassionate and genuine conversations."
Jack Morrison, 68, from Bearsden, has been a volunteer with NHS Golden Jubilee for 18 months. His weekly chats to fellow heart failure patients were put on hold when the pandemic stopped visits to hospitals.
Jack said: "Introducing tech into volunteering has been tremendous. It's changed the relationship, you're used to going up to the ward and shaking hands and obviously that's not happening now.
"We have to protect ourselves and the patients and speaking with them on the phone really helps with that. It's been great to learn a new skill and it's really good to be able to chat with patients and see how they're doing. It would be terrible if we suddenly stopped offering a listening ear"
Morag McNeil, 78, was in the Golden Jubilee for more than six months due to several complications as she waited on a hip replacement and volunteers provided peer support throughout that difficult time when she was so far away from family.
Morag's husband is now in a care home in Uist. Her daughter, who is a teacher, helps provide care for her at home, and the peer support from Golden Jubilee volunteers is an added comfort to her at the moment.
Morag said: "I came home in April, but the volunteers still call me twice a week to make sure I'm doing ok. It's really nice of them to think of me.
"I had a lot of problems and it wasn't possible to do the operation for quite a while, but the volunteers helped me through it, kept me cheerful and kept my spirits up and it's amazing that they still do it even when I'm home. It's a great comfort to me."
Susan Douglas-Scott, Chair of NHS Golden Jubilee, said: "As a person centred organisation, NHS Golden Jubilee has embraced the use of technology to enable virtual visiting. Our pastoral care volunteers are able to maintain contact which is important for the mental health and emotional wellbeing of our patients and their families at what is probably one of the most challenging times of their lives.
"People used to complain that technology was keeping us apart; now, it's a major factor in bringing us together. I am very grateful that our volunteers have adapted to these changes so quickly and are able to continue to offer their invaluable care and support to people who need them."