Outstanding work of NHS Golden Jubilee staff recognised by awards
November 13, 2020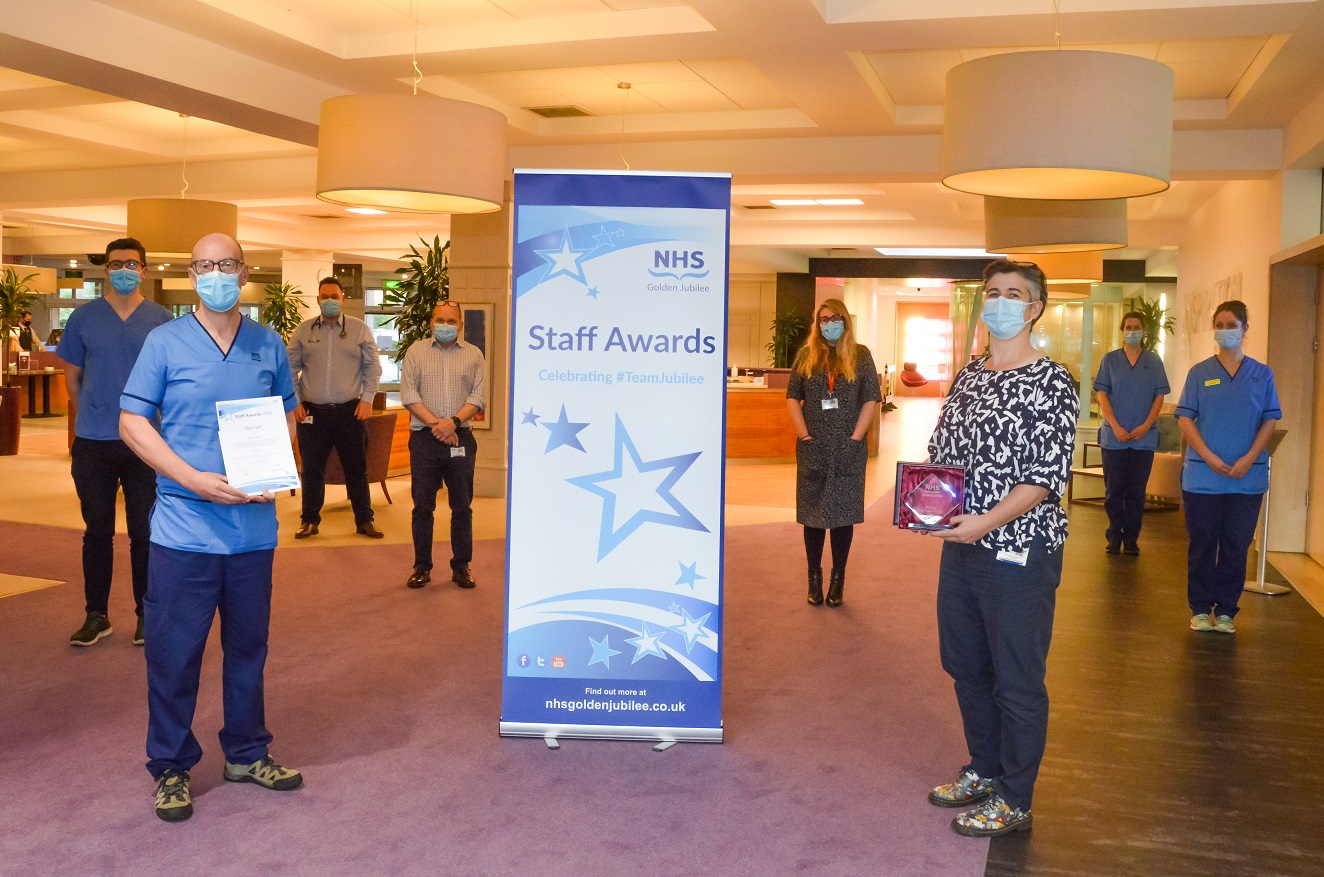 The Scottish Adult Congenital Cardiac Service (SACCS) was a joint winner in the Team of the Year category
Nurses, Porters, Surgeons, Volunteers and Support Workers were among the worthy winners at NHS Golden Jubilee's virtual Staff Awards for 2020.
The event was presented by STV broadcaster Rona Dougall, while guest award presenters included BBC broadcaster Jackie Bird, Still Game actors 'Boaby the Barman', Gavin Mitchell, and 'Tam', Mark Cox, and comedian Fred MacAulay. Cabinet Secretary for Health and Sport Jeane Freeman MSP, National Clinical Director Jason Leitch and Chief Nursing Officer Fiona McQueen also announced winners from several categories.
Planning for the awards was underway in the early part of this year, but was put on hold due to the COVID-19 pandemic. As part of the NHS recovery and to acknowledge the hard work and commitment from staff to NHS Golden Jubilee over the past few months, the awards were reimagined in a safe, virtual way.
The pre-recorded event premiered on the NHS Golden Jubilee YouTube channel on Thursday 5 November featuring short biographies and footage of the 38 finalists chosen by the judging panel.
This year there were a massive 162 Nominees across 13 categories: Support Worker, Rising Star, Volunteers, Collaboration, Unsung Hero, Green Award, Project Recognition, Care and Compassion, Leader of the Year, Top Team, Chair Award for Innovation, Chief Executive Values Award, Special Recognition.
Staff were nominated for going above and beyond in adapting to new roles brought on by Coronavirus, collaborating with other health boards to ensure urgent care continued, tireless commitment to person-centred care for patients, supporting families, leading teams through a difficult period and creating safe and innovative new patient pathways.
A posthumous Special Commendation was also made to Eleanor Cassidy, who was nominated by her Pharmacy colleagues. Eleanor passed away suddenly in May and the organisation wanted to honour her passion and devotion to healthcare and the care and compassion she showed to all staff and patients.
Chief Executive Jann Gardner said all of the 38 finalists were testament to the commitment and devotion that is given to patients at NHS Golden Jubilee, day in and day out.
She added: "A commitment and devotion that has never been more evident than this year, during this unprecedented Covid pandemic – 2020 has been a year that no-one will forget and we are delighted to be celebrating all of the outstanding achievements of the wonderful staff here at NHS Golden Jubilee.
"Each and every member of Team Jubilee does exceptional things every day, but these awards have also recognised those who have gone above and beyond, which made choosing the individuals and teams a very difficult process.
"This has been a very challenging year for all of us in NHS Scotland. Care, compassion and collaboration is at the heart of everything we do here and I am really proud to say I am the Chief Executive of this organisation because of our team, and I would like to say a sincere and heartfelt thank you to all of them for the wonderful work that they do every day for our patients."
Chair of the NHS Golden Jubilee Board, Susan Douglas-Scott, who introduced the awards, said: "It's really important that we get the opportunity to say thank you to our amazing Golden Jubilee staff, individuals and teams. The awards highlight the people who were nominated and it is also an opportunity for me to thank each and every single member of Team Jubilee for everything they do, day in day out for the people of Scotland.
"They deliver the highest quality of care every day and have stepped up to another level during this pandemic to continue to treat patients and support other NHS colleagues to work in collaboration on our surgical centre at NHS Golden Jubilee.
"Refreshed for 2020, our Staff Awards will now take place every year to recognise our staff for the inspirational work they do.
"I would like to say a massive to all of our staff on behalf of the Board and all of the Senior Executives here at NHS Golden Jubilee, they really are outstanding and deserve recognition for the work they have done and continue to do."
Watch the full awards - featuring some well known Scots personalities
Award categories
1. Rising Star Award
For an individual demonstrating qualities of a bright future. Proactive and progressive in all areas with valid contributions to upholding excellence in healthcare.
Winner: Rob White
Rob's previous architectural experience and his personal relationship with disability has placed him in a unique position to relate, create and deliver practical and effective outputs to overcome barriers to access from both a social and architectural viewpoint.
Rob led on the necessary EQIA's, interior and way finding strategies for Phase 1 expansion and delivered them in an innovative, highly visual manner.
2. Volunteers Award
For an individual, group or team who give their time freely to help improve the health and wellbeing of patients, carers and service users of NHS Golden Jubilee.
Winner: Jack Morrison
Jack is a former patient and has been a volunteer with NHS Golden Jubilee for 18 months. Jack was nominated for the Volunteers award for his friendliness and willingness to talk with patients waiting for transplant.
Having received a transplant, Jack is uniquely positioned to put patients minds at ease and understand what they are dealing with, providing ongoing support and friendship to sick patients under great emotional stress and maintained contact with patients over the phone when patient visiting was suspended due to Covid.
3. Collaboration Award
For individual, group or team who have been building relationships internally or externally for the benefit of patients/customers, while treating everyone with dignity and respect.
Winners: 2 East Nurses, Physiotherapists and Occupational Therapists
This multi-disciplinary team have worked extremely hard together to achieve a joint goal for their patients.
Concentrating on collaborative working for the benefit of their Orthopaedic Surgical patients, the team have made it possible to mobilise them and reduce their length of stay meaning that patients are able to leave hospital faster and recover in their own homes with their families.
4. Top Team Award
For a team or group who consistently demonstrate and uphold excellence through working collaboratively, often going the extra mile to provide exceptional service(s). They must have evidence of substantive contributions enabling their organisation to provide services and care to patients, service users and colleagues.
Winners: National Services Division (NSD) and Scottish Adult Congenital Cardiac Service (SACCS)
National Services Division (NSD)
The NSD team care for pre and post-transplant patients, they do this with kindness, dedication and professionalism by supporting families as well as the patient through what is a very difficult time for all involved.
The NSD team are superb in balancing empathy and care, with a practical and positive approach to addressing symptoms.
Scottish Adult Congenital Cardiac Service (SACCS)
Receiving a number of nominations in this category from patients, all agree the SACCS team are amazing. They are always available to listen, to answer questions, to be a friend in times of need, they are a caring and compassionate team who always go above and beyond for their patients.
5. Leader of the Year Award
For an individual who demonstrates outstanding leadership qualities in the work they do to make change happen and can work with others to improve and make things better.
Winner: Patricia Trainor
Since Patricia (Patsy) has taken up her position as Lead Radiographer for the General Department in Radiology, she has worked hard to bring all staff together and has created a positive and professional place to work.
She has been totally inclusive and transparent in her work and brought her staff with her through change and difficult times.
6. Unsung Hero Award
For an individual, group or team who in the course of doing their job, make a real difference for people in Scotland and are willing to go that extra mile for others, but whose work often goes unrecognised.
Winners: Hospital Porters and Carolanne Cameron.
Carolanne Cameron
Carolanne has been nominated for the care and compassion she showed to one particular patient in the NSD ward. The patient's family have all nominated Carolanne for going above and beyond to help their daughter feel more comfortable and pain free during her stay with us.
Hospital Porters
Porters were asked to organise and deal with the clinical waste in a way that has never been done before.
Overnight the national clinical waste company became bankrupt this meant the porters team were asked to step in. They were asked to handle all clinical waste including sharps boxes and griff bins throughout the hospital and to then move it all in to a storage container.
7. Project Recognition Award
For a project geared towards developing better services or improve current services to make a lasting difference to the NHS Golden Jubilee. It must be portable and scalable for replicating to enhance /improve healthcare delivery in other settings.
Winners: Orthopaedic Surgical Team
Working closely with other departments and the patient, the team made it possible for a Total Hip Replacement procedure to be performed and the patient to be released in under 12 hours. This is a step forward for Enhanced Recovery and patient care within NHS Golden Jubilee.
The team achieved new levels of collaboration within the hospital by working together with Rehabilitation, Radiography, nursing staff and the Pain Management Team to improve the patient experience, while saving money and bed space for the hospital.
8. Support Worker Award
For an individual, group or team providing excellent support services for NHS Golden Jubilee.
Winner: Allan Campbell
Allan prides himself in the meals he produces for the patients in the hospital. This year he has played an active role in the Menu Harmonisation Group which looked at menus from other Health Boards in order to compile a bank of recipes suitable to be shared among all Boards.
Allan's cooking ability has meant that he has been able to transform what was an unsuitable recipe into a suitable meal for patients. He always makes sure that the food served to patients is of high quality and wants to aid their recovery through nutritious food.
9. Green Award
For an individual, group or team who have significantly contributed to making our environment greener, safer or cleaner.
Winners: Hotel Corporate Social Responsibility Team (HCSR)
The Golden Jubilee Conference Hotel HCSR team were nominated for continuing to improve the environmental sustainability of the hotel.
The team formulated a 10-point plan which centred around the reduction of paper, plastics, water and food. Initiatives include the removal of all single use water bottles and the introduction of glass 'Squiggle' boards which reduces the need for single use flip charts.
10. Care and Compassion Award
For an individual, group or team who have demonstrated a positive, compassionate attitude to patients, carers, customers in everything they do.
Winner: Linda Clements
Linda has worked for around 25 years in the transplant unit and always goes above and beyond for her patients, always showing care and compassion toward patient and family at a difficult time.
Her commitment to delivering the best care for patients over such a long time is truly admirable. She always refers to her patients as "my patients" and takes great pride in looking after them and their loved ones. A true advocate.
Care and Compassion Special Commendation
Eleanor Cassidy
Eleanor was a much loved member of the Pharmacy team here at NHS Golden Jubilee. She sadly passed away suddenly in May this year and as a long serving member of the Golden Jubilee workforce she is sorely missed.
She worked at the Golden Jubilee for almost 25 years and was always loving, caring and hardworking, extremely dedicated in her service to her patients and reached out with warmth to all who worked with her.
Eleanor would always go the extra mile for her patients and her colleagues. Eleanor's work family within the pharmacy department and out on the critical care wards were always touched by her kindness, positivity and her lovely smile. She always took the time to talk to people, even if she was having a busy day and went out of her way to ensure people were listened to and felt included.
11. Chair Award for Innovation
For an individual, group or a team developing innovative ways to improve health or services.
Winners: Cardiothoracic Physiotherapy
The team developed a protocol which allowed the safe mobilisation of a patient with a femoral intra-aortic balloon pump in the UK.
This was an innovative idea which has transformed the lives of patients that would otherwise be bed bound while awaiting heart transplant, which could be months.
The team have now completed over 550 mobilisation sessions with this patient group in the last year who previously would have very little physiotherapy input.
12. Chief Executive Values Award
For an individual, group or team who have embedded and demonstrated our values into their everyday practice.
Winner: Dawn Buchan
Dawn lives NHS Golden Jubilee's values whilst maintaining a personable approach. She values everyone, has an excellent can do attitude, is committed to providing quality services, understands her own and others' responsibilities and effectively works with colleagues in her own department and others to provide person centred services which are high quality, safe and effective.
13. Special Recognition Award
Recognising those who have made a difference to NHS Golden Jubilee during the COVID-19 pandemic.
Winners: David Hodgson, David Dell and James Leonard (Estates team)
The Estates team showed outstanding commitment and innovation to ensure the multiple requests and targets given during the initial COVID outbreak stage were achieved.
At the beginning of the Covid outbreak areas on level 4 had to be quickly refurbished and brought up to clinical standard to prepare for patients.
This nomination is for those who lead the team and showed outstanding commitment by taking a flexible approach to the situation, both in shift patterns being altered to suit demands, but also not only managing the work, but participating in it as well.