Technology and redesign helping Golden Jubilee continue health services
June 23, 2020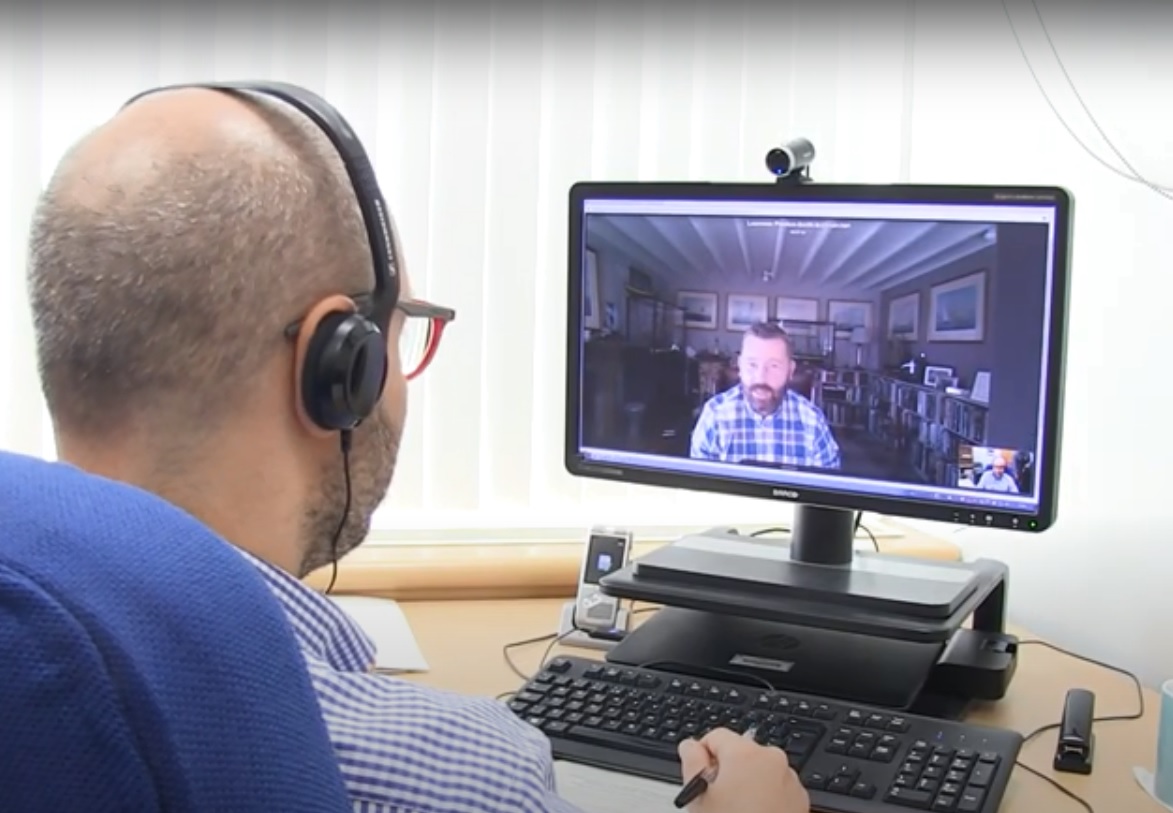 Patients are enjoying having video consultations from their homes rather than travelling long distances to the hospital
Since the emergence of COVID-19 and the associated restrictions, health specialists at NHS Golden Jubilee have been using innovative ways to carry on with much needed health services across the hospital.
Clinical teams at the Clydebank hospital have introduced ways to make the journey of patients safer by using digital technology such as NHS Near Me to carry out virtual clinics and health assessments. These video links take place wherever is convenient for the patient and have been conducted from their homes or even in their workplace.
Video calling is now being used across services for heart and lung patients and plans are that will continue to be used when normal elective services begin again as part of the nationwide health recovery plan.
Consultant Thoracic Surgeon Rocco Bilancia, who has been using NHS Near Me to assess and review patients from across Scotland, says patients are responding positively to the new patient/doctor relationship.
Rocco said: "Initially we used to do video consultations only for patients who had a long distance to travel, but we've now extended this to patients from all over the country, even those living close to the hospital.
"The clear advantage for patients is that they don't have to travel unnecessarily and they can do this from their home. Also, it can help relatives to join the virtual consultations.
"A lot of the feedback I get from patients is very positive, they seem very enthusiastic about it.
"The system is very easy to use and set up and it's a very good tool that will stay with us well after coronavirus."
Patient Laurence Preston-Smith, who had a video consultation with Mr Bilancia, is a big fan of the 'new normal' patient/doctor interaction.
He said: "I really enjoyed the experience, it makes a lot of sense not having to travel, which saves both me and the NHS money I would think, and saves a lot of hassle for everyone.
"It's also much better and safer at the moment for the hospital and myself as it reduces the risk of infection so I'm a big fan of this, it should stick around forever."
To reduce the risk of infection throughout this coronavirus pandemic, NHS Golden Jubilee services have also been redesigned to ensure patients have a safe environment on admission.
Heart attack services have undergone a massive redesign to ensure it is safe to admit patients and give them a shorter admission time through a direct access programme, reducing the need for them to attend other hospitals dealing with coronavirus patients.
So instead of inter-hospital transfers, patients have been coming directly to the Golden Jubilee and remaining there for the duration of their treatment and initial recovery, whereas before they would be repatriated to their local board. This has released capacity at referring boards to help them deal with the crisis.
As part of NHS Scotland's response to the pandemic, NHS Golden Jubilee temporarily increased its Optimal Reperfusion Service to treat heart attack patients to include all of Glasgow, Dumfries & Galloway and Ayrshire & Arran, increasing our catchment population by approximately 590,000: 350,000 Ayrshire & Arran; 150,000 Dumfries & Galloway; 90,000 South East Glasgow.
All cases are also done with staff using level 2 Personal Protective Equipment (PPE), ward capacity has been halved to give patients single rooms and any patients coming into the hospital are tested for COVID-19.
Consultant Cardiologist Mitchell Lindsay said: "It's not going to be business as usual any time soon. The days of attending a packed patient waiting room, sitting side by side with other patients, perhaps waiting 40 minutes to see a doctor are gone.
"We have to think how we can deliver the same high quality, efficient care but making it a safe environment for the patient, with physical distancing, where you see the doctor and have all the investigations done in one trip rather than spreading them out.
"Every part of patient care will have to be re-imagined. The other key difference is the opportunities for technology in this brave, new world we are heading into."
NHS Golden Jubilee continues to deliver critical and additional services to support emergency and urgent cases. The national board is also in the process of planning to restart other services to help patients waiting for non-emergency or urgent treatment.
Recently, NHS Golden Jubilee has helped other health boards provide vital cancer services and treatment using Golden Jubilee staff and facilities.