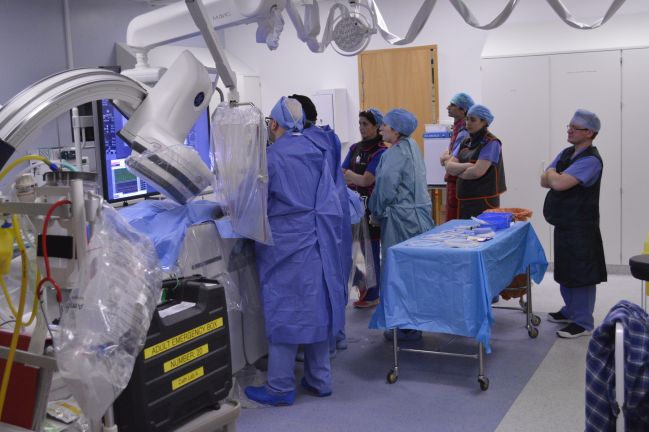 Specialists at the Golden Jubilee National Hospital marked yet another UK 'first' as they used groundbreaking technology on a patient undergoing percutaneous coronary intervention (PCI) for narrowed heart arteries.
Cardiologists from the Golden Jubilee showcased one of their first ever cases using PCI Assist – carried out in March this year – at the world-leading EuroPCR Congress in Interventional Cardiovascular Medicine held this week.
A live recording of the case was presented at the event, which was attended by more than 12,000 peers from across the globe. Dr Stuart Watkins and Professor Keith Oldroyd explained how they are using the revolutionary PCI Assist technology to improve outcomes for high risk patients.
PCI involves placing a balloon inside a blocked artery and inflating it, a stent – a tiny mesh tube – is put in place to hold the artery open, restoring blood flow to the heart. Home to the busiest cardiac catheterisation laboratory in the UK, the Golden Jubilee carries out approximately 2,700 PCI procedures a year.
The PCI Assist system can be used in any and every case however, it is more useful in complex cases as it:
improves the quality of the x-ray images without using any additional x-ray radiation;
increases the accuracy of stent placements;
allows for assessment of stent deployment and the identification of stent fractures, and minimises the risk of stent thrombosis.
Dr Stuart Watkins, Consultant Cardiologist at the Golden Jubilee National Hospital, said: "As home to the busiest cardiac catheterisation laboratory in the UK, the Golden Jubilee is delighted to be leading the way yet again.
"By using an innovative technology which will be an integral part of the future of interventional cardiology, we hope to improve the outcome of Scottish patients with complex coronary disease. With better stent deployment we hope to reduce the risk of stents re-narrowing over time.
"It is a huge honour for the Golden Jubilee to be taking centre stage at the EuroPCR conference and to be showcasing PCI Assist with our peers."
EuroPCR is the official annual meeting of the European Association of Percutaneous Cardiovascular Interventions and the world-leading Course in Interventional Cardiovascular Medicine.
Mike Higgins, Medical Director at the Golden Jubilee National Hospital, said: "The EuroPCR conference is one of the most important dates in the interventional cardiology calendar and I am extremely proud that two of our consultants will be showcasing some of the pioneering work we do here at the Golden Jubilee.
"As leaders of quality, research and innovation for the NHS in Scotland, it is a real feather in our cap to be the first hospital in the UK to use PCI Assist.
"The Golden Jubilee is committed to finding new ways of improving the standard of care and quality of life for our patients and this pioneering technology will allow us to do just that for cardiology patients across the country."