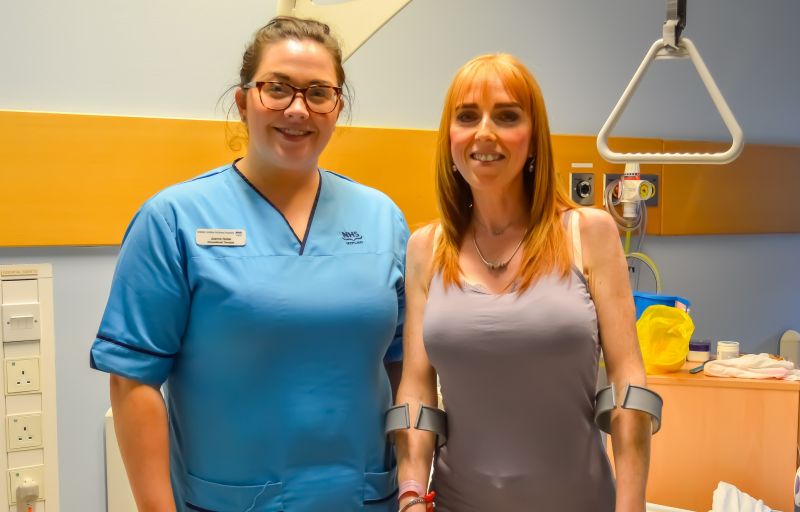 Knee and hip replacement patients will spend less time in the Golden Jubilee National Hospital following the results of a pilot study led by our Rehabilitation team.
The study, carried out in November, found that the introduction of Occupational Therapy on the day of surgery resulted in three quarters of patients being discharged from the service earlier.
The success of the pilot now means future knee and hip replacement patients can expect shorter stays at the Golden Jubilee as the service will be offered as part of routine post operative care for joint replacement patients in the future.
Previously, total knee or hip replacement patients start physiotherapy rehabilitation on the same day of surgery, but did not begin occupational therapy until the following day.
During the study the average duration of occupational therapy for patients after a total knee replacement was reduced from 1.9 days to 1.1 days, while times for those receiving total hip replacements went down from 1.9 days to 1.4 days.
Crucially, no patients who were assessed on day of surgery reported adverse effects from the earlier occupational therapy assessments.
A shorter duration with occupational therapists means patients could potentially be discharged from hospital much earlier.
Reducing the time patients spend in hospital, enhances patient recovery, increases capacity for more procedures, thus further reduce waiting times. The latest figures, from November 2018, show that 20 per cent of patients having hip replacement were discharged the day after surgery at the Golden Jubilee - 75 per cent on day two and 90 per cent on day three.
For patients having knee replacements, 3 per cent went home the day after surgery, 58 per cent on day two and 86 per cent on day three.
Occupational Therapy Team Lead Jamie McNaught said: "The pilot of same day occupational therapy allowed patients to become independent with personal care and other activities around half a day earlier than normal.
"The pilot has also created a shift in culture within occupational therapy. Occupational therapists are now confident to assess patients in the hours after joint replacement, where previously input was started the next day."
All patients in the study said they were happy with their occupational therapy, however, a small number felt they weren't ready for it at the time of their first assessment.
Lynne Ayton, Associate Director of Operations for Regional and National Medicine, said: "We are moving towards much shorter stays in hospital for patients, which is beneficial both for their recovery and health, and also represents wider benefits for Health Boards, increasing capacity thus treating more patients in a timely way.
"This pilot is an example of patient centred care. The Occupational Therapy team is dedicated to enhancing patient care with patient recovery at the forefront of their work."