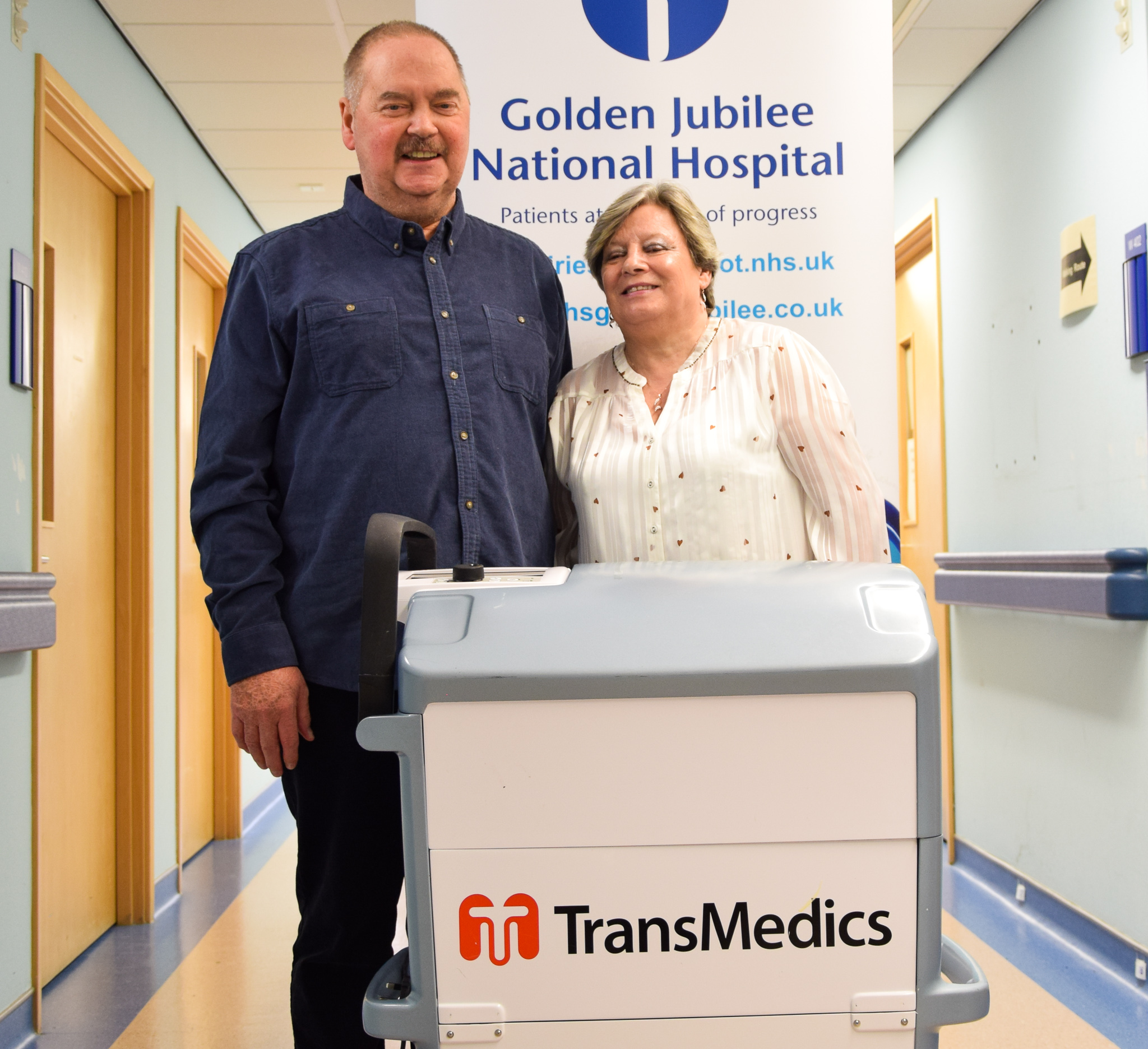 Scotland's first DCD heart transplant recipient Colin Davidson with wife Susan and the Organ Care System 'Heart in a Box', which makes the life-saving procedure possible.
Scotland's first non-beating heart transplant recipient is looking forward to Christmas following his historic procedure.
Colin Davidson from Midlothian is counting his blessings this festive period after becoming the first person to have a Donation after Circulatory Death (DCD) Heart Transplantation in this country.
The procedure, carried out by specialist surgeons at the Golden Jubilee National Hospital, has opened a new chapter for the future of heart transplantation recipients in Scotland, which will potentially save the lives of many more heart failure patients.
Colin, 59, had suffered from heart problems for around 13 years and was diagnosed with cardiomyopathy and dilated cardiomyopathy and had a defibrillator and a cardiac resynchronisation therapy defibrillator (CRTD) fitted in 2017 to deal with what became heart failure.
NHS Golden Jubilee is now only the seventh heart transplant centre worldwide to have performed a Donation after Circulatory Death (DCD) Heart Transplantation, as DCD organs were previously thought to be unsuitable for transplant.
It is only recently that UK surgeons have had the ability to carry out DCD transplants. Previously, they were able only to transplant beating hearts from donors after they were certified brain dead. DCD hearts weren't thought to be acceptable for transplantation as they were deemed too high risk, however, developments in organ perfusion and retrieval techniques such as the Organ Care System (OCS), showed evidence that they could be suitable.
Colin, a tyre fitter from Loanhead, said: "I was getting dizziness more often, breathlessness, no energy, couldn't walk 200 yards without being out of breath and having to stop. It was really scary at times, thinking, 'is this my last breath, is this it?'.
"It was a bit scary at first when they mentioned DCD and being the first one in Scotland to do it was a bit frightening, but I'd heard other people in England had had successful ones so it did put me at rest a bit.
"They told me with having a rare blood group it could be up to two years to receive a transplant to best prepare me, but luckily for me it was only five weeks, which I'm so grateful for.
"I obviously didn't know at the time I was going to get a DCD heart, but I was just really glad that someone could gift me their heart and I now feel 100 per cent better. I feel normal again, which is just an amazing feeling.
"I don't feel special being the first one in Scotland to have this procedure, I just feel grateful beyond words to my donor and their family and all of the medical and healthcare professionals who have given me a life again."
Sites that already undertake DCD report that outcomes for patients receiving the procedure are comparable to those given a Donation after Brain Death (DBD) organ, the traditional transplantation method.
Golden Jubilee Consultant Transplant Surgeon Phil Curry carried out the first Scottish DCD procedure with the help of Royal Papworth's Simon Messer and the dedicated transplant team at the Clydebank hospital.
He said: "Years of research have gone into the possibility of using non-beating hearts to significantly increase the number of people who could benefit from the procedure.
"This has been the culmination of immense hard work and widespread support to introduce this programme across the transplant community.
"Both these two major advances - DCD Heart Retrieval and DCD Heart Transplantation - at the Golden Jubilee are an important milestone for the Scottish National Advanced Heart Failure Service (SNAHFS).
"DCD Heart Retrieval and DCD Heart Transplantation will be a new chapter in future heart transplantation for our recipients in Scotland that will increase the number of heart transplants and give our recipients this life changing and life-saving opportunity."
Colin's wife Susan says heart failure doesn't just affect those diagnosed with it, but families also, and is calling for more people to consider organ donation.
She said: "Our lives are in the surgeons' hands, not just Colin's life, but my life as well because we don't have any children of our own and it's always been Colin and I.
"Everything is us and we, rather than just one of us. I would just like to thank the person that has donated this heart and their family for what they have done for Colin and I.
"I would love for more people to consider donating their organs because, honestly, it is totally life-changing for recipients and their families."
NHS Golden Jubilee Chief Executive Jann Gardner said: "Evidence shows using non-beating heart donations will significantly increase the number of people who could potentially benefit from this procedure This development will provide hope of life-saving treatment to potentially hundreds of future advanced heart failure patients in this country.
"The Advanced Heart Failure team at NHS Golden Jubilee are committed to providing the best care for patients. They are dedicated to always striving for innovative ways to do better for the people of Scotland, and I must congratulate our multi-disciplinary team who made this possibility a reality."