Innovating robotic lung surgery is a 'win-win' for patients and NHS
June 24, 2021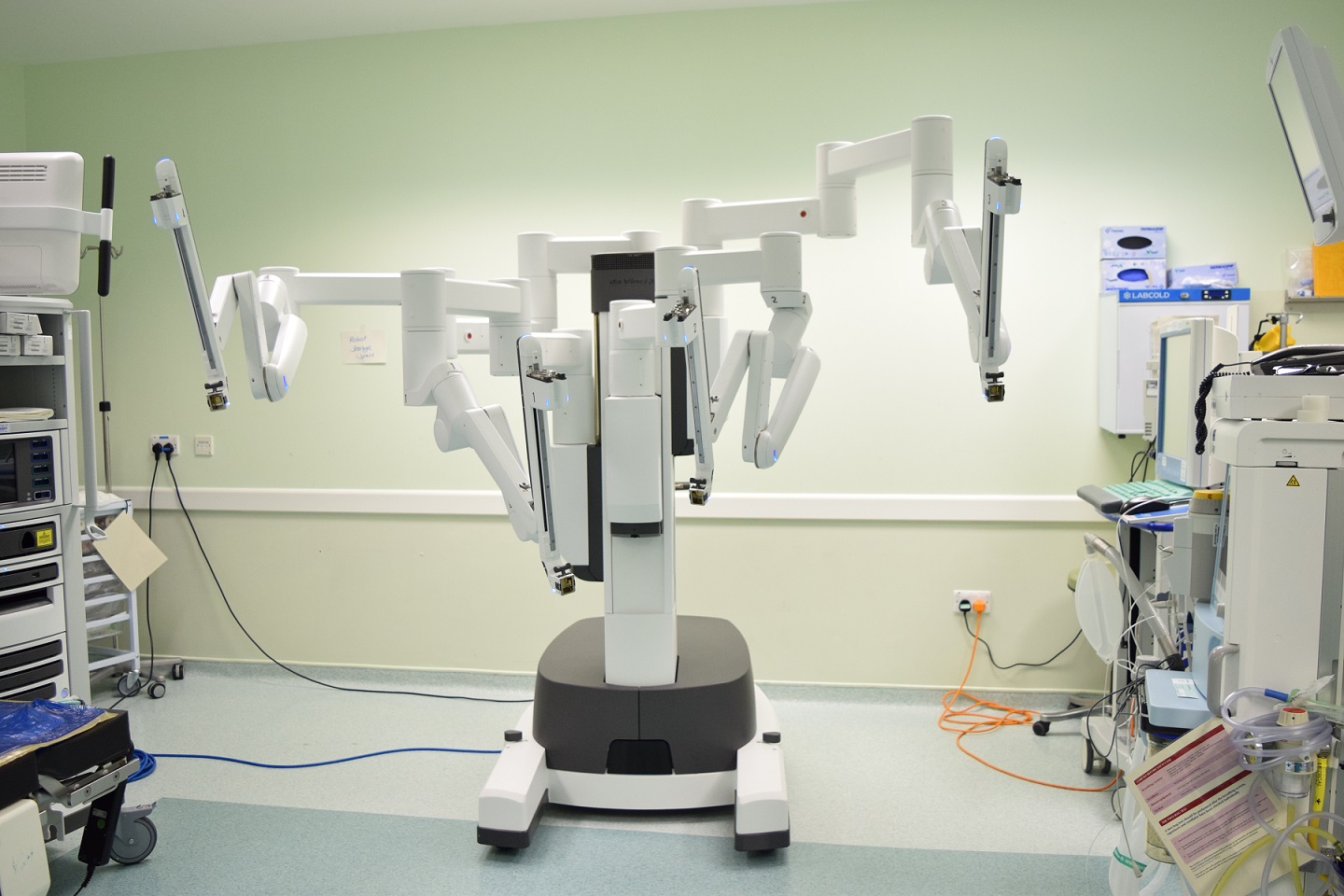 NHS Golden Jubilee is approaching the milestone of 500 pioneering robotic lung surgeries with major benefits for both Scottish patients and health boards.
As UK Robotics Week gets underway from 19-25 June, specialists at the Scottish NHS board, based in Clydebank, have carried out over 440 robotic thoracic surgeries since first using an Intuitive Da Vinci X robot for lung procedures, three years ago. We are now delivering up to 8 robotic procedures per week.
This innovative technology, which allows patients to recover quicker and significantly reduces the potential for complications and nerve damage during surgery, will form a major part of the Hospital's lung surgery programme going forward.
The team at the Golden Jubilee perform up to 1,400 chest operations every year and are on schedule to reach their 500th robotic milestone this summer.
During the pandemic, lung surgeons at the Golden Jubilee continued to provide vital cancer care for patients across Scotland in collaboration with other health boards.
Thoracic Surgeon Mr Alan Kirk said: "We did our first robotic lung procedure back in May 2018 and we're now pushing on to 500 cases with our state-of-the-art Da Vinci robot.
"We cover a wide variety of conditions from surgery for congenital defects to emphysema surgery, to collapsed lungs.
"However, the single biggest thing we do is potentially curative surgery for primary lung cancer and over the past 10 years we have consistently been one of the top 3 hospitals in the UK in terms of overall number of patients receiving surgery for lung cancer surgery.
"With our sixth surgeon now trained, all the thoracic surgeons at NHS Golden Jubilee are trained in the use of thoracic robotics. We are absolutely delighted that the Scottish Government has funded 10 new robots for the first phase of a new frontier of robotic surgery throughout the country.
"From a patient perspective there is no doubt that, while we are evaluating outcomes at the moment, patients are more satisfied with their robotic surgery as their pain appears to be less, their hospital stay is significantly reduced, and they have an earlier return to normal activity. It's a win-win situation."
The Da Vinci robot works by inserting rods into the body which are operated by a surgeon on a separate control pod, moving the procedure on from conventional keyhole and traditionally invasive surgery.
The robot's wristed instruments can bend and rotate better than a human hand, and with more accuracy, allowing the surgeon to operate with a steady natural motion, as colleagues watch on highly magnified 3D HD screens.
The machine also has health benefits for surgeons, allowing them to carry out operations sitting down rather than bent over an operating table, which can prevent injuries such as back problems, potentially prolonging their own working lives.
Mr Kirk added: "Over the past year it has been business as usual for us during this pandemic and we have continued to honour our lung cancer numbers.
"The waiting list targets, if anything, have been even better in terms of meeting 31 and 62-day lung cancer targets. We have also contributed to multinational, multi-centre COVID-19 cancer trials, showing the impact this has had on the cancer population.
"At the same time, we've continued with life-changing, practice-changing, research projects into bronchial valve therapy for patients with end stage emphysema and had the opportunity to develop a West of Scotland regional thymus and mediastinal multi-professional MDT system.
"Despite COVID, our Nursing staff and Allied Health Profession staff have been absolutely fantastic. Instead of 10 years ago having a 3-day critical care stay for lung resection, we're now bringing a growing proportion of our patients straight back to the ward, freeing up space and resources in critical care for other specialities."
Earlier this year, in a Scottish first, lung cancer patients also benefitted from a cutting-edge technique using the Da Vinci robot to perform Complex Sleeve Lobectomies. By doing this, only part of the lung and surrounding lymph glands are removed, instead of the whole lung.
Part of a blood vessel or airway with the tumour growing in it is also removed and the remaining ends are connected back together, allowing a tumour near the middle to be removed.
Lung Surgeon Mr Rocco Bilancia, said: "This way of operating, which has only been attempted a few times in the UK, is extremely safe, and the benefit to patients is huge. It results in less pain after surgery, lower risk of complications and a faster recovery time when compared with conventional surgery."
Medical Director Mark MacGregor said: "NHS Golden Jubilee is always looking to innovate and to improve the experience for all of our patients.
"Using our thoracic robot has been particularly significant to treat as many patients as possible in our work to help NHS Scotland continue and recover services during these challenging times.
"Our highly-skilled, multi-disciplinary staff have introduced new techniques which have become landmarks in our progression to becoming a leading institution in, not just thoracic robotics, but robotic surgery as a whole in the UK, working in collaboration with other health boards across Scotland."