National Hospital Specialists Aim to Find Connection Between COVID-19 and Heart Problems
January 29, 2021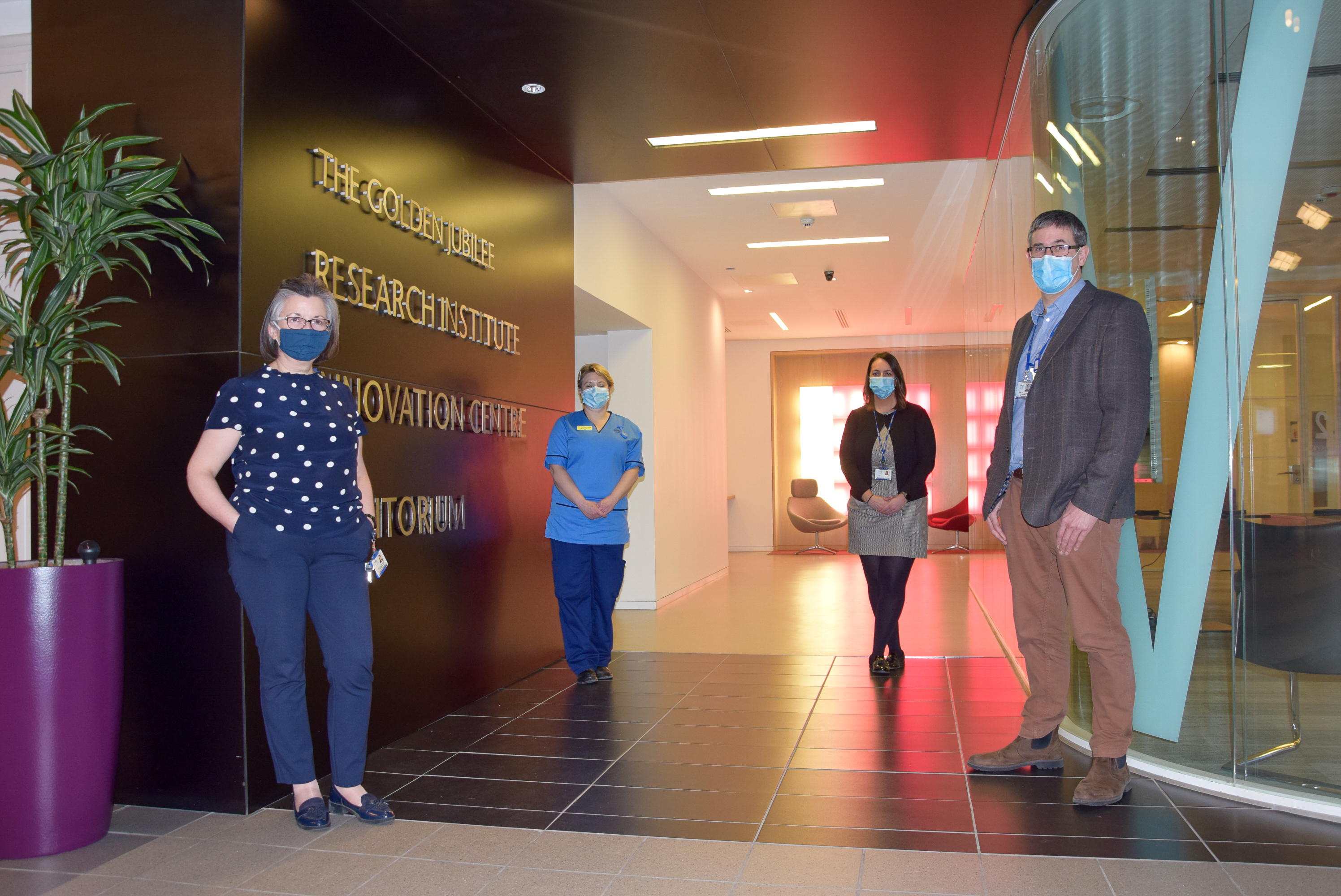 (L-R) Dr Catherine Sinclair, Senior SPVU Research Nurse Val Irvine, Research Governance Officer Vicky Dabek and Dr Ben Shelley of the NHS Golden Jubilee team leading the nationwide COVID-RV study.
Heart specialists at NHS Golden Jubilee are working with Intensive Care Units (ICUs) across Scotland on ground breaking research into the impact COVID-19 has on the heart.
While the majority of people with COVID-19 will recover well and without any treatment, throughout the pandemic, many people have sadly died from the virus. The COVID-RV study being led by the team at the Golden Jubilee is one of the first to examine heart function in the sickest patients who need ventilators in ICU.
Around five per cent of all confirmed COVID-19 cases need ICU treatment, often for severe breathing difficulties, which sometimes means a patient will be put on a ventilator or life support machine.
Golden Jubilee doctors, with specialist heart intensive care treatment experience, believe that in the sickest patients on ventilators with COVID-19 that the function of the right-hand side of the heart, the part pumping blood to the lungs, may have a major impact in terms of severity of illness, length of stay in ICU and hospital - and ultimately, survival.
Dr Ben Shelley, NHS Golden Jubilee Intensive Care Consultant and Honorary Clinical Associate Professor at University of Glasgow, who is leading the national study, said: "We know that in other conditions which cause severe breathing difficulties, pressure can be put on this area of the heart (the right ventricle) which pumps blood to the lungs. The aim of this study is to determine how many patients with COVID-19 who need to be ventilated develop problems with their right heart.
"In some cases, this can cause the right heart to fail, creating difficulties pumping blood forward and result in a build-up of back pressure. Unfortunately, individuals who develop these symptoms are less likely to survive their intensive care stay, which is why this study is so important.
"We aim to determine whether and how patients with COVID-19 requiring ventilation develop problems with their right heart, and also how this may adversely affect individuals with existing heart conditions. By getting a better understanding of the condition, we can tailor treatment more effectively and potentially save lives."
The project is now taking place across 12 ICUs in Scotland, with ventilated patients undergoing non-invasive ultrasound scans of the heart (echocardiography) to explore and monitor how the condition develops and the impact this can have on their heart. The study will also collect blood samples to look for damage to the heart during this time.
Dr Shelley added: "By examining clinical data, we will also look to see if any other conditions or treatments increase the risk of right heart problems. By identifying these issues, we are learning more about the virus, and will be better able to guide future studies around care and treatments aimed at protecting the right heart. By doing so, we hope to be able to significantly improve outcomes for this patient group."
The team is hoping to study up to 150 patients by the end of March 2021, with around 80 patients being reported on so far.
Once the study is finished an educational session will be held to disseminate the learning to frontline clinicians dealing with Covid patients, and to plan a future trial to help protect patients as learning would also be applicable to others in intensive care with severe lung disease.
Head of Research and Development at the NHS Golden Jubilee Research Institute and Innovation Centre, Dr Catherine Sinclair, said: "While many clinicians are reporting seeing the effects of COVID on the right heart, this is a focused study to provide evidence to those findings and better understand the mechanisms of what is going on.
"Our staff are supporting Dr Shelley and his colleagues in coordinating the many sites involved and we have the perfect support staff, facilities and resources here to carry out such an important body of work.
"We've been delighted and impressed with the engagement from the Scottish Intensive Care Community in contributing to this important study while delivering high-level patient care in the most difficult circumstances."
NHS Golden Jubilee remains a COVID-19 'light site', dedicated to continuing to provide urgent and planned care across a range of key specialities for NHSScotland.