Research staff continue search for COVID knowledge
November 25, 2021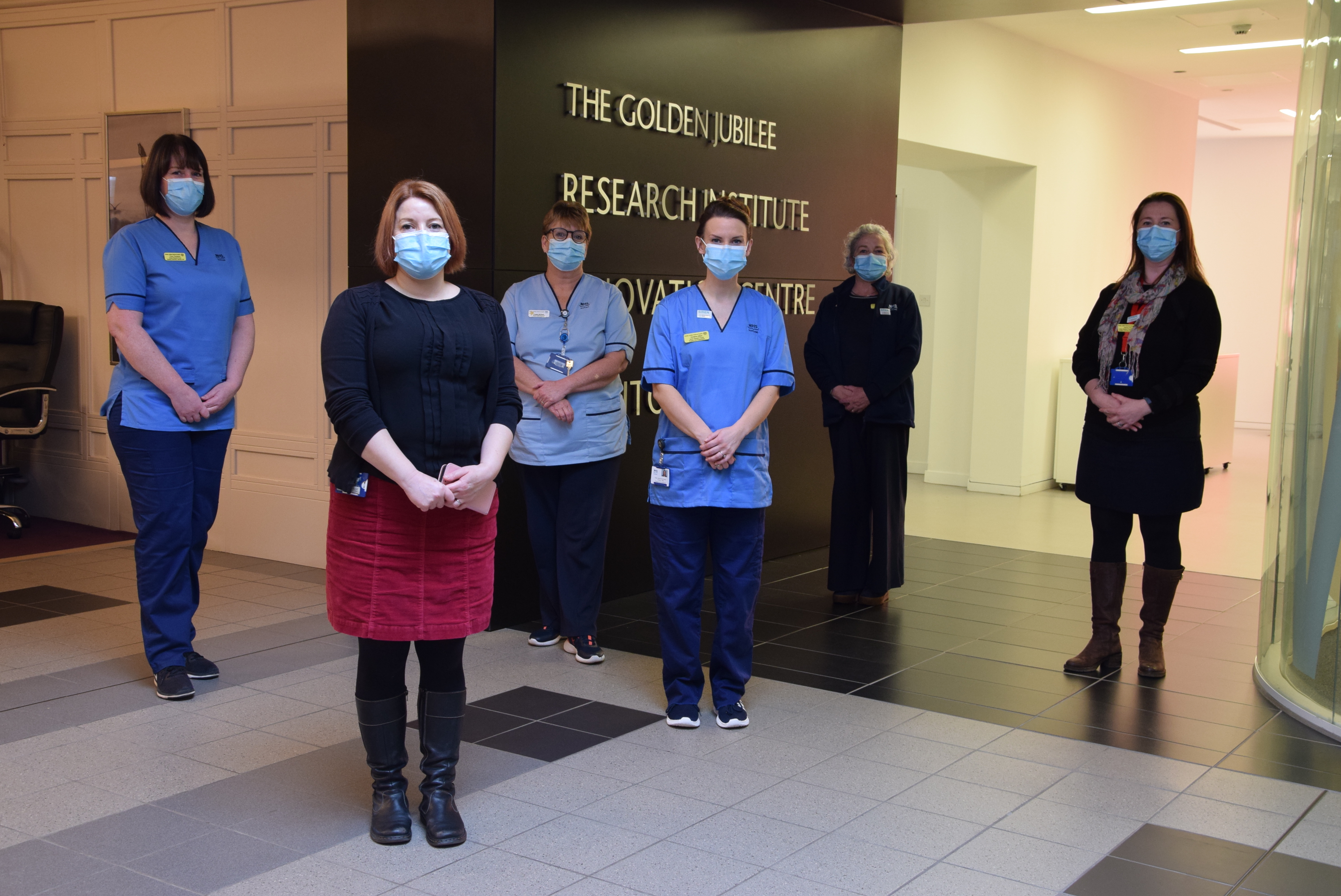 Research staff at NHS Golden Jubilee will continue to play a pivotal role in a national study about Coronavirus (COVID-19) for another 12 months.
Over the past year, health professionals at the National Hospital based in Clydebank have been involved in the SIREN study, which looks at the impacts of coronavirus on healthcare workers.
The study is now moving into an extension phase with the NHS Golden Jubilee team continuing their involvement.
The team have been running SIREN since November 2020, with the target for the site originally set at 113 participants.
This has been exceeded with more than 130 members of staff regularly giving samples to their clinical research colleagues, who feed the findings through to the UK Health Security Agency (previously Public Health England).
The dropout rate at NHS Golden Jubilee is 0.8%, compared to 14.5% nationally, which is a tribute to the way the research team have run the study.
Research Team Lead, Val Irvine, said: "The study aims to investigate how prior infection and vaccination affects the risk of infection with the virus in UK healthcare workers.
"Staff from across the Hospital are taking part in the study and regularly give swabs to check for the virus and blood samples to detect any antibodies."
The study — full name SARS-CoV-2 Immunity and Reinfection Evaluation (SIREN) – which is coordinated in Scotland by Glasgow Caledonian University, is the largest study of coronavirus reinfection that systematically screens for asymptomatic infections.
Every 2 to 4 weeks, participants undergo blood tests for SARS-CoV-2 antibodies as well as Polymerase Chain Reaction (PCR) tests to detect the virus itself.
The NHS Golden Jubilee research team monitor staff immune responses, as well as the prevalence and incidence of infection.
Dr Catherine Sinclair, Head of Research and Principle Investigator for the study, said:
"We are pleased to be extending the SIREN study for an additional 12 months. By doing this, colleagues are able to access regular antibody and PCR results.
"The NHS Golden Jubilee contributions to this extremely important study will also allow us to fully understand the vaccine-induced immune response and any protection from infection and disease.
"While the study focuses on healthcare workers, this research will give a better understanding of the long-term impact of the virus on society and help us to reduce the risk of COVID-19 in our communities, keeping people across the country safe.
"I'd like to thank all staff who have contributed to the study, which includes our lab colleagues who have gone the extra mile in analysing samples and giving us the results and, of course, those who choose to continue their involvement.
"Their valuable contribution helps us to understand the science behind COVID-19 and is greatly appreciated."