Scottish first for innovative heart imaging
September 13, 2021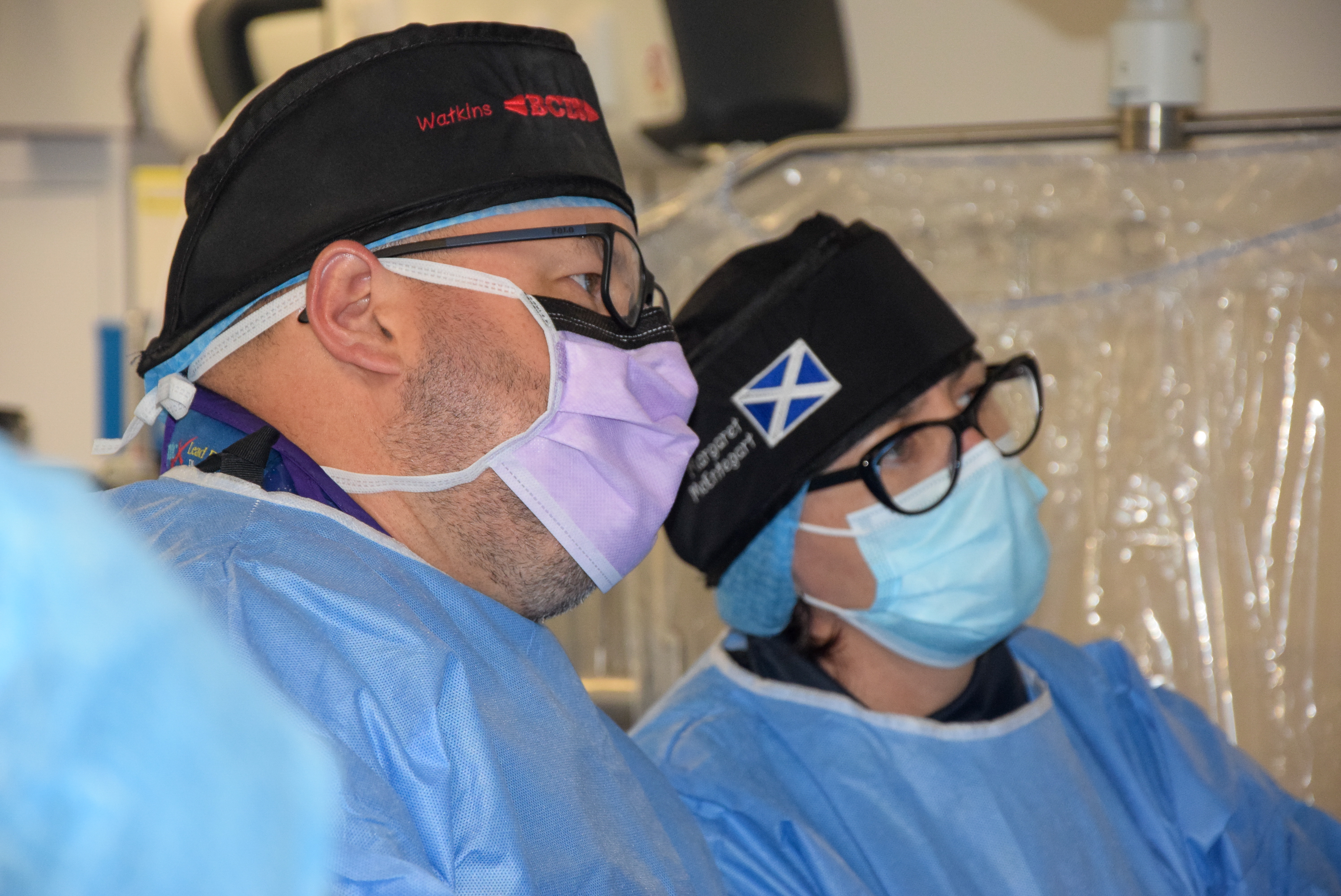 In a Scottish first, consultants at NHS Golden Jubilee have used innovative imaging technology to see inside heart arteries.
The technology is being hailed as the new generation of intravascular imaging with Optical Coherence Tomography (OCT) giving higher quality images inside arteries to help treat patients' coronary disease more accurately and in the most appropriate way, resulting in better outcomes for patients.
NHS Golden Jubilee Consultant Interventional Cardiologists Dr Stuart Watkins and Dr Margaret McEntegart used the new Dragonfly OpStar imaging catheter in a live recorded case for the internationally renowned PCR on 14 October 2021.
The innovating duo carried out the procedure on a patient for the online educational platform which gives cardiologists from around the world the opportunity to share information, learn new techniques for treating heart disease and understand how best to use the new technology to treat patients in the future.
Dr Watkins said: "It's a real honour to be asked, along with my colleague Dr Margaret McEntegert, to be the first centre in Scotland to use this new catheter.
"OpStar has new design features which make it easier to insert into heart arteries. It also has a new lens which gives us brighter, clearer images of the arteries we treat.
"Using this together with artificial intelligence (AI) technology, we have a significantly improved imaging platform for looking inside arteries and treating patients.
"Before, our OCT assessment of arteries was very manual and you had to go in and do everything yourself, but now using this new software, we automatically get some of the information we need, speeding up the process.
"We chose the case of an older patient who had very calcified arteries with extensive heart disease and we were able to treat this patient effectively with an excellent outcome for them."
NHS Golden Jubilee Medical Director Dr Mark MacGregor said: "This new technology simplifies the interpretation of images from OCT, gives a more accurate diagnosis and helps us continue to deliver a world class standard of care for our patients.
"It's also fantastic that NHS Golden Jubilee was asked to do this case for PCR, educating cardiologists in other centres in how to treat heart arteries during this COVID-19 pandemic.
"Showcasing the latest technology that's available to treat heart disease demonstrates NHS Golden Jubilee's commitment as a centre of excellence as well as an institution committed to medical education."