NHS Golden Jubilee Cardiologist appointed Vice President of National Society
November 10, 2020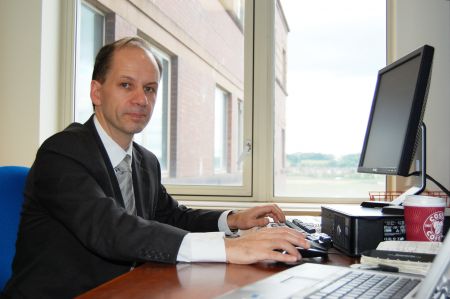 A consultant cardiologist from NHS Golden Jubilee has been elected Vice President of the British Society of Cardiovascular Magnetic Resonance (BSCMR).
Professor Colin Berry, Director of Research and Development, took up his new post at BSCMR's Annual General Meeting.
The organisation, which is affiliated with the British Cardiovascular Society, promotes the role of cardiovascular magnetic resonance imaging (MRI) to improve the diagnosis and treatment of patients with heart disease.
BSCMR also supports education, training, research, standards and advocacy while collaborating with organisations in the UK and around the world.
Professor Berry, said: "I have thoroughly enjoyed working with the Society over the last 10 years and it is a privilege to serve our patients and community through this role.
"The UK makes a huge international impact on heart imaging research and I'm grateful to be able to raise awareness of the outstanding value of cardiovascular MRI for patient care".
"I will relish the opportunity to work alongside our new President, Dr Mark Westwood, and the Society's Board to deliver their strategic plans and to make strides in imaging research that will make a difference to, not only our nation's health, but heart health around the world."
Professor Berry's research focuses on angina, heart attack and heart failure.
His group's most recent research involves the CISCO-19 study, funded by the Chief Scientist Office of the Scottish Government. The study involves using MRI and Computer Tomography (CT) to assess heart and lung function in 160 patients who have been hospitalised with COVID-19.
Dr Mark MacGregor, Medical Director at NHS Golden Jubilee, said: "On behalf of everyone at NHS Golden Jubilee, I congratulate Colin on being elected as Vice President of the British Society of Cardiovascular Magnetic Resonance.
"Colin is a distinguished academic and clinician with extensive experience in imaging and interventional cardiology.
"This appointment further supports NHS Golden Jubilee's vision of leading the way in delivering quality research through collaboration for the NHS in Scotland and beyond."
In addition to his roles at NHS Golden Jubilee, Professor Berry holds a Chair in Cardiology and Imaging in the University of Glasgow, is a Fellow of the Royal College of Physicians and Surgeons of Glasgow and recently became Executive Editor of the European Society of Cardiology's European Heart Journal.