NHS Golden Jubilee investing in our most prized asset – our staff
December 29, 2020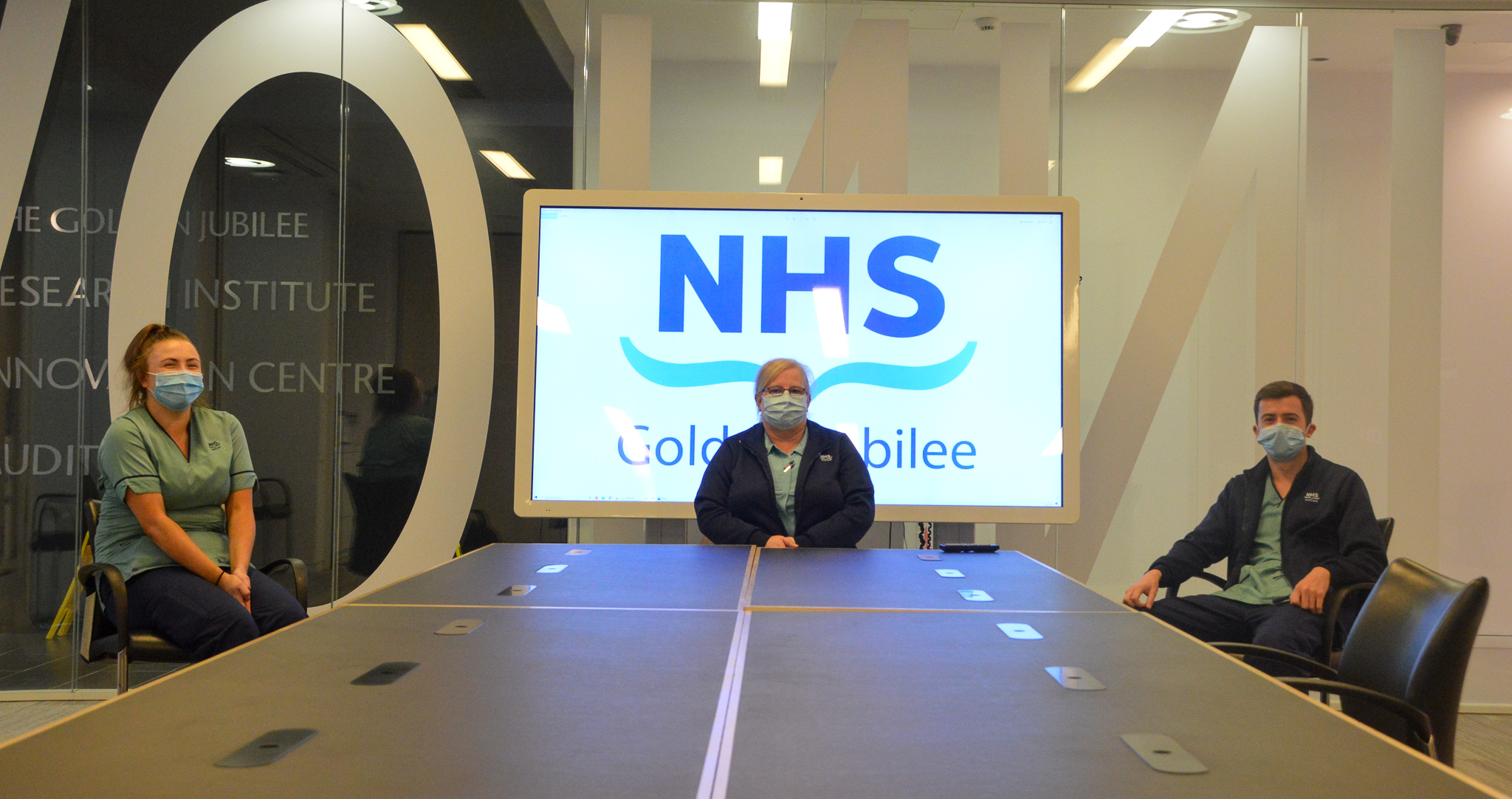 (L-R) Carly McCarron, Catherine McKechnie and Ross Ferguson from NHS Golden Jubilee's Catering team
Talented Catering staff at NHS Golden Jubilee are progressing their careers through the organisation's Scottish Vocational Qualifications (SVQ) learning scheme.
As well as helping keep patients well fed, safe and cared for, the group are developing their skillsets and personal development through various SVQ levels in Hospitality Services.
Food Services Assistant Ross Ferguson achieved Level 5 in Hospitality Services and is now moving into studying Level 7 Hospitality Supervision and Leadership. Fellow Food Services Assistant Carly McCarron also recently began her learning at Level 5 in Hospitality Services.
Ross and Carly deliver food to patients in the ward and use the new Bedside Menu Ordering System (BMOS), which allows Catering staff to focus on delivering quality healthcare that is person-centred, safe and effective.
Ross, 22, from Renfrew, who has worked at the Golden Jubilee for four years, said: "The best part of my job is the satisfaction of helping to treat patients well and doing that how you would want to be treated yourself while in hospital.
"I'm pleased at passing my SVQ and I'm looking forward to moving on and doing more that will help me develop my career here at NHS Golden Jubilee."
Carly, 20, from Faifley, who has worked here for three years, added: "I really enjoy my job, especially making sure patients are fed well and getting to work alongside the teams on the wards. It's great to have the option of career development and there are lots of opportunities here."
Colleagues Brian Campbell and Peter Ralston completed their Level 7 Hospitality Supervision and Leadership, while Catherine McKechnie is now moving on to Level 8 in Hospitality Management.
Catherine, 56, from Clydebank, has worked at the Golden Jubilee for more than eight years and has gone from starting as a Food Services Assistant to Senior Team Leader in the Catering department, helping to oversee the career development of her colleagues.
She said: "I really love my work here and working in this team, making sure menus are processed correctly for our patients and staff. I've been here eight years now and I've been through all the courses Ross and Carly are doing now and they can do the same if they want and progress their own careers further, which I know they can do."
The Golden Jubilee was accredited as a Scottish Vocational Qualifications (SVQ) Approved Centre in 2017, showing our commitment to supporting our workforce. Training can also be verified on site and externally by SQA annually, meaning staff will be trained on site at the Hospital, and receive a nationally recognised qualification on completion of the course. This signifies that you have the knowledge, skills and ability to carry out your role to the industry standard and offers fantastic opportunities for professional development.
Jann Gardner, Chief Executive of NHS Golden Jubilee, said: "I am delighted that so many of our staff, from such a wide range of departments over the years, have been successful in completing the SVQ levels they have worked to achieve.
"Our staff are our biggest asset and as an NHS employer we support employees' learning and development goals. By investing in our staff, our organisation can only benefit from the achievements of those who have completed this qualification.
"Wherever their careers take them in the future, those achieving the SVQ have shown that they have a set level of competency which is relevant and transferable in today's workplace."
In 2017, the Golden Jubilee was also the first NHS organisation in Scotland to achieve the coveted Investors in Young People Gold status, demonstrating the commitment to recruiting, developing and ultimately retaining young people in the organisation, whilst leading the way for other NHS and public sector organisations to do the same.
Investors in Young People is designed to help employers meet their business goals by harnessing the creativity and skills of young people.