Nominate your Golden Jubilee hero
January 10, 2020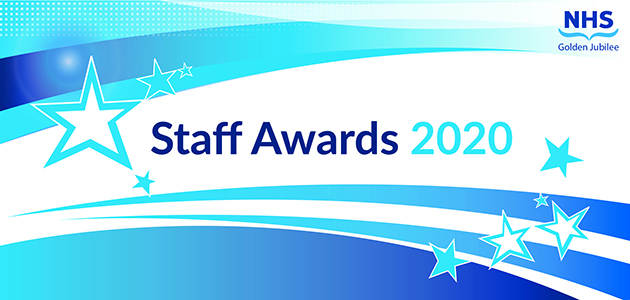 NHS Golden Jubilee is proud to announce the launch of their 2020 Staff Awards.

NHS Golden Jubilee's Staff Awards recognise the core values we believe in and those staff members who go the extra mile to provide an excellent service for patients, customers, colleagues and the public. They provide an opportunity to say thanks and show appreciation for the hard work and commitment of NHS staff.
The Staff Awards will take place annually from 2020, with staff, patients, customers and members of the public able to nominate individuals, groups or teams across 12 categories.

Chief Executive, Jann Gardner said; "Our people are at the centre of everything we do – without their compassion, professionalism and dedication to delivering safe and effective care, we wouldn't have the person-led approach to healthcare that allows us to continuously improve.

"NHS Golden Jubilee's annual awards ceremony recognises the difference our staff make to the lives of our patients. It also acknowledges and highlights where our inclusive values culture is shown day in, day out. These awards are there to find the unsung heroes who help to make us an outstanding organisation which delivers high quality services for the people of Scotland.

Nominations are now open for the following award categories:
Rising Star
Volunteers
Collaboration
Leader of the year
Top Team
Unsung hero
Project recognition
Support Worker
Green
Care and compassion
Chair award for Innovation
Chief Executive Values award
Nominations can be made on our website at https://www.nhsgoldenjubilee.co.uk/working-us/nhs-golden-jubilee-staff-awards. Nomination forms are also available within the Golden Jubilee National Hospital and Golden Jubilee Conference Hotel.
Nominations will close on Friday 20 March 2020 and finalists will be invited to an event in the Golden Jubilee Conference Hotel on Thursday 28 May.