Patient marries sweetheart in hospital bed as he awaits a new heart
May 20, 2020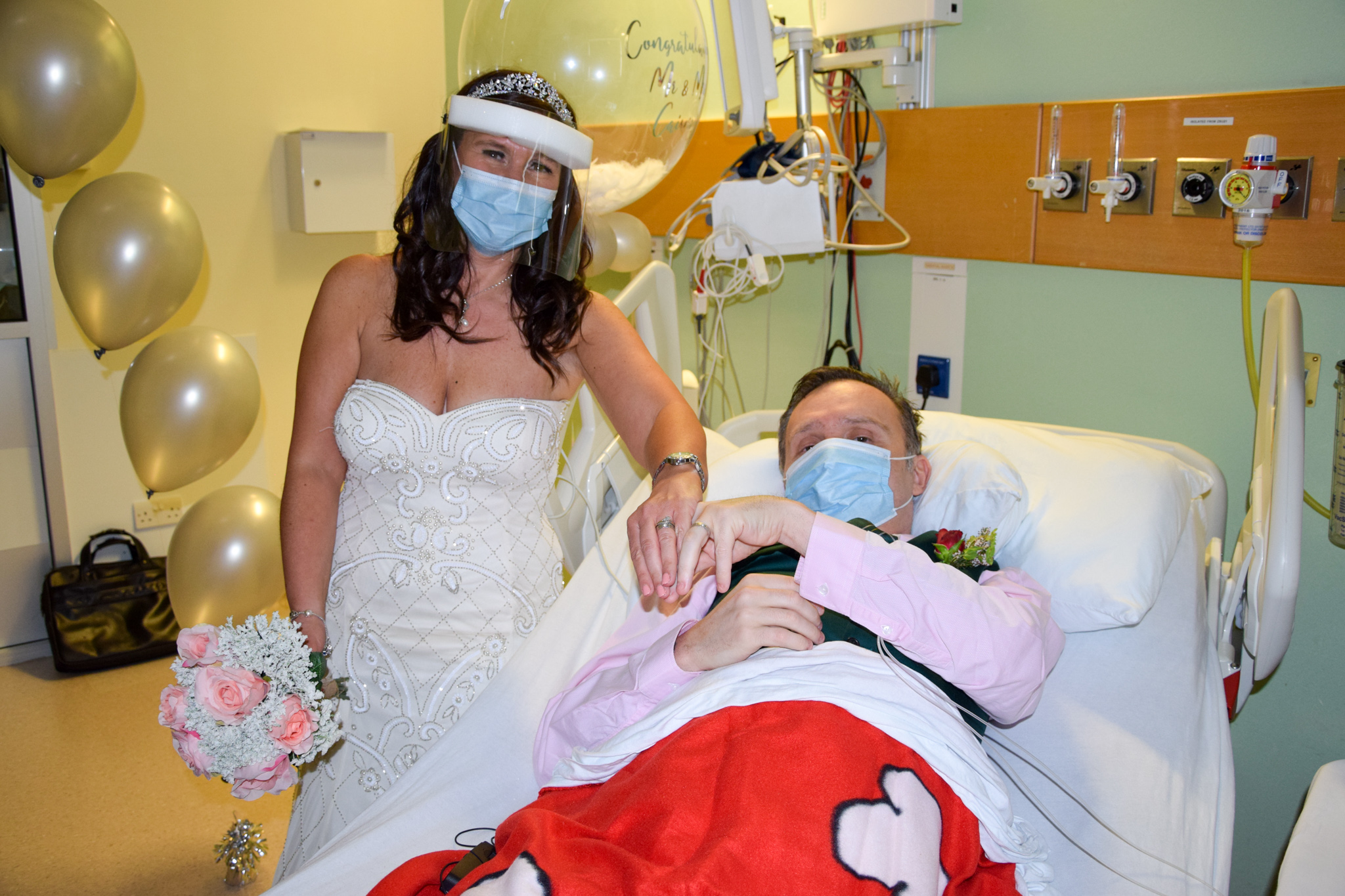 A patient waiting on a heart transplant has married in hospital with PPE-wearing staff acting as his witnesses.
Steven Cairns, who is confined to a hospital bed, married sweetheart Katie Morris in a small ceremony at the Golden Jubilee National Hospital on Monday 18 May after staff stepped in to make their dream a reality.
Business analyst Steven had heart problems for around seven years before having a heart attack at work which required open heart surgery for a leaking valve.
But his problems got more serious when the couple were on holiday in Lanzarote in January, when Steven passed out and then took ill at the airport on his return home.
Steven has been confined to bed on an intra-aortic balloon pump, which is keeping his heart pumping, since he was admitted to hospital in February with advanced heart failure.
Golden Jubilee staff helped the couple organise the wedding in just a few days after they told them how much they wanted to get married.
Father-of-three Steven, 49, said: "The day was just amazing. It was something we've wanted to do for a while, so we just asked the hospital about it and they were fantastic about the whole thing and even helped Katie arrange it.
"Due to the current situation everyone had to wear PPE, but we didn't care about that, we just wanted to be married.
"We couldn't have our families there either, but we had some tuning in on Zoom. It was quite emotional and surreal at the same time.
"I can't thank the staff and everyone else who helped us make this happen enough, it's just been amazing."
Katie, 51, a family support worker, said fate played a part in them getting together on an internet dating site.
She said: "I thought he was from Dalry in Edinburgh, not Dalry in Ayrshire, or I wouldn't have clicked on his profile, because Ayrshire is too far away!
"The day was a bit overwhelming for us, but we are really happy it happened and we are now husband and wife.
"We had spoken about doing it when we were in Lanzarote and although this isn't what we intended, part of it was about being practical and pragmatic because you just don't know what is going to happen in the future.
"Wearing PPE during our ceremony wasn't something we thought we'd have to do, but it didn't take anything away from the happiness of the occasion.
"We'd like to thank the staff who really went above and beyond to make our dream happen and for everything they did for us and continue to do for Steven. We couldn't ask for any more, especially at this difficult time."
Staff from the hospital helped the couple arrange a Humanist celebrant to carry out the ceremony, with Healthcare Assistant Rod Escalante and Nurse Kerry Campbell, who are part of the team caring for Steven, acting as the couple's official witnesses.
Staff helped decorate Steven's room, the Communications team took the official wedding photographs and video and Staff Nurse Liz Davidson even baked the couple a three-tier wedding cake.
National Services Ward Manager Euan Darroch said: "It was an absolute privilege to be part of Steven and Katie's big day. All of our staff worked really hard to make it a reality and I'm really proud of them.
"It's been especially hard for our patients at this moment in time as visiting is only allowed in exceptional circumstances. We are constantly thinking of new ways to keep our patients' spirits up and helping them feel normal and connected to their families and loved ones as possible."
NHS Golden Jubilee Chief Executive Jann Gardner added: "I'm so happy for Steven and Katie and send them both my very best wishes on what was a very emotional day for them and everyone involved.
"Our staff continually make me proud with their dedication and passion for person centred care, and it is wonderful to see so many people coming together to help this lovely couple make their wedding day special."