First Scottish Gold as National NHS Board 'Invests in Young People'
August 30, 2017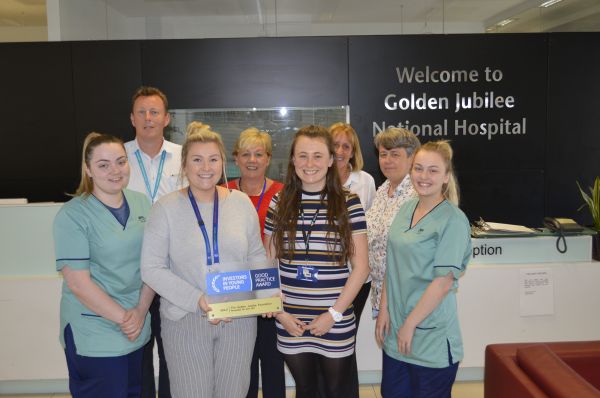 The Golden Jubilee is the first NHS organisation in Scotland to be awarded the Investors in Young People accreditation at Gold level.
The framework recognises good practice in three areas of youth employment: attraction and recruitment; support and development; and retention.
Organisations are measured against a three-stage scale, progressing from having principles and practices in place, through to management of young people being fully integrated with other business practices.
By aiming straight for the highest accreditation, the Golden Jubilee has demonstrated its commitment to young people and is leading the way for other NHS and public sector organisations to do the same.
Elaine Barr, Recruitment Manager, said: "We are delighted to be the first NHS organisation in Scotland to achieve Investors in Young People accreditation at Gold level.
"At the Golden Jubilee, we pride ourselves on our inclusive attitude and behaviours. We have put in place a range of policies and procedures to ensure that we can continue to include and involve staff of all ages in everything that we do.
"The Investor in Young People programme provides an excellent framework to recognise our efforts in this area and enables us to continuously improve and develop our approach to equality for all, no matter what your age may be.
"We have a number of young people working at the Golden Jubilee bringing different energy and enthusiasm to teams, and often a fresh perspective and new ideas."
Investors in Young People was first established in 2014 to help employers meet their business goals by harnessing the creativity and skills of young people.
The scheme, which is administered by Remarkable, requires organisations to undertake a structured journey towards accreditation.
Peter Russian, Chief Executive of Remarkable, commented: "The Investors in Young People framework not only recognises and supports organisations in the employment of young people, but marks them out as an employer of choice.
"I am delighted to see that the Golden Jubilee has achieved the Gold level accreditation; this is a fantastic achievement and I would like to congratulate them on behalf of the whole team at Remarkable.