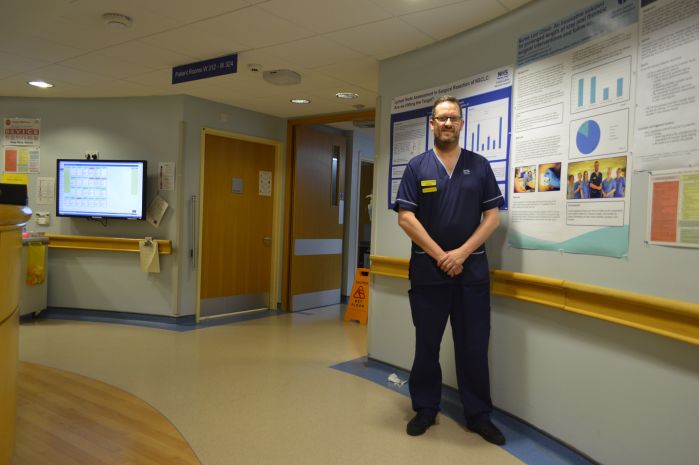 An innovative nurse from the Golden Jubilee National Hospital is in contention for a prestigious accolade at this year's British Journal of Nursing (BJN) awards.
Cameron Murray has been shortlisted for the Innovation Award after impressing judges with a groundbreaking Nurse Led Clinic, which from a recent survey had a 100% patient satisfaction rate. In its first 20 months, 223 patients benefited, and 1,746 bed days were saved with prolonged air leak patients alone, meaning patients were discharged and at home earlier.
Introduced in May 2015 with an aim to reduce the amount of time patients need to spend in hospital, the clinic is primarily used to review patients who have had common complications following thoracic surgery.
The Senior Charge Nurse is one of just three finalists whittled down from over 50 entries in the most popular category, as a result of his creative approach to patient-centred care, efficiency and nurse empowerment.
Cameron said: "It is a huge honour to be shortlisted for the Innovation Award in what is a very competitive category.
"The Golden Jubilee's vision is to lead on Quality, Research and Innovation for the NHS in Scotland, and I am delighted that this project has been recognised for its creative approach in reducing the length of stay for this group of lung patients.
"The clinic improved patient experience in the ward while allowing nurses to focus on caring for our patients. I would like to thank my team and everyone involved in the project because without their support and dedication the clinic would not be possible."
Patients who have been discharged with chest drains, or common complications like prolonged air leak, infection and residual pleural space problems, are cared for safely, effectively and efficiently with minimal impact on ward staff and patients.
A specific chest drain treatment room is managed by an allocated nurse who provides patients with a set appointment rather than having to manage their care across different times and days of the week.
Anne Marie Cavanagh, Nurse Director at the Golden Jubilee National Hospital, said: "I am delighted that Cameron has been shortlisted for the BJN's most valued award. We are a values based organisation and Cameron embodies these with his can do attitude and passion for ensuring all our patients receive safe, effective and person centred care.
"As a national resource for NHSScotland, the Golden Jubilee is constantly looking for new and innovative ways to provide the best possible service to our patients from all across Scotland and the nurse led clinic does just that.
"I am really impressed with how far it has progressed in 20 months and it is improving patient care and experience whilst also making best use of our resources."
Leading nurses and professionals from across the UK will attend the BJN Awards on Friday 10 March at Shakespeare's Underglobe in London.
Julie Smith, Editor of the BJN and awards judge, said: "This entry stood out for me because the nominee showed a flair for innovation that benefited absolutely everyone involved and will continue to do so.
"It is an innovation that could, and should, be shared with other healthcare providers across the UK. Cameron deserves recognition for the work he has done so here at BJN we are delighted to facilitate this through the BJN Awards, which are now an established and important date in the nursing calendar."