Investing in Education
November 28, 2017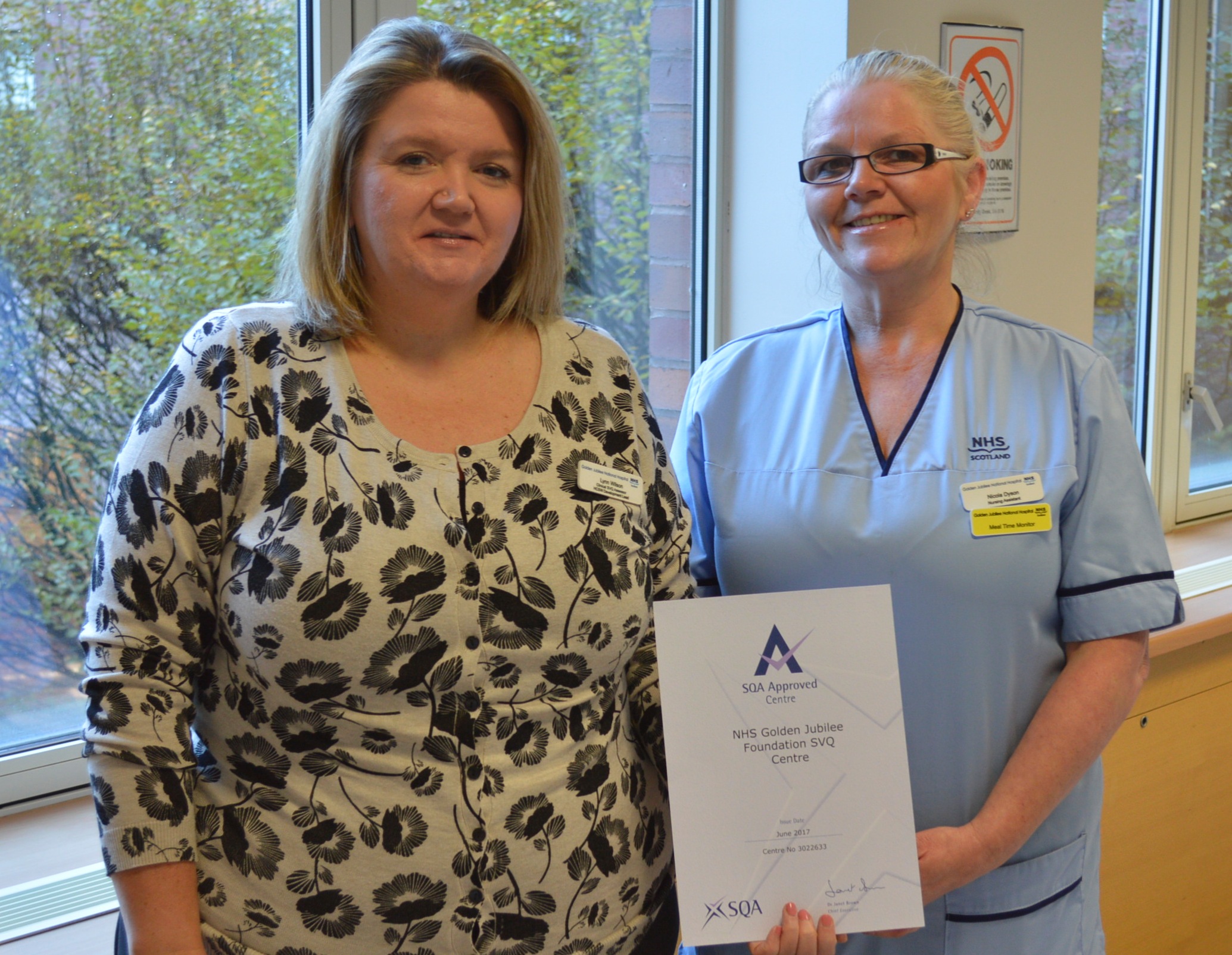 The Golden Jubilee has recently been accredited as a Scottish Vocational Qualifications (SVQ) Approved Centre, further showing their commitment to supporting their workforce.
Specialising in training for Healthcare Support Workers (HCSW), this means that the Golden Jubilee can undertake all training for SVQ in Clinical Healthcare Support at levels two and three.
This training can now also be verified on site and externally by SQA annually, meaning staff will receive a nationally recognised qualification on completion of the course.
Lynn Wilson, our HCSW Development Lead and Clinical SVQ Assessor, worked with SQA Assessors to showcase the resources and staffing in place to deliver the training and assess the work.
Lynn commented: "We are delighted that the Scottish Qualifications Authority has recognised the quality of our clinical education programme and given us Approved Centre status.
"Whilst we are starting off by offering the level two and three SVQs in Clinical Healthcare Support, as all aspects of the award are delivered in-house, there is also scope to increase the awards we offer over time."
Eleanor Lang, Associate Nurse Director, for Education and Professional Development, added: "This accreditation from the Scottish Qualifications Authority is recognition of the Golden Jubilee's ongoing commitment to supporting staff learning and development at the highest levels and means we will have a clinical workforce which is fit for the future to help us deliver our expansion programme."
The SVQ Approved Centre accreditation is the latest step that the Golden Jubilee has taken to support staff to meet their potential.
Earlier this year it was announced that the Golden Jubilee was the first NHS organisation to achieve the coveted Investors in Young People Gold status.
And last year they launched an exciting collaboration with West College Scotland to develop a sustainable workforce and provide employment opportunities for students looking to pursue a career in the healthcare sector.