OUTstanding achievement for our Role Model
October 27, 2017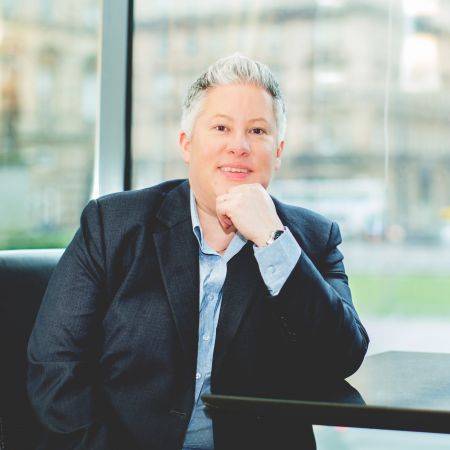 One of our Role Models has received international recognition for her commitment to equality in the workplace and was named on the inaugural 'OUTstanding Leading LGBT+ Public Sector Executives List' published in the Financial Times.
The Golden Jubilee's Head of Strategy and Performance, Carole Andersonplaced seventh on the list which features high profile LGBT champions from around the world.
Carole received this honour for the groundbreaking LGBT equality work she has introduced at the Golden Jubilee. Working with Stonewall, Carole initiated their Diversity Champions programme at the Golden Jubilee in 2008 which resulted in the Golden Jubilee becoming the Top Health and Care organisation in the Stonewall Workplace Equality Index in 2016.
Together with her co-lead, Jane Christie-Flight, she set up the Golden Jubilee LGBT+ network, which leads on improving internal communications on LGBT+ issues. She also secured more senior commitment to the Golden Jubilee's LGBT+ inclusion work which resulted in the Golden Jubilee taking part in it first Pride Glasgow parade in August this year.
Carole has taken responsibility for supporting the Golden Jubilee Allies, enabling their self-organisation and initiating their work with its LGBT+ network.
On being named on the first ever OUTstanding Leading LGBT+ Public Sector Executives List, Carole said: "I am absolutely delighted to feature on this list and to be named alongside LGBT champions who are known throughout the world for their equality work is a massive honour.
"I am so proud to be part of such a values based organisation like the Golden Jubilee. I believe we are leading the way with our equalities work and we are dedicated to creating an inclusive work environment that not only welcomes individuals of all backgrounds, but actively highlights and celebrates our unique mix of people."
Outside of her work at the Golden Jubilee, Carole offers support and advice to various LGBT+ networks, and was sought out to support a conference of HR professionals in London. She has volunteered with young people for nearly 10 years, and recently delivered training on LGBT+ issues for young people through Volunteer Glasgow.
Carole is a passionate and dedicated supporter of Stonewall Scotland and was a keynote speaker at the 2017 Stonewall Scotland Education Conference, and is Chair of Scottish Workplace Networking for LGBT People (SWAN), Scotland's largest LGBT network covering public, private and third sector, which is now a charity supporting LGBT+ people in workplaces and communities.
The OUTstanding list is published annually in a Financial Times special report on Executive Diversity with a focus on LGBT.
Founder and CEO of OUTstanding, Suki Sandhu said: "These lists exist to challenge the assumption you cannot be out and successful in business, and to highlight the importance of role models in inspiring the next generation of business leaders. By recognising and celebrating those who are leading the charge, the lists demonstrate how far the quest for workplace equality has come.
"But there is always more to be done. Big business and the public sector have the power and influence to promote LGBT+ inclusion more widely, paving the way for real societal change around the world."
At this year's Stonewall Scotland Workplace Equality Index (WEI) awards, the Golden Jubilee confirmed its place in the top 100 UK employers for the third year in a row. The WEI measures how well an organisation meets the needs of Lesbian, Gay, Bisexual and Trans (LGBT) members of staff, and is widely accepted as a good indicator of progress against equality targets generally.