Royal Recognition as Golden Jubilee picks up top Defence honour
October 11, 2017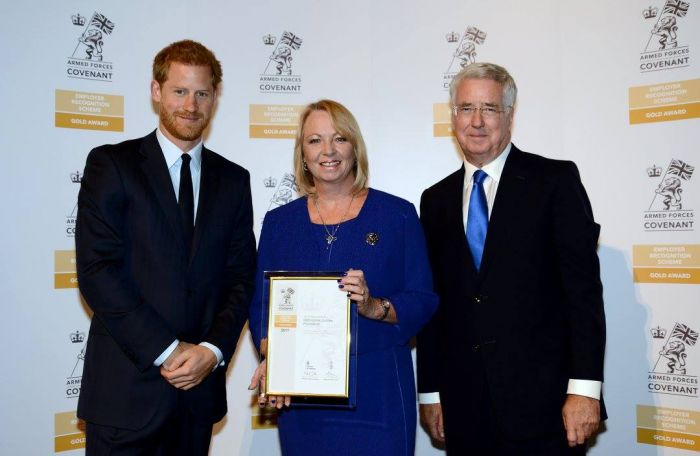 HRH Prince Henry of Wales this week presented the Golden Jubilee with the Ministry of Defence's highest badge of honour for organisations which support the Armed Forces.
Prince Harry presented the Employer Recognition Scheme Gold Award to the Golden Jubilee at a ceremony in the Imperial War Museum, London, on Monday 9 October.
The Golden Jubilee recently announced that it was the only Scottish NHS Board among the 33 recipients of the prestigious award.
Jill Young, Chief Executive of the Golden Jubilee, commented: "We were honoured that HRH Prince Harry presented us with our Employer Recognition Scheme Gold Award in acknowledgment of our long standing commitment to supporting the Armed Forces.
"Having served in the military himself, HRH knows the responsibility this brings and is passionate about supporting those who are serving or who have served their country in the Armed Forces.
"In line with our vision of leading quality, research and innovation within the healthcare sector, we are committed to expanding our strategic partnership with the Armed Forces, sharing best practice in digital innovation, leadership, and transferable skills."
The Gold award is presented to organisations which have signed the Armed Forces Covenant, actively support the Armed Forces community in their workplace and encourage others to follow their lead.
Defence Secretary Sir Michael Fallon said: "This year's Gold award winners should be extremely proud of the work they are doing to live up to the Armed Forces Covenant pledge and to promote the pledge to others.
"I'm delighted to recognise employers who make it crystal clear that regardless of size, location, or sector, employing people with military skills is good for business. I hope others follow their example, thereby delivering a better deal for veterans and armed forces families."
The Gold award is not the first time the Golden Jubilee has been recognised by the Ministry of Defence. In 2013, they were recognised as a Supportive Employer of the Armed Forces Reserves and in 2016, they jointly signed the Armed Forces Covenant.
The strength of this partnership will ensure the Golden Jubilee continues to be at the forefront of providing excellent care for Scotland's patients for many years to come.