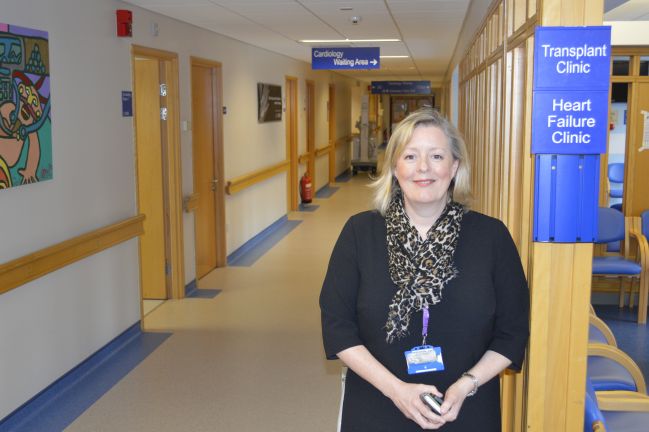 A passionate and dedicated Transplant Coordinator from the Golden Jubilee National Hospital is in the running for a prestigious award.
Patients and members of the public can vote for Jane Lockhart in the Heart Health Professional category at this year's Heart Hero Awards.
Jane was nominated for her drive and commitment to improve the lives of heart transplant patients and their families. She has coordinated 158 heart transplants in 15 years with the Scottish National Advanced Heart Failure Service, carrying out this vital role with dedication, warmth and affection.
Jane said: "I am really surprised, grateful and thrilled to have been nominated for a Heart Hero Award. It is a huge honour for me but really it is a reflection of all the hard work our team carry out on a daily basis for transplant patients and their families.
"I have a really unique job where I work with patients who are really unwell but post transplant I can see them get better and get back to living normal, healthy lives again. It is a really tough and challenging role but also very satisfying and I am very lucky to be working with such a caring and dedicated team."
Organised by the British Heart Foundation (BHF), the Heart Hero awards recognise and celebrate those who have made an exceptional contribution to the fight for every heartbeat.
Jill Young, Chief Executive of the Golden Jubilee, said: "I am absolutely delighted that Jane has been nominated for such a prestigious award. Jane plays a really important part in the transplant team and her passion, commitment and dedication to the role is reflected in the heartfelt care she shows each and every patient. I hope Jane receives all the votes she deserves and I wish her the very best of luck with her nomination."
James Cant, Director at BHF Scotland said, "Jane is a great advocate for heart transplant work in Scotland and a wonderful example of the extraordinary contribution made by heart health professionals."
Heart Hero shortlisted nominees will be revealed later this month, with the winners announced at the BHF Scotland Supporter Day in June. Votes for Jane can be cast until Friday 14 April 2017 at: www.bhf.org.uk/heartheroes