Excellence Awards for Golden Jubilee's delighted dozen
November 14, 2018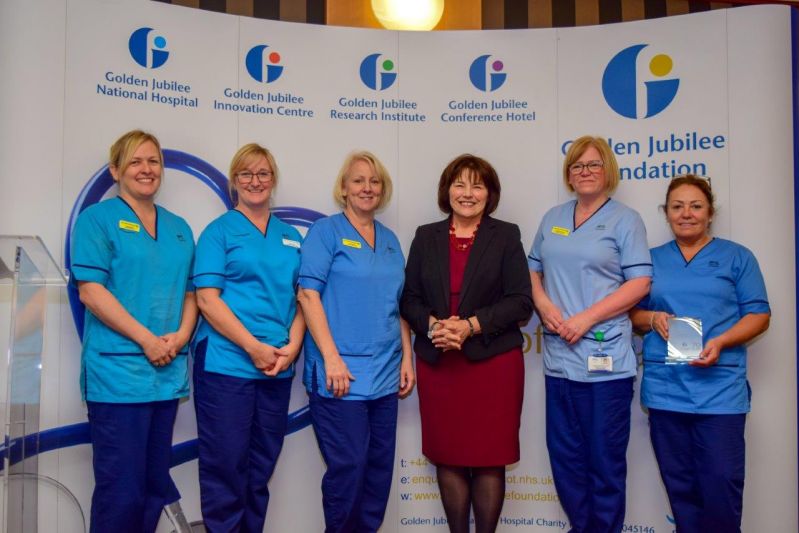 Receptionists, housekeepers, surgeons, nurses, and volunteers, were among the winners at the Golden Jubilee's Excellence Awards, held earlier this week (Monday 12 November 2018).
Cabinet Secretary for Health and Wellbeing, Jeane Freeman MSP, presented a dozen awards, recognising the positive difference Golden Jubilee staff and teams make to patients, visitors, carers and guests on a daily basis.
More than 40 nominations were received across 10 categories, celebrating the success of teams and individuals for excelling in customer care, involvement, quality services, collaboration, innovation, environment, volunteering, values, and clinical education/service innovation.
Judges also chose an additional nominee to receive a special recognition, with a surprise lifetime achievement also handed out.
Susan Douglas-Scott, Chair of NHS Golden Jubilee, commented: "Our Excellence Awards are just one of the ways that we recognise those fantastic contributions our staff and volunteers make to visitors, patients and guests every day.
"Our judging panel had a really difficult job to do as the standard of entries was so high. All of our nominees truly deserve to be recognised and should be as proud of themselves as we are of them.
"Our staff and volunteers are what make the Golden Jubilee so successful: their care, compassion, innovation and ambition to always be the best - that's who and what we are."
---
Notes to editors:
Excellence Awards 2018 Winners
Excellence in quality customer care: Hospital Reception/Switchboard
The team's extensive knowledge allows them to provide accurate information, deal with enquiries and problems, fact find, keep patients informed, and support other teams 24 hours a day, 365 days a year. They have also recently embraced a partial automation of the Switchboard service.
Excellence in involvement: Hospital Expansion Team
The team's extensive involvement and engagement programme has put staff, patients, and third sector partners at the heart of delivering the hospital expansion programme.
Excellence in quality service: Mary Murray
Senior Charge Nurse and Manual Handling Assessor Mary improved compliance with manual handling assessments over a short period of time, despite the challenges of working in a large department.
Excellence in collaboration: Gala Day Committee
Creating an opportunity for people with different areas of expertise to work together, the Committee cultivated a spirit of cooperation, whilst sharing responsibility and work load to deliver a successful event where staff, families and the local community could come together to celebrate the 70th anniversary of the NHS and the 10th anniversary of heart and lung services at the Golden Jubilee.
Excellence in innovation: Annette Hollis
After identifying a need, Tissue Viability Nurse Annette devised a visual aid which reversed a trend in device-related harm and improved the patient outcomes within four months of its introduction. Unique to the Golden Jubilee, the ACE visual aid was developed and tested in collaboration with colleagues in other departments.
Excellence in our environment: Bridget Caldwell, Moira Raeside and May Filshie, 2 East Housekeeping Team
Since the introduction of a 'fast flow' patient area, Bridget, Moira and May meet the demand to turn over patient rooms quickly, and ensure every room is sparkling – all with a smile. Patients regularly comment on how nice and courteous they are.
Excellence in volunteering: Anna Paz
A volunteer since November 2017, Anna supports the Meet and Greet desk once a week and supporting Occupational Therapists' work with long-term patients three times a week at the Activities Group – on top of her work and studies.
Excellence in demonstrating our values: Orthopaedic Outpatient Nurses
The team are an essential link between consultants, secretaries, booking office and pre-assessment. They go out of their way to ensure the department runs smoothly and effectively, ensuring sterile precautions are followed, and taking time to understand patients and make them to feel at ease.
William Cullen Prize for Excellence in clinical teaching and/or service innovation, sponsored by the Royal College of Physicians of Edinburgh: Thoracic Robot Team
With the UK's only robot dedicated to use in lung surgery, the Thoracic Robot Team are leading the way in lung surgery innovation. They provide first class clinical and medical education through a structured virtual reality simulation package for surgeons and theatre staff, and clinical observation visits with other specialist teams.
Platinum Award: June Rogers
Having worked in healthcare for 25 years, June has been instrumental in making the Golden Jubilee the success it is today. She manages the regular expansion of hospital services, delivering new ways of working, and using innovative technologies. She maintains high levels of patient satisfaction through a focused on treating patients faster, in a high quality environment, with a customer care approach.
Special Recognition Award: Frederic Picard
Having worked for NHSScotland for over two decades, Fred has touched the lives of thousands of patients directly as an Orthopaedic Surgeon and indirectly as a result of being an internationally-respected pioneer in the field of computer navigation - he has written four books and published in international journals 180 times.
Lifetime Achievement: Jill Young
Retiring on 30 November after 14 years as Chief Executive of the Golden Jubilee, Jill has dedicated 40 years to the NHS with wealth of experience in nursing and management. She has dedicated her career to improving quality and safety through the redesign of services, constantly looking for, and encouraging, new and innovative ways to ensure patients receive excellent care.