Golden Jubilee and UofG sign MOU
November 08, 2018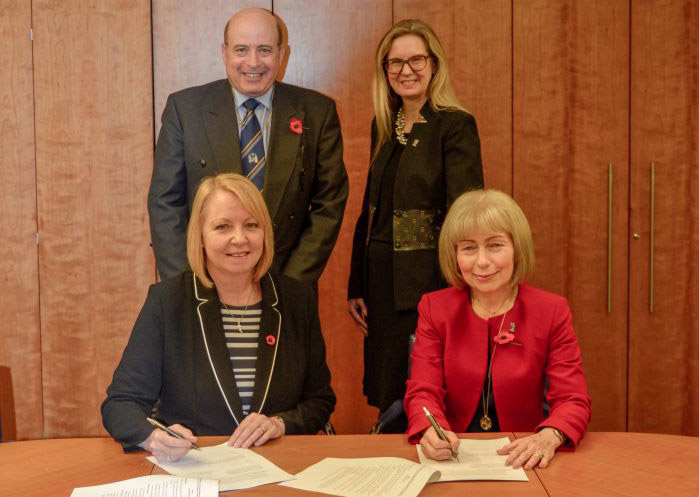 The University of Glasgow and the NHS Golden Jubilee have signed a Memorandum of Understanding (MOU) to further strengthen their relationship in medical science.
The MOU will build on existing and historical links between the University and the national NHS Board.
The University of Glasgow and the Golden Jubilee have, for many years, enjoyed a close relationship, working together through membership of Glasgow Biomedicine.
This MOU represents a strengthening of that relationship, with the aim of continuing to support successful collaborative research and attracting additional research funding for the advancement of knowledge and healthcare provision in Scotland and beyond. The MOU will formalise joint collaboration on major scientific areas and disciplines of mutual interest.
Professor Dame Anna Dominiczak, Vice Principal of the University of Glasgow and the Head of the College of Medical, Veterinary and Life Sciences, said: "I am delighted that the University of Glasgow and the Golden Jubilee have signed an MOU to further strengthen our close relationship.
"True world-leading medical and life sciences research is built on strong, productive collaboration. This agreement will provide the basis for even closer working relations between our two institutions and our world-class researchers."
Jill Young, Chief Executive of the NHS Golden Jubilee added: "The close working relationship between researchers and clinicians at the Golden Jubilee will benefit patients across Scotland and will lead to important medical breakthroughs.
"This partnership will build on existing strengths and develop long-term international excellence in translational research ensuring the route from research to treatment is as effective and as rapid as anywhere in the world."