Mum and nurse colleagues walk in memory of daughter
December 07, 2018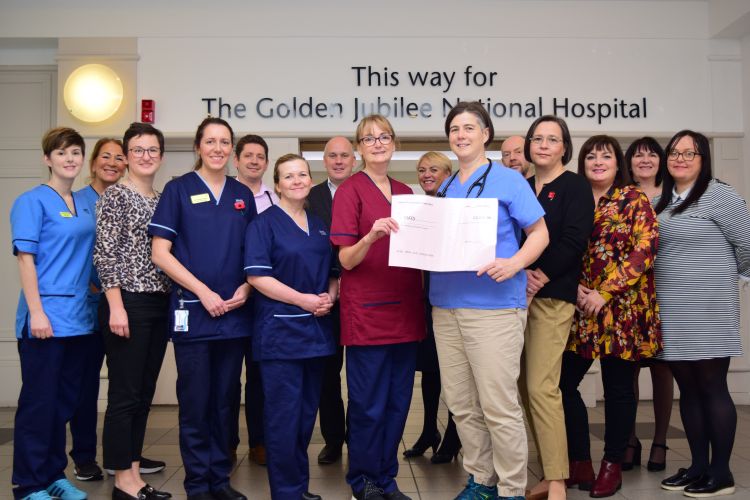 A team of dedicated nurses embarked on a walk with a difference to raise money for heart patients.
A group of 20 theatre nurses from the Queen Elizabeth University Hospital in Glasgow completed an energy sapping 'Four Hospitals Walk' in October, which helped raise more than £2000 for the Golden Jubilee's Scottish Adult Congenital Cardiac Service (SACCS).
The fundraising walk involved a trek from the new Victoria Hospital on Glasgow's South side, to the Queen Elizabeth University Hospital. The group then walked to Gartnavel Hospital in Glasgow's west end, before completing their fundraising walk at the previous site of the Western Infirmary.
Taking part in the 10-mile walk was Rhona Nicolson, from Glasgow, who had a poignant reason for wanting to raise money for the Clydebank hospital's heart failure service.
Her brave and inspirational daughter Eilidh, 21, was a SACCS patient at the Golden Jubilee National Hospital who sadly passed away earlier this year.
The fundraiser was organised to not only recognise what a wonderful girl Eilidh was and show support to mum Rhona, but to raise funds for the cardiac service Eilidh attended.
Rhona, who is a Charge Nurse at the Queen Elizabeth University Hospital, said: "It was an excellent day and we had wonderful support from our colleagues.
"The walk was in memory of Eilidh as well as to raise money for the unit which gave her such great care.
"It's also great to be able to help other people with congenital cardiac disease by raising money for the services they use. In terms of the day itself it was lovely and sunny, there was lots of camaraderie and we were all rewarded with a nice lunch in the West End afterwards.
"I just want to say a huge thanks to everybody who walked and to those who donated but special thanks to Stephanie Leca, a Senior Charge Nurse at the Queen Elizabeth, who set up a JustGiving page and who played a major part."
Mike Higgins, Medical Director at the Golden Jubilee National Hospital, said: "We are hugely indebted to Rhona, her colleagues and all their supporters for raising such a fantastic sum of money for SACCS.
"We are constantly amazed at the generosity people show with their donations towards all our services at the Golden Jubilee. We cannot thank them enough.
"Donations like this from Rhona and her colleagues will help us ensure we can make a real difference to the lives of other patients and enhance their experience and care at the Golden Jubilee."