Professorship for Golden Jubilee Cardiologist
November 29, 2018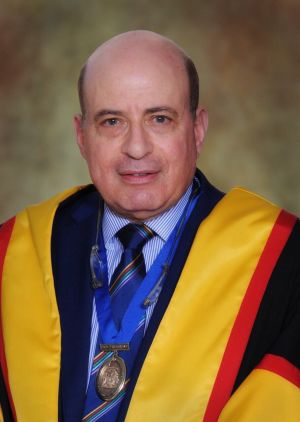 A Consultant Cardiologist at the Golden Jubilee National Hospital has been recognised for his services to the medical profession and clinical research with an honorary title from the University of Glasgow.
Hany Eteiba, Associate Medical Director at the Golden Jubilee, has been awarded an Honorary Professorship at the University's Institute of Cardiovascular and Medical Sciences.
The title recognises Professor Eteiba's distinguished career as an interventional cardiologist and acknowledges his collaboration with the University's academic team on vital Clinical research projects including the T-Time*, Cor-MicA** and DEFER*** trials.
Professor Eteiba said: "I am extremely proud to receive an Honorary Professorship with the University of Glasgow's Institute of Cardiovascular and Medical Sciences.
"This is as a testament to the excellent clinical service and the quality research and innovation delivered by a highly motivated team. This cohesive team spirit and ethos of work earned the Golden Jubilee a prominent place worldwide as a national centre of excellence and internationally renowned institution of advanced medical research and training.
"Having spent my entire career working with healthcare professionals across the globe to improve treatment and service delivery to patients, I am looking forward to further collaborative work with our academic colleagues in the University of Glasgow to explore how we can best help Scottish patients have healthier lives and even live longer."
The professorship is the latest milestone in a longstanding and productive partnership between the Golden Jubilee and the University, which has recently been strengthened further by the signing of a joint Memorandum of Understanding.
Jill Young, Chief Executive of the Golden Jubilee, said: "On behalf of everyone at the Golden Jubilee, I would like to offer Hany my sincere congratulations on being recognised by the University of Glasgow with an honorary professorship."
"This further supports the important relationship we have with the University and will ensure we continue to spread the Golden Jubilee's vision of leading quality, research and innovation for the NHS in Scotland."
Dame Anna Dominiczak, Vice Principal and Head of the College of Medical, Veterinary and Life Sciences at the University of Glasgow, said: "The University of Glasgow is pleased and proud to bestow the title of Honorary Professor on Dr Hany Eteiba.
"Professor Eteiba is a distinguished leader and clinician in cardiovascular medicine and a long-time collaborator of the University of Glasgow.
"We congratulate Professor Eteiba on this much-deserved title and look forward to many more years of research collaboration with him, and all our partners at the Golden Jubilee."
The honorary professorship follows Professor Eteiba's appointments as President of the Scottish Cardiac Society (SCS) and Vice President (Medical) of the Royal College of Physicians and Surgeons Glasgow (RCPSG), and an International Lifetime Achievement award from the Egyptian Society of Cardiology.