Brave mum Melanie's mountain challenge for NHS Golden Jubilee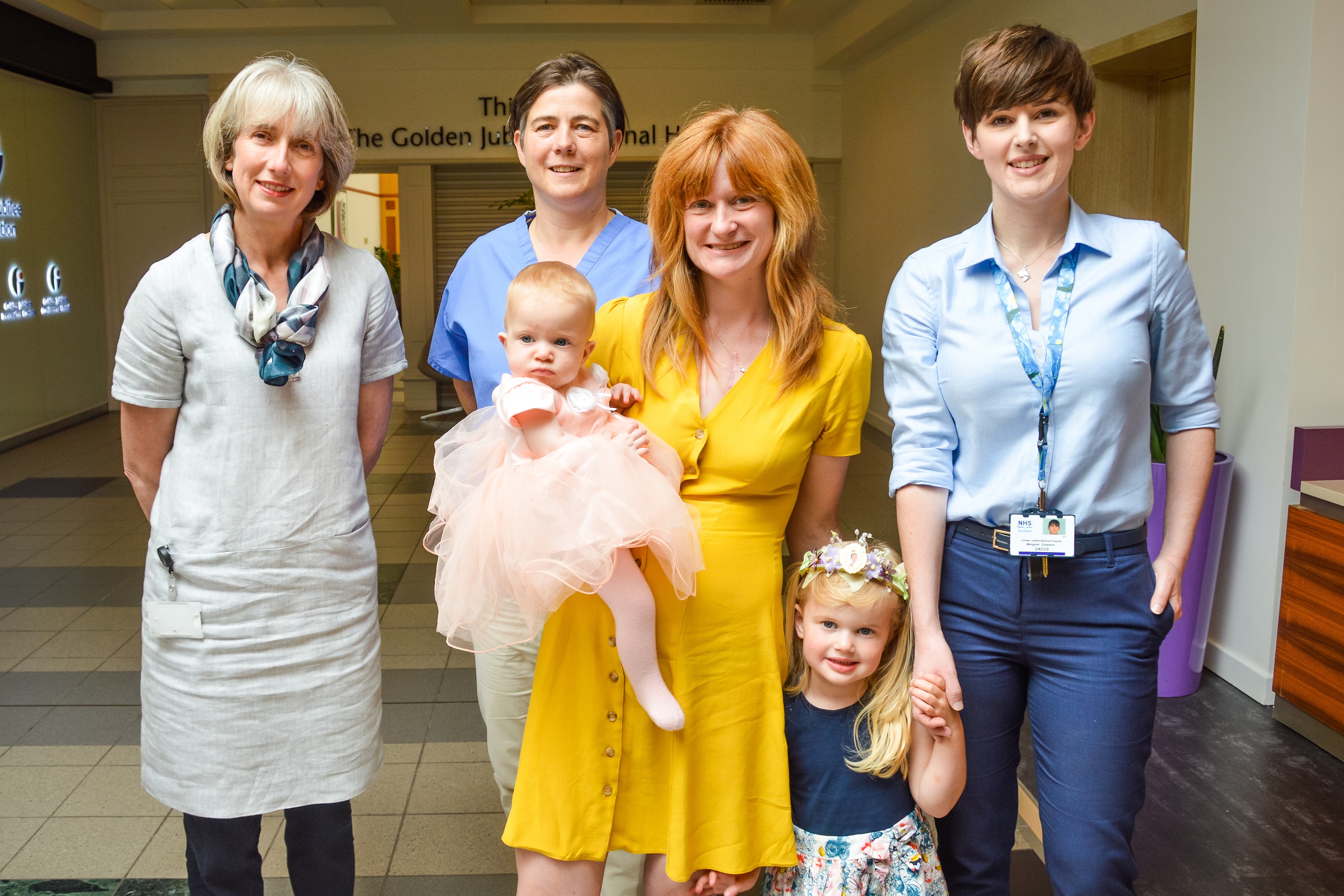 Melanie, Millie and Ariana Milligan with Dr Janet Brennand, Consultant in Maternal at Fetal Medicine at Queen Elizabeth University Hospital and the Scottish Adult Congenital Cardiac Service's Consultant Cardiologist Dr Niki Walker and Senior Nurse Specialist Maggie Simpson. Copyright © NHS Golden Jubilee, Single Use Only.
A determined mother-of-two with a congenital heart condition has climbed the UK's biggest mountain just months after the birth of her second child – raising £1,150 for NHS Golden Jubilee in the process.
Melanie Milligan, who climbed Ben Nevis with sister Lauren and best friends Hannah, Eilidh and Amy, wanted to do something momentous to say thank you to cardiac staff at the Golden Jubilee National Hospital for the special care she and her daughters received.
The 27-year-old was admitted to the Clydebank facility during her second pregnancy last year to be continuously monitored for her and her unborn baby's safety after she developed a blood clot on the metal aortic valve replacement which was fitted when she was just 14.
When the blood clot couldn't be cleared, a 20-strong team of specialists delivered Millie in September at 28 weeks weighing just 2lbs 5ozs, with Melanie having heart surgery to replace the blocked valve the week after giving birth.
Whilst baby Millie spent several months in the neonatal wards in other hospitals, mum Melanie could keep a close eye on the tot from a dedicated 'babycam link' at her hospital bedside.
Mum and baby are now both doing great.
The Scottish Adult Congenital Cardiac Service (SACCS) team which helped Melanie safely deliver Millie and big sister Ariana, even ensured the older girl could celebrate her third birthday with a party in the hospital.
Melanie said: "The care I've had at the Golden Jubilee has been so special.
"It was a very traumatic and emotional time for me and all my family, but the staff are just amazing. I wanted to do something special to show my appreciation and show that although I have a heart problem, it won't stop me from doing things I want to do.
"The response I got was absolutely phenomenal. My sister held a bake sale at her work and we raised a lot of money in cash donations and on JustGiving for Team Millie.​​​​​​​​​​​​​​
"I would like to say a big thank you to all the staff, who even brought in presents for Millie afterwards, and everyone who gave so generously for Team Millie."
SACCS Senior Nurse Specialist Maggie Simpson said: "For some women with heart conditions, the normal changes in pregnancy can put strain on the heart and there is a risk of complications. These women require ongoing monitoring throughout pregnancy and after the baby is delivered.
"A small number of women deliver their baby at the Golden Jubilee each year. When this happens, mum stays with us and baby is transferred to a local neonatal unit, with mum able to see her baby through a constant BabyCam video link.
"It is a privilege to be part of a team providing specialist care to families like the Milligans, whom we would all like to thank for their efforts in raising money for the Golden Jubilee."
Golden Jubilee Consultant Cardiologist Niki Walker, who was part of Melanie's care team, said: "Melanie was a wonderful patient and we are all delighted that she and her two beautiful daughters are healthy and doing great.
"We'd like to thank her and her family for this very generous donation, which will help us deliver person centred care for other families who go through the same situation."
To donate to Team Millie visit www.justgiving.com/fundraising/melanie-milligan-teammillie.