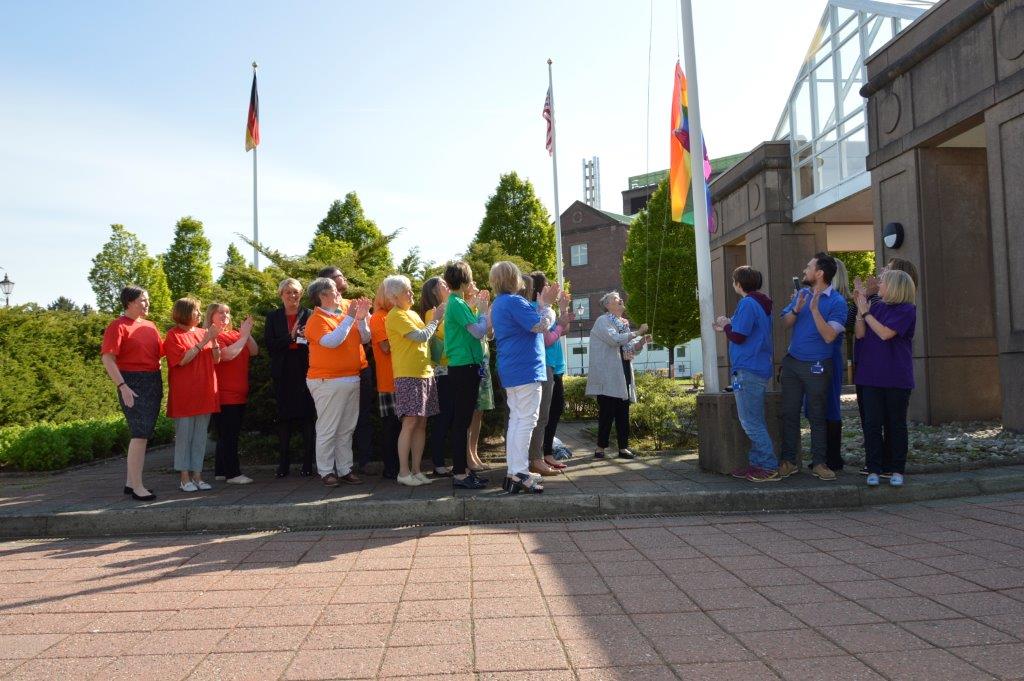 The Golden Jubilee has marked its ten-year anniversary of being a member of the Stonewall Diversity Champions Programme.
During this journey, the national NHS Board has become a leading LGBT employer learning and sharing best practice. It has also been the only Scottish NHS Board to feature in the Top 100 Employers list for the last four years.
Since 2009, our equality leads have worked with Stonewall - the national lesbian, gay, bisexual and trans (LGBT) charity - to improve services for their LGBT staff and people who use our services.
This has led to the introduction of new diversity training programmes for staff and people managers, the Golden Jubilee LGBT network group and Allies and a range of opportunities for staff to learn about equality and show their support.
Reflecting on progress over the past ten years, Carole Anderson, Head of Strategy and Performance and LGBT Equality lead commented, "Our early experience taught us that high quality equality training and effective communication on inclusive behaviour were the essential starting points for our work. As a values based employer, we believe our staff need to feel safe to report any issues with bullying and harassment and we took time to help staff recognise and challenge homophobic, bi-phobic and transphobic behaviour."
The Golden Jubilee was also the first NHS Board to have both its Chair and Chief Executive sign the Stonewall No Bystanders pledge, which was designed to support dignity and respect for staff and service users. Senior leadership on LGBT equality has been a strong and consistent element of our work.
Over the years, the Golden Jubilee has been commended for its staff network group activity, innovative approach to equalities in procurement, prominent role models and diversity champions and, most importantly, its collaboration with other NHS and public sector organisations for sharing good practice on LGBT equality.
June Rogers, Interim Chief Executive said: "As the Golden Jubilee enters a period of significant expansion to be able to provide more treatment capacity for NHS Scotland, we are committed to providing high quality person-centred services for our patients and hotel customers. To do this, we need to provide a workplace where our staff can flourish and where equality and inclusion is core to our values. I'm very proud of the achievements over the past ten years and look forward to building on these in the years ahead."