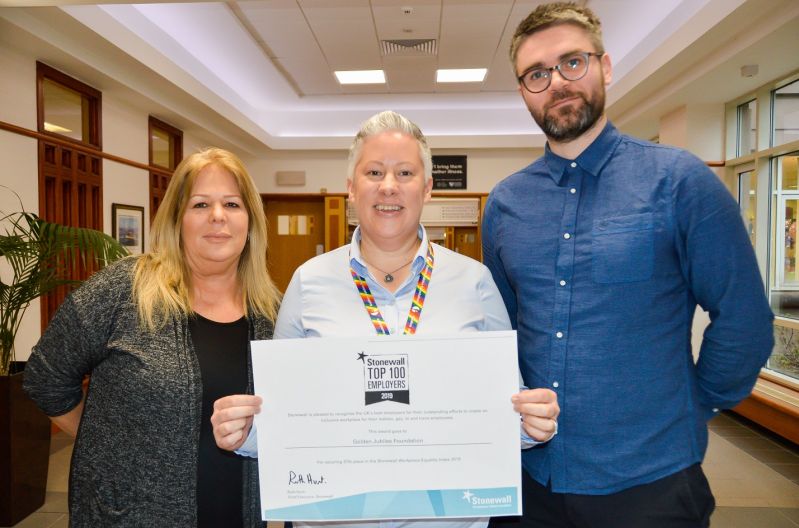 For the fifth year in a row, the Golden Jubilee has been named as one of the top 100 employers in the UK for supporting Lesbian, Gay, Bisexual and Trans (LGBT) members of staff in the Stonewall Workplace Equality Index (WEI).
It also has been named the second top health and care sector employer in the UK.
The WEI is a measurement of how an organisation is meeting the needs of LGBT staff, along with serving as an effective indication of how progress is being met against general equality targets.
The NHS Golden Jubilee, which includes the Golden Jubilee National Hospital, Conference Hotel, Innovation Centre and Research Institute, has faced rigorous competition from over 445 organisations which took part in the WEI this year to meet a series of strict criteria, ranking number 37 in the UK as a whole.
Chair of the Golden Jubilee, Susan Douglas-Scott CBE, commented on the achievement, saying: "We are absolutely delighted to have made a marked improvement in our position and be recognised as one of the top inclusive employers in the UK.

"At a time when we are planning significant expansion at Golden Jubilee, it is vital that we are able to recruit and retain a diverse workforce to provide the best possible care for our patients and high quality services for our hotel customers.
"During 2018, we have increased our collaboration with other public and private sector organisations on sharing LGBT+ best practice; and at Golden Jubilee we have launched our local Role Models programme, continued to embed our values-based culture and increased opportunities for our staff to show their support for equality and inclusion.
"This is an issue of professional and personal importance to me as a woman, as a lesbian and as a disabled person. I am committed to visible leadership and will continue to support my colleagues to deliver excellence in everything we do at the Golden Jubilee."
Darren Towers, Stonewall's Executive Director said: "Golden Jubilee and all those who have made this year's Top 100 Employers list are making a huge difference to workplaces, services and communities across the UK. LGBT-inclusive employers play a crucial role in changing society by using their power and influence to protect and support LGBT people".
The Golden Jubilee has a very strong track record in equality and diversity, having just marked a decade of work with Stonewall to support LGBT equality and inclusion. They regularly share their experience to help support equality and inclusion across the public sector.