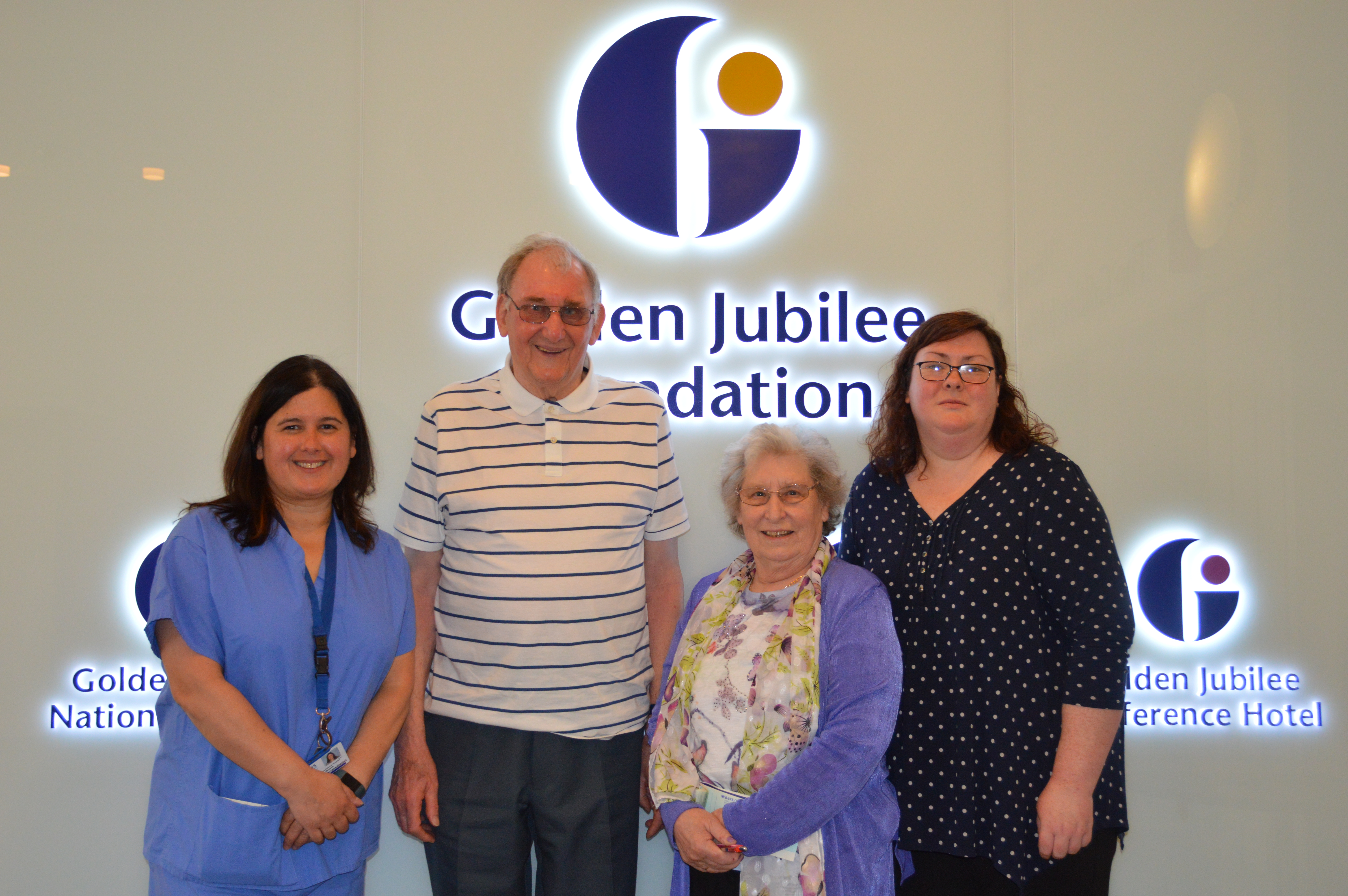 (L-R) Consultant Anaesthetist Isma Quasim, Scott and Helen Bennie and Charge Nurse Annette Asher
An inspirational pensioner who underwent a triple heart bypass operation at the Golden Jubilee National Hospital returned to say thanks with a massive cheque.
Garage owner Scott Bennie, 78, from Strathaven, received the treatment at the Clydebank facility last August and spent 12 days in the Intensive Care Unit (ICU) following additional lung problems.
He ended up spending four weeks in the Golden Jubilee and a further week in Hairmyres hospital in East Kilbride before being discharged.
Since then he has received aftercare through the Golden Jubilee's unique InS:PIRE programme (Intensive Care Syndrome: Promoting Independence and Return to Employment).
And it's this care which inspired Scott and wife Helen, also 78, to raise money for the Golden Jubilee by holding a concert and supper night in their local Strathaven Trinity Church, raising a massive £1480.
Scott said: "I'm really fortunate to still be here and if it wasn't for the amazing staff at the Golden Jubilee I probably wouldn't be.
"Through InS:PIRE I've been able to get one-to-one sessions and the staff have been able to solve a few problems for me. The staff have also given me a lot of confidence so it's a very worthy thing."
Helen added: "We are very grateful to everyone who came along on the night and donated money and prizes. We just wanted to give something back to the Golden Jubilee for the amazing care they gave Scott."
InS:PIRE was set up three years ago to give specialist care to patients who have spent time in ICU as some can experience extreme difficulties after their hospital stay.
The programme focuses on the social issues and hardships patients may face which traumatic experiences like a heart operation can cause. Difficulties can be physical, psychological or even financial for the patient or their family members.
InS:PIRE aims to give intensive care patients and caregivers best chance of rehabilitation and return to normal life and work through follow-up clinics with health professionals and peer support with other patients who have been through similar experiences.
Charge Nurse Annette Asher said: "Speaking to the patients at the InS:PIRE groups helps us too and we've changed a lot of our working practices based on their feedback.
"It's also great for staff who never see patients again after treating them so it's brilliant to see how great Scott is doing and getting back to his old self and having a decent quality of life again.
"We are so grateful for the donation they have made, it's a fantastic amount to raise from one night and we'd like to thank everyone involved."