Expanding the NHS Golden Jubilee
July 29, 2021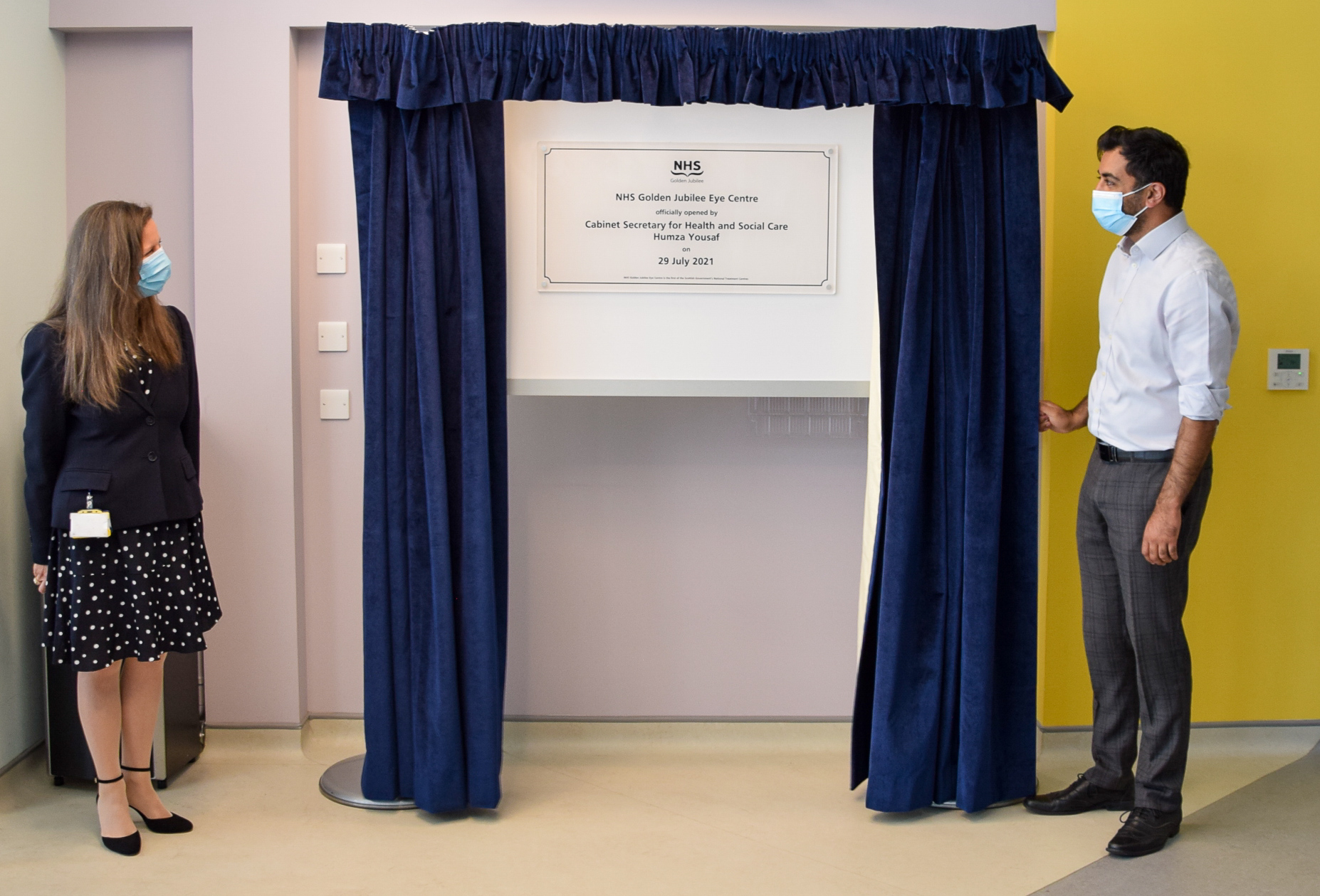 Health Secretary officially opens national 'Eye Centre' and announces £11.5m additional funding to cut waiting times.
Health Secretary Humza Yousaf has today officially opened Scotland's first National Treatment Centre at the NHS Golden Jubilee, and announced an additional £11.5m in funding as part of efforts to remobilise the NHS in response to the COVID-19 pandemic.
The NHS Golden Jubilee 'Eye Centre', phase one of Scotland's first National Treatment Centre, is part of the planned expansion of the hospital, and began seeing patients in November 2020.
Work on the second phase of the National Treatment Centre is already underway and is expected to be completed by June 2023. This will enable the NHS Golden Jubilee to carry out thousands of additional hip and knee replacements and other orthopaedic procedures annually, as well as significantly expanding diagnostic testing and general surgery.
Mr Yousaf thanked staff at the national centre, which has trebled its endoscopy programme and other services to treat cancer patients during the pandemic, and he announced an additional £11.5 million to help reduce waiting times as part of NHS remobilisation efforts.
He said: "I am delighted to formally open the NHS Golden Jubilee Eye Centre, the first National Treatment Centre for NHS Scotland.
"This forms part of our capital programme to deliver a network of elective, diagnostic and treatment centres across Scotland and is the largest ever investment in elective care infrastructure in NHS Scotland with an overall investment of £330 million.
"The centre here at the NHS Golden Jubilee has been operational since November 2020 to specifically support Ophthalmology services. Due to the COVID-19 pandemic it is only now that we have been able to visit to see this crucial development in the way we deliver planned care.
"Not only has the centre started treating patients during such unprecedented times but it has increased the number of ophthalmology procedures undertaken by the NHS Golden Jubilee by almost 47%. I cannot thank the NHS staff here enough for their drive and determination to support planned care through this most difficult period.
"As part of the ongoing efforts here at the NHS Golden Jubilee I am pleased to announce an additional £11.5 million has been made available to support current activity going through this national facility. This will provide targeted capacity to deliver activity for some of our most challenged specialities including diagnostic testing and orthopaedic surgery. With this the Board will also support the delivery of those vital and urgent cancer surgeries ensuring patients are treated in a timely manner.
"This is only two of many initiatives that will form part of our NHS Recovery Plan in which this Government will publish in the coming weeks."
Jann Gardner, Chief Executive, NHS Golden Jubilee, said:
"As a national resource, NHS Golden Jubilee has supported NHS remobilisation by continuing to provide planned care services such as hip and knee replacements, cataracts, general surgery and diagnostic imaging. During 2020, we trebled our endoscopy programme and expanded our services to treat the most urgent heart, lung and cancer patients who would otherwise have waited longer for procedures.
"We are also delighted that we managed to open the NHS Golden Jubilee Eye Centre - the first of the planned National Treatment Centres. This started treating patients in November 2020 and this year is estimated to carry out over 12,000 cataract procedures, an increase in the numbers of patients at least three years ahead of schedule.
"We now look forward to benefiting patients across Scotland with our new Surgical Centre, which is due to be completed in 2023. The new Centre will carry out planned operations and focus on demand areas such as additional orthopaedic, diagnostic endoscopy, and general surgery."