NHS Golden Jubilee Chief Executive appointed visiting professor at University of Strathclyde
December 01, 2021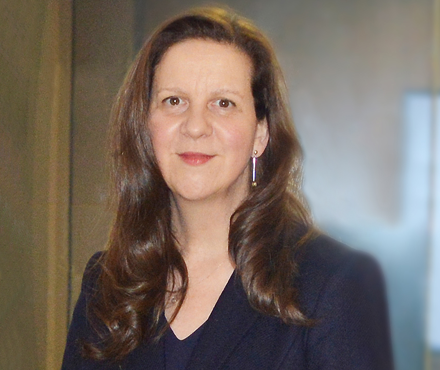 The Chief Executive of NHS Golden Jubilee has been recognised for her experience in leadership and management with a Visiting Professorship from the University of Strathclyde
Jann Gardner has been appointed Visiting Professor in the University Business School's Executive Education division.
Both NHS Golden Jubilee and the University of Strathclyde are involved in a pioneering partnership that aims to find solutions to 'Delivering Care Through Collaboration'.
By making the best use of the combination of specialised academic and healthcare experience to explore exciting and beneficial reform to patient care and workforce roles, the two organisations aim to deliver genuine world-leading innovative solutions to healthcare and staff delivery models.
The relationship between the two world renowned institutions presents unprecedented national and international opportunities to benefit the future of health and social care delivery.
They will support each other as 'places of useful learning' with the responsibility to research, teach and be of benefit to society, providing best in class, accredited education which complements and supports all aspects of healthcare.
Professor Gardner will work with the University to provide essential teaching, support and mentoring opportunities in executive leadership for undergraduate, postgraduate students and for the Centre for Board and Director Development.
Professor Gardner said: "I am honoured to have been appointed as Professor by the University of Strathclyde and I am excited to see potential benefits of this new collaboration come to fruition in the coming months and years.
"This partnership will provide invaluable opportunities for not only the conceptualisation of collaborative thinking, but the practical, tangible implementation of innovative ideas, research and technologies.
"Our relationship is one that can help support the remobilisation of NHS Scotland in a sustained way. It will have a focus on healthcare redesign, helping our NHS stay at the forefront of research and delivery and ensuring that Scotland is leading the way for the benefit of countless patients for years to come."
Professor David Hillier, Executive Dean of Strathclyde Business School, said: "We are absolutely delighted to appoint Jann as Visiting Professor in the Business School.
"The experience that Jann brings will have a significant impact on our Health and Care Leadership programmes but will also allow us to show that a values-based approach to leadership is relevant to organisations in every sector and of every shape and size.
"This appointment reflects our commitment to applied experiential learning and further develops the partnership between the University and NHS Golden Jubilee."
Both Strathclyde and NHS Golden Jubilee have proven track records of using research, redesign and innovation to make groundbreaking and positive differences to the world.
Most recently, NHS Golden Jubilee assisted Boards across Scotland during the pandemic with urgent cancer care, as well as opening a fifth extra cardiac catheterisation laboratory and a state-of-the art Eye Centre.
The Golden Jubilee is now also host to the new NHS Scotland Academy and the National Centre for Sustainable Delivery, ensuring the sustainability of the NHS through advanced and forward thinking programmes, teaching and technology.
Similarly, the University of Strathclyde, through its Health and Care Futures activity, brings together cross-faculty state-of-the-art innovation and expertise in the fields of medicines innovation, health technologies, data analytics and artificial intelligence, and the workforce and leadership, to support the health and care sector to become fully integrated and data-driven.
In doing so Strathclyde is helping to deliver new models of care focusing on prevention and empowering individuals and populations to live as well as possible at home and in their communities.
The University has grown partnerships with business, industry and government to accelerate and amplify innovation and to boost societal advancement, economic success and inclusivity locally within Glasgow, nationally, and across the world.