NHS Golden Jubilee providing foundation for young careers
November 19, 2021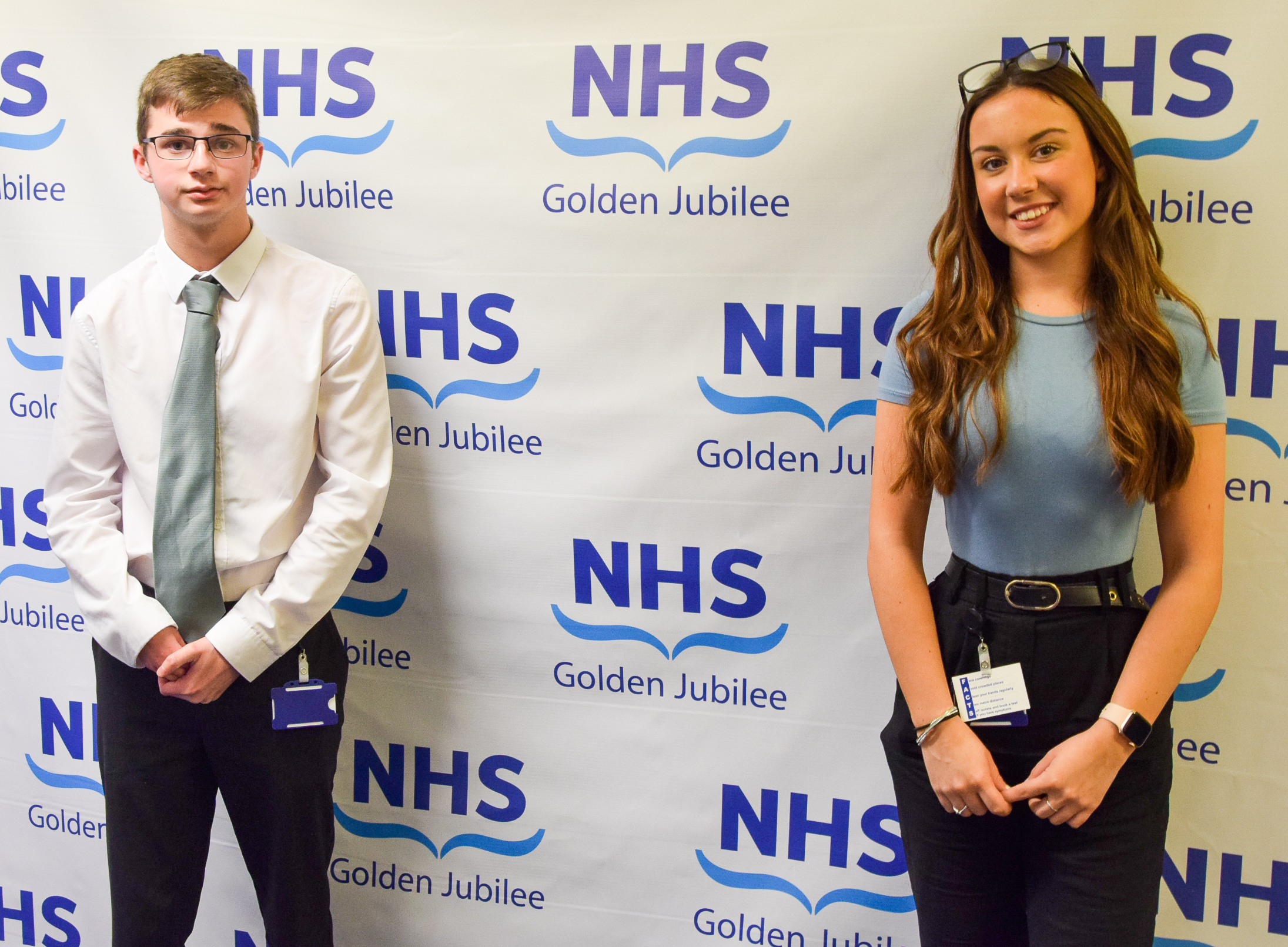 Robert Lamont and Megan Collier, above, are two of the Foundation Apprentices
High school pupils are getting a taste of working life at NHS Golden Jubilee as part of a collaboration with West Dunbartonshire Council.
The health board, which offers in-demand and urgent services to patients across Scotland, is partnering with the local authority to offer pupils valuable experience in a busy and demanding working environment.
Pupils in the latter years of high school are being given the opportunity through Skills Development Scotland's (SDS) Foundation Apprenticeships programme.
The apprenticeships provide a work-based learning opportunity for S5 and S6 pupils to develop knowledge and understanding of an industry such as Business Skills, Financial Services, Social Services and Healthcare and Engineering.
The performance criteria will include 4 SVQ units and be marked to SCQF Level 6 and the apprenticeships are being done in growth sectors in Scotland.
At present, NHS Golden Jubilee has 3 Foundation Apprentices who will work here for 6 months in various departments.
NHS Golden HR Director Serena Barnatt said: "Young people have so much to offer and we are delighted to offer them the opportunity to build on their skills to help them in their future careers.
"The programme also offers us the opportunity to give something back to the communities we serve and provide skills for local people. NHS Golden Jubilee is delighted to help empower the next generation of Scotland's economy and health sector.
"Our mentors will provide them with all the support they need to ensure they access the range of activities to complete the units and we'll also give them advice and develop a learning plan for them.
"This will be a great opportunity for young people to experience a rich and varied workplace within innovative and busy departments at the heart of the NHS in Scotland.
"We will also listen to their views on our organisation's culture, practices and values as we are looking to significantly extend the number of Foundation Apprentices we take on next year."
The 3 apprentices from St Peter the Apostle High School in Clydebank – Robert Lamont, Megan Collier and Jevan Shiels – all began their placements this week (16 November).
Megan, 17, from Clydebank, wants to study Business Management at the University of Strathclyde and has ambitions of running her own events company and teaching Business in high school.
She will be working in the Patient Coordination Centre where patient appointments are organised.
She said: "I'm going to be doing lots of different jobs and I'm really looking forward to getting stuck in, it's a really exciting opportunity.
"This will give me hands-on experience to see how business works and put what I've learned at school into practice, learning the importance of how different departments work with each other.
"I'll hopefully be able to work in the Golden Jubilee Conference Hotel to see how they run events, which be great experience for me."
Robert, also 17 and from Duntocher, is seeking a career in Finance and Accounts and will be working in the Finance department throughout his placement.
He said: "I got interested in this work through my studies at school so working here will give me the insight to see if it is something I want to do as a career.
"I'm definitely looking forward to getting started. I didn't really consider working in the NHS before, but now that I'm here it's definitely become an option for me."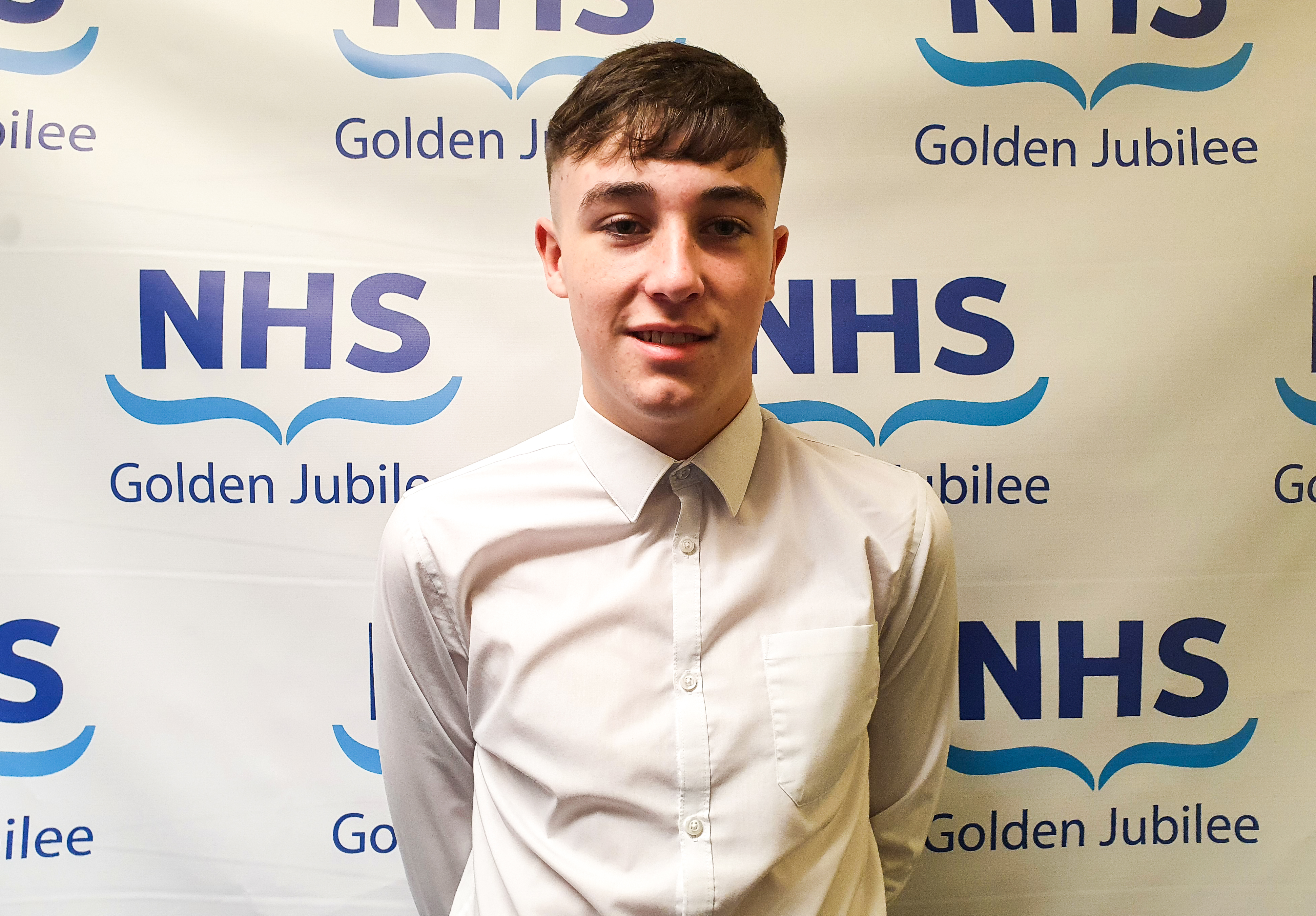 Jevan Shiels, 17, from Old Kilpatrick, pictured above, is also aiming to study at university and will be working in the Performance and Planning department.
He said: "I want to study International Business Management with Spanish so I want to use this opportunity to help me gain experience of project management, insights and quality management.
"I think this will be really good experience for me, something I can put on my CV and personal statement. When I signed up for this I wanted to see how a business operates. I've read lots about it, but I wanted to see it up close."
Councillor Karen Conaghan, Convener of West Dunbartonshire Council Educational Services, said: "We are committed to improving the life chances of our children and young people and every apprenticeship is a step in the right direction.
"Apprenticeships offer a fantastic route into work for our young people and are also hugely beneficial to the companies involved. I am delighted to see pupils gaining valuable work experience within the NHS at the local Golden Jubilee.
"This opportunity will help build young people's confidence to develop the life skills that will be so crucial throughout their working lives.
"I also recognise the valuable contribution apprentices make to a workforce and I am grateful to the NHS for helping our pupils ensure they get the most out of their apprenticeship."