NHS Golden Jubilee receives Gold recognition for supporting young people
July 15, 2021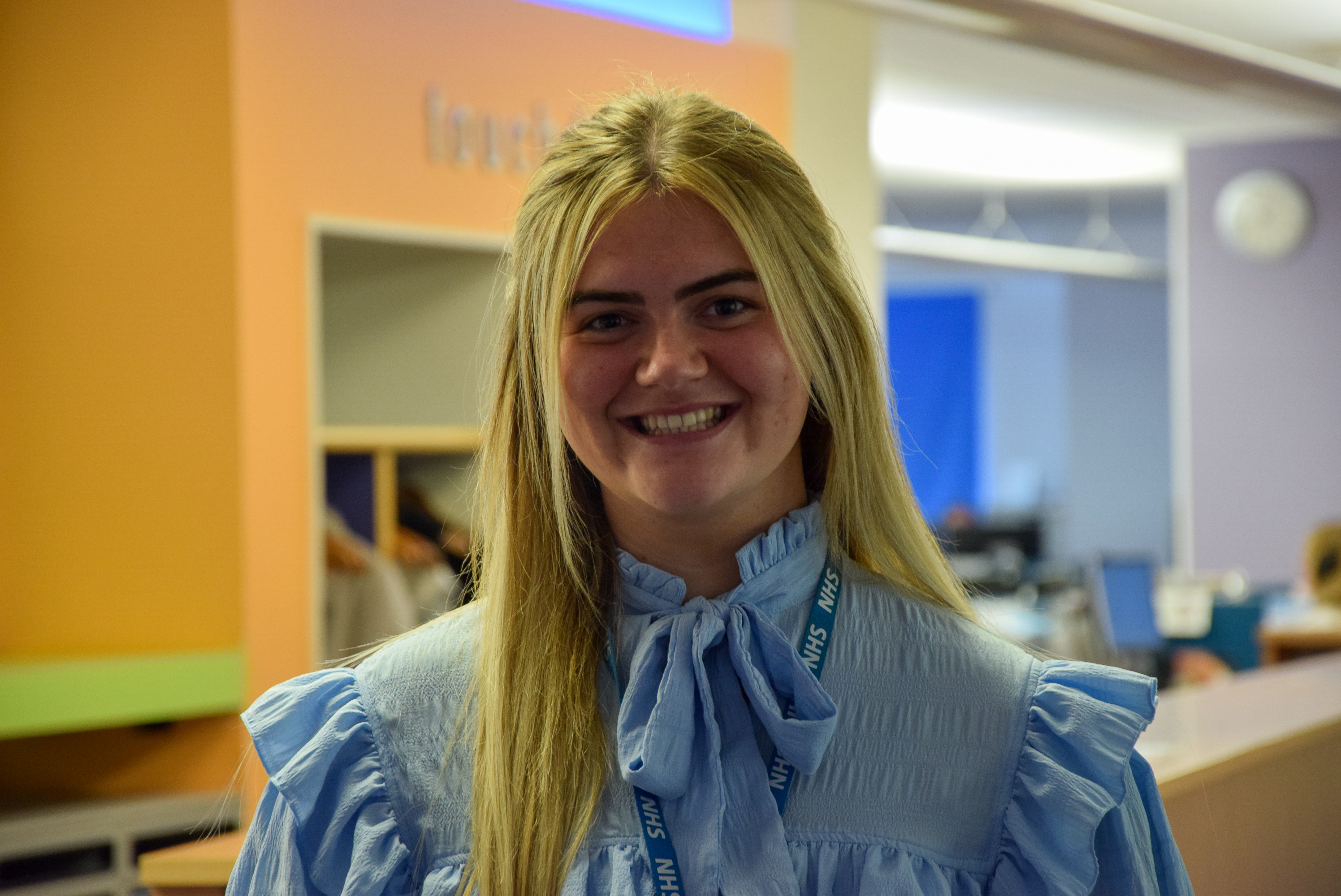 Pictured Apprentice Ciara Gallacher
NHS Golden Jubilee are delighted to have once again retained their Investors in Young People Gold Status accreditation.
Investors in Young People (IiYP) focuses on the recruitment, retention and development of young people, through providing a framework to organisations looking to enhance and develop their approach and skills.
NHS Golden Jubilee was the first NHSScotland organisation to receive the award back in 2017 when it was first accredited. Since then, the organisation has contributed to the employment, progress and education of Scotland's young people.
Through building relationships with local schools, colleges and universities, the organisation provides opportunities such as modern apprentices, work experience and training to those young people interested in joining the NHS workforce.
NHS Golden Jubilee also demonstrated its dedication to young students during the pandemic with the employment of final year nursing students. The enthusiastic new members of the team were able to offer valuable support and learn key skills while working in wards throughout the Hospital. All nurses who participated were offered full employment once they had fully qualified.
HR Recruitment manager Elaine Barr said: "We are delighted to have once again received the Gold Accreditation from Investors in Young People.
"Even during the pandemic, we've never lost our commitment to young people. We were able to offer final year nursing students the opportunity to work as part of our teams on the wards. Offering full time employment to these students is part of our commitment to ensuring we recognise and support the young people of Scotland.
"At the Golden Jubilee, we are proud of our inclusive values and behaviours. We have a range of policies and procedures in place, to make sure that we can continue to include and involve staff of all ages in everything we do as an organisation.
"We have a number of young people who work with us at the Golden Jubilee, and their hard work, enthusiasm and dedication have been especially important to us over the past year as they have played a key role in helping us to navigate the pandemic. The IiYP programme provides an excellent framework which enables us to continuously improve and develop our approach to equality for all, no matter what your age may be.
NHS Golden Jubilee is looking forward to welcoming back school work placements, that were paused due to COVID restrictions, in the new term. These placements will include the start of Foundation Apprentices, which will provide young people in school the chance to work 2 half days in the Hospital or Conference Hotel, whilst contributing to their qualifications.
One apprentice at NHS Golden Jubilee is Ciara Gallacher. Ciara joined the Hospital's Patient Co-ordination Centre as an Apprentice Co-ordinator after completing her school work experience.
Ciara said: "I really enjoyed my time doing work experience at the Golden Jubilee, and was told before I left to look out for an apprentice position that was going to be opening up.
Despite joining the team during the pandemic, Ciara has thrived in her new role and has enjoyed speaking with lots of different patients on a daily basis.
"I really love working with all the staff and getting to speak with different patients. Even joining during COVID times, everyone has made me feel so welcome."
Ciara hopes to achieve a qualification in business and admin and is keen to remain part of the NHS workforce as she progresses.
With exciting opportunities, including the development of a Bespoke Healthcare Foundation Apprenticeship and the annual STEM event at Clydebank College, NHS Golden Jubilee remains a Gold standard employer for young people in Scotland.
For more information, please visit NHSGoldenJubilee.co.uk.