NHS Golden Jubilee supports elective and urgent care
January 20, 2021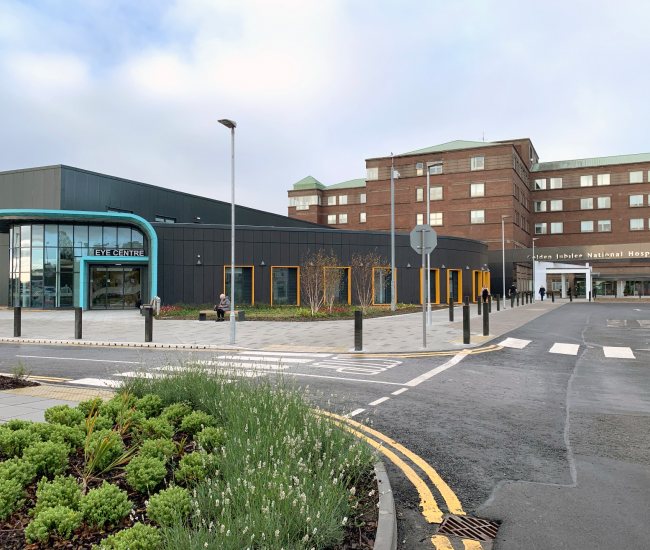 NHS Golden Jubilee has carried out approximately 40,000 procedures since July 2020 to help patients across Scotland who have been waiting for treatment.
In the past six months, the Golden Jubilee National Hospital has played a vital role providing flexible support both for urgent care needs (including heart and lung procedures and cancer treatments), as well as supporting as many planned procedures as possible to go ahead.
Patients across Scotland have benefited from a wide range of services including hip and knee replacements, cataract operations, endoscopy and diagnostic imaging, as well as cancer, cardiothoracic and cardiology procedures.
By early January, NHS Golden Jubilee has supported the NHS Scotland Recovery Plan by carrying out:
1,516 orthopaedic procedures
2,114 ophthalmology procedures
1,422 endoscopies
565 cancer procedures
5,500 cardiothoracic and cardiology procedures (both urgent and planned)
28,836 diagnostic imaging procedures
NHS Golden Jubilee Chief Executive Jann Gardner said: "Our dedicated team of health professionals have worked tirelessly to make sure that we are treating as many patients as possible.
"We have, not only introduced brand new specialties at the Golden Jubilee in order to treat urgent patients faster, but have adapted to a whole new way of working to make sure that both our staff and patients are safe.
"We will continue to collaborate with colleagues across Scotland to maximise capacity to meet demands. We will provide mutual aid, when required, and support NHS Boards throughout this emergency period balancing the demands of urgent and planned care.
"Our achievements during this pandemic is a testament to the flexibility, commitment and hard work of our staff, whose dedication during these difficult times has been extraordinary."
One patient to benefit from the resumption of services was 69-year-old retired nurse, Maureen McShane, from Stepps.
Having been on the waiting list for a Total Hip Replacement (THR) since the beginning of 2020, Maureen's procedure was postponed twice due to the pandemic.
Maureen commented: "At the beginning of November, I was asked if I would be willing to have my procedure at the Golden Jubilee. At the end of November, I came for a consultation with the orthopaedic surgeon and now just weeks later, I've had my operation.
"I've been in pain for so long and it's quite demoralising when you get ready for an operation and it doesn't happen.
"I'm a retired nurse so I understand it's a worrying time for patients coming in for surgery, but the treatment here has been excellent and I felt completely safe."
NHS Golden Jubilee is a "Covid Light" site which does not directly admit Coronavirus patients to allow the continuation of specialised priority and planned heart, lung, cancer and diagnostic services.
In 2020, the national resource also opened an additional cardiac catheterisation laboratory and their state-of-the-art Eye Centre. NHS Golden Jubilee's Eye Centre has the ability to carry out approximately 18,000 cataract operations a year.