'Rising star' Consultant awarded prestigious grant for research on heart injury
February 15, 2021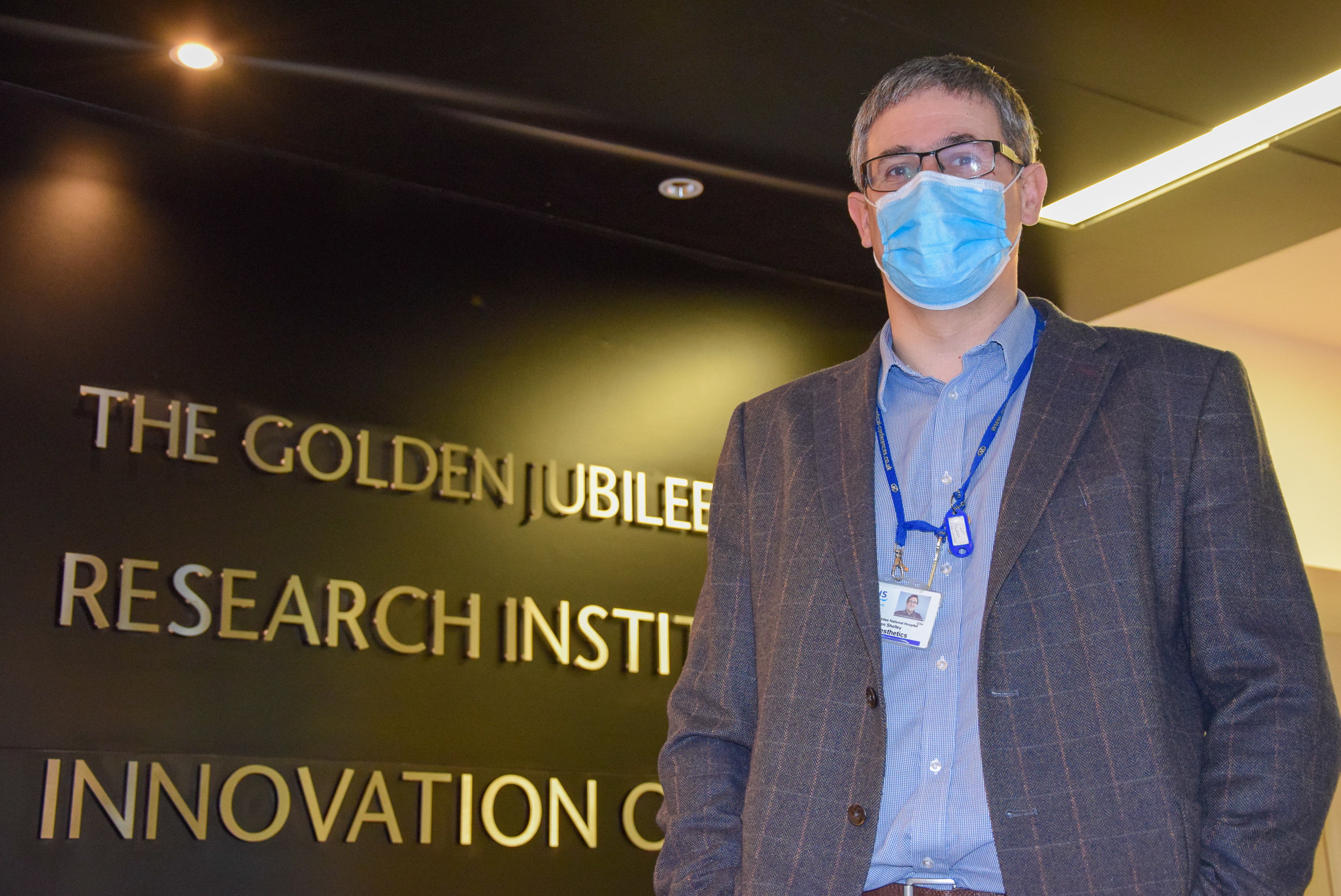 A Consultant from NHS Golden Jubilee has been awarded a prestigious grant which will enhance care for patients and boost the profile of Scottish heart and anaesthesia research.
Dr Ben Shelley, Consultant in Anaesthesia and Intensive Care at the national hospital in Clydebank, has received the British Oxygen Company (BOC) Chair of Anaesthesia Grant, which recipients receive up to £80,000 per annum over four years to cover costs of research sessions, projects or infrastructure.
Dr Shelley, who is also an Honorary Clinical Associate Professor at the University of Glasgow, will use the grant to fund his research into the incidence, impact and mechanisms of perioperative right ventricular dysfunction (study name IMPRoVE).
The research will focus on the often covert effect of right heart injury – the part of the heart which pumps oxygen to the lungs - has on morbidity after major non-cardiac surgery. With large numbers of patients showing evidence of cardiac injury following operations, it is hoped that Dr Shelley's research will significantly improve outcomes for those at high-risk.
Overseen by The National Institute of Academic Anaesthesia (NIAA) on behalf of the Royal College of Anaesthetists (RCoA), the grant supports those who are working towards a senior fellowship or developing an application for a Chair in Anaesthesia within the next five years.
Dr Shelley said: "I am delighted and humbled to receive this prestigious award. Not only should this award be seen as an endorsement of the important work my research group is doing, but it should also be seen as backing for Anaesthesia and Perioperative Medicine, both in Glasgow and Scotland as a whole.
"Personally, this award will significantly strengthen my position as I seek to make an application for a Chair in Anaesthesia at the University of Glasgow. It will help us to progress the work of the Anaesthesia, Critical Care and Perioperative Medicine Research Group as we seek to build a centre of excellence in this field.
"I am extremely grateful for the support and encouragement I have received, including from colleagues and mentors at the University of Glasgow, Golden Jubilee National Hospital and the wider UK Anaesthetic community."
Professor Judith Hall, Panel Chair of the BOC grant appointment committee and Trustee of the Royal College of Anaesthetists, said: "As panel chair, I can honestly say this was a very competitive process. Talking to so many great candidates, from all over the UK, really shone a light on the increasing strength and depth of Anaesthesia Research expertise in the United Kingdom.
"The appointment of Dr Ben Shelley will most certainly boost the profile of Glaswegian research over the next few years. His work on the prevention of heart injury at the time of surgery, will go a long way to enhancing care for patients. His research will provide personalised treatment and improving overall outcomes."
Professor Mike Grocott, Professor of Anaesthesia and Critical Care Medicine at the University of Southampton and Chair of the Board of the National institute of Academic Anaesthesia, said: "Congratulations to Dr Ben Shelley for being awarded the 2020 BOC chair of anaesthesia.
"Ben is a rising star of UK anaesthesia and perioperative research and an acknowledged expert on perioperative right ventricular dysfunction. The BOC award will consolidate academic anaesthesia in Glasgow and support Ben on his journey to become a senior research leader nationally and internationally."